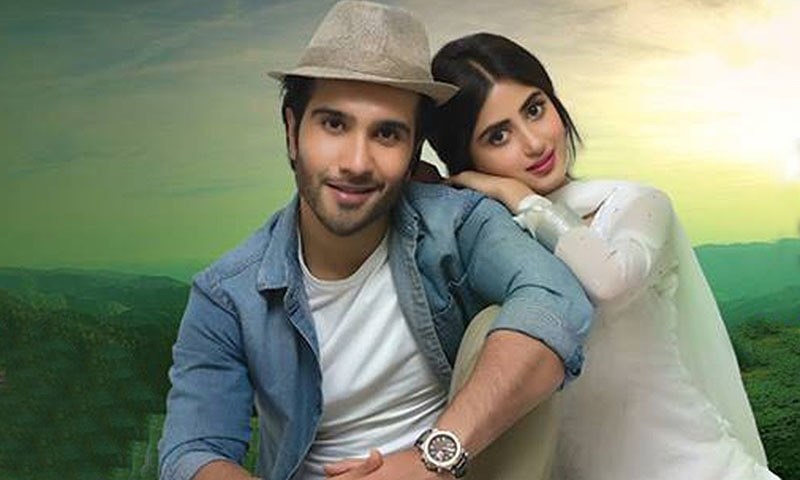 Watch the serial for Feroze Khan and Sajal Ali's chemistry and Khan's acting.

While the phuppos and their daughters (and one son) continue to plot and plan; Gul-e-Rana (Sajal Ali) gains respect in front of Adeel (Feroze Khan). The snooty guy realizes that Rana isn't one of those petty girls who go light-headed after seeing him and his fat wallet.
She has her act together and is focused towards attaining good education. Rana isn't in search of a rich guy who'll take her and make her a queen to his kingdom. She's self-reliant and hardworking. All this is great, but the fifth episode again raised a few questions about the consistency of her character.
Read: Gul-e-Rana starts on a sad note
Rana had acted 'strong' according to Samra Bukhari (the writer) by snatching the breakfast tray from Adeel in the fourth episode. This had come as a shock to me because I thought the writer and director (Faroooq Rind) wanted us to think of Gul-e-Rana as a sweet but determined girl.
Anyway, I made myself believe that strong girls speak their mind and, hence, Gul-e-Rana had asked Adeel to not to touch her.
But in episode five, Gul-e-Rana again came across as a docile person, running away from Adeel and pouring tea all over him, and then agreeing to add sugar to his tea. She could've easily told him off, but she doesn't, why?
Adeel, on the other hand, has random people coming up to him and telling him how Gul-e-Rana is the best female specie ever to grace planet earth. Laila (Sadia Ghaffar) prances about Adeel and says, "Ye Zafri kal tuk mujhe line maarta tha aura b Gul-e-Rana ke peechay para hai!"
Adeel's ears prick up and he asks, "Phir Gul-e-Rana ne kya jawab diya?" Laila goes on to rant about how Gul-e-Rana is the most boring person with no interest in monetary things. Adeel smiles. You know what that means right? He's fallen for the girl.
Read: How was 'Gul-e-Rana's' 2nd episode? Umm...
In yesterday's episode, Gulaab Khan came up to Adeel and narrated Rana's encounter with Laila word by word. If you're feeling lost at this point then you need to go watch the last two episodes. Laila decided to bribe Gul-e-Rana into eavesdropping on Bari phuppo and Maria, but Rana of course emerges as the bigger person from the situation and says a not-so-polite no.
Feroze Ali was brilliant in the latest episode. His expressions undergo swift change as he moves from scolding Zafri, asking Gul-e-Rana to "go study", and finally taunting his phuppos or their daughters'. He's straightforward to the point of being selfish, but still one cannot entirely hate him, because he starts smiling in the very next moment. This might have come across as if Adeel is mentally disturbed by Khan's acting only makes him look super volatile and no where near unhinged.
Read: 'Gul-e-Rana' starts to trot, waiting for it to run
Adeel's bad side is unveiling itself gradually. He was seen having a very hateful conversation with his not-so-cool friend:
Friend: Yaar kya woh [Gul-e-Rana] bhi tumein chahti hai?
Adeel: Ab ye chaahat kahaan se agayi beech men?
Friend: Tumein usme phir kya interest hai?
Adeel: Interest nahi hai , zid hai woh meri zid. Aurrr meray ghar ko jannat bana degi. Aur kya chahiye?"
The audience finally gets to know that his trying to protect Gul-e-Rana from Zafri and his phuppos is not because he has a soft corner for her. He likes the fact that she's not falling all over him. And she misbehaves with him on quite a few occasions, so he thinks why not marry this woman. Don't see the relationship between two things? Let me explain.
Adeel's interest in Gul-e-Rana is inversely proportional to Rana's bad behavior. She refuses to give him tea. He thinks that's one interesting girl. She doesn't go shopping with him. He thinks, 'oh wow! She's the girl'. She refuses to sit in the car with him. He runs off to his shady friend to profess his desire to marry her.
Read:
Everything's going smooth for Adeel when suddenly Bari phuppo decides to 'take action' and makes the dreaded announcement on Maria's birthday.
"I have good news to share with you all. I want Gul-e-Rana's hand in marriage for my son Zafri!" bellows bari phuppo amid the celebrations.
Everyone halts and tries to internalize what the phuppo has just said.
Gul-e-Rana is shocked. Her mother (Rubina Ashraf) continues to smile for no reason at all. Taaya abu's (Mehmood Akhtar) expression tells me he doesn't like the announcement (I have a feeling he wants Rana as his bahu). Adeel certainly doesn't find anything good about the news and says so. After giving a shut up call to his phuppo (which is very ill-mannered thing to do, but everyone takes his bad behaviour in a stride) he glares at Gul-e-Rana and she smiles. Yes, she does. Now don't ask me why.
Next, adeel is seen pacing around on aunty (Farah Shah) and Rana's head and staying stuff like, "Papa ko ussi waqt mana kardena chaiye tha," and "phuppo ne aisa socha kaise."
Aunty's long gone bravery decides to make a sudden and short appearance. She tells Adeel that this is none of his business and the decision about accepting or rejecting the proposal will be made by Gul-e-Rana and her mother. In the end, Gul-e-Rana and Adeel are left alone. He simply turns his line of vision towards Rana and asks her to say no to the proposal.
She, being a strong woman, says I won't. And rightly so because why should a man dictate her decisions? This is the point where audience gets to know how misogynistic and selfish Adeel actually is.
Adeel: Mujhe jo cheez pasand aati hai, usko haasil karna tou door, koi uski taraf dekh bhi nahi sakta.

Rana: Cheezon aur inssano mein farq hota hai. Mein koi cheez nahi hoon.

Adeel: Aurat mard ki property hoti hai! (Let's just kill him girls)

Rana: Aap jeetay jagtay insaan ko kisi ki property kaise keh sakte hain?

Adeel: Tumhara qusoor nahi hai. Abhi tumein kuch nahi pata. Aahista aahista tumein samajh ajayega.
Ladies and gents, I hate this guy. How narrow-minded can one person be and all because girls around him have proven to be easy targets?
In earlier episodes, it looked as if Adeel respected Rana for being a strong-minded girl, but now suddenly he's decided to treat her like a 'thing'. If he respects (if not loves) her then why the insulting conversation?
Let's see how Samra Bukhari progresses their characters. Right now, Adeel comes across as a highly unstable person.
Gul-e-Rana, on the other hand, still needs to decide if she's okay with making chai for everyone or not?
But one thing is for sure that she's quite possessive about her breakfast. That's when her true fighter usually comes out. In this episode too, she fights with Zafri when he tries to eat her breakfast. Putting that aside, current episode was a big improvement from the last one where the director had temporarily forgotten that Rana has evolved in to a person who can say 'no'.
Sajal Ali is at her best when she interacts with Rubina Ashraf. Both the actresses successfully portray the plight of someone who has lost their house and the bread-earner within the space of few weeks. Rana says to her mother, "ye pyaar, muhabbat aur hamdardi ke jhootay dramay mujhse bardasht nahi hote," to which Ashraf says, what I've been thinking since past few weeks, "Tumhen ho kya gaya hai Rana? Tum itni ziddi tou nahi thi!"
The fifth episode had a pretty shoddy editing because scenes kept ending abruptly and there was no flow between them. Yesterday's episode, however, was better compared to last but was still a bit abrupt at few points, like for example when Adeel is tying a gold chain around Laila's neck. That scene just jumped at the audience out of nowhere. Let's hope, editing is sharp in the coming episodes.
Here's the promo for next episode.