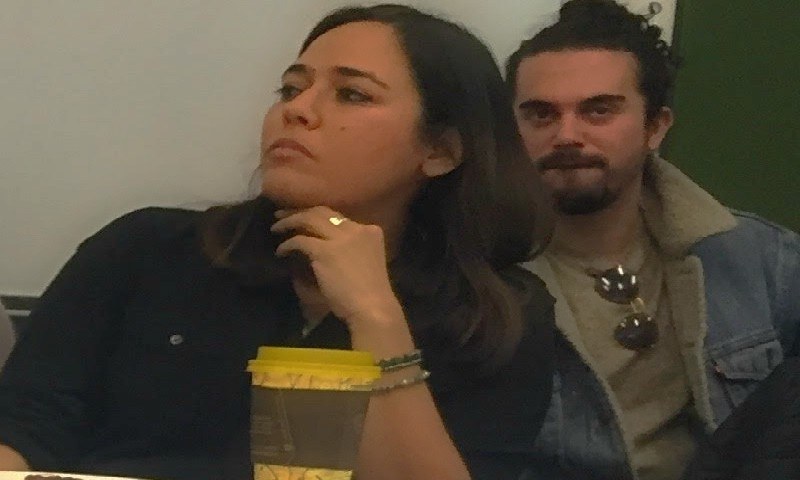 "My best work was pre-Kahaniyaan," stated Mehreen Jabbar at the panel

Recently I represented HIP at a round table panel discussion at New York University in regards to women's roles in Pakistani dramas and their impacts. The event was organized by Zeynab Ali who is a graduate student at NYU in Media, Culture, and Communications.
The event was called 'Mediations of the Self in Pakistan's Popular Visual Culture' and the guests included Mehreen Jabbar, Saad Khan (Documentary Film Maker), Professor Tahira Naqvi (Middle Eastern and Islamic Studiesm NYU), Professor S. Akber Zaidi (Middlea Eastern South Asian, and African Studies, Columbia University), and Arooj Aftab (Film Score Composer, Vocal Artist).
The event started out with Professor S. Akber Zaidi stating that Pakistan is largely viewed in the west as 'Bombs, Beards, and Burqas' and how once in a while a Malala happens, but then is trashed by her own people. In a country where there is so much social conservatism and where religion has such a strong hold on every day life, there are a few strange things happening that are going against this narrative. Serials like Dil to Bhatke ga and More Piya are showing that women too are having affairs and running around with married men. So far we had only heard about men doing this, he said. His point was that at the end of the day they are showing that women doing all the things men used to do, which is against the 'talibanisation' that Pakistan is known for in the West. He also spoke about how all these serials are about women as victims and marriage. Why so much emphasis on that? They never speak about real issues in these dramas; its all about women, marrying men they don't want to, and being victims.
Professor Zaidi then spoke about the "new chichora 'bollywoodized' Pakistani Cinema like Karachi se Lahore and Wrong No being the complete contrast to the dramas showing women as victims. He was particularly disturbed by the amount of alcohol and the extremely bold item number by Ayesha Omar in Karachi se Lahore, and the vulgar jokes in these movies.
We then moved on to Professor Naqvi who explained how she was from the era of radio and plays on that radio that were not only progressive, but also literate. After radio it was television and dramas like Khuda ki Basti, Afshaan, and Uncle Urfi came about. She then mentioned Mehreen Jabbar's Kahaniyaan and her other dramas being of high literary value and not having anything to do with the saas bahu issues. Then she went on to speak about Urdu digests and how women are the primary readers of these digests. This is where writers like Umera Ahmed came about. She then mentioned Humsafar, ZIndagi Gulzar Hai, and finally Diyar -e- Dil; how urdu was alive and well in these dramas whereas it was presumed that Urdu was dead. She wasn't the biggest fan of Wali's stiffness, but over all liked the drama
Also read: Diyar -e- Dil: And it all comes to an end
It was then Mehreen Jabbar's turn to speak (and truth be told, it was the only reason I decided to go there). She very correctly stated how the concept of liberalism has become totally distorted; it is now alcohol, cigarettes, and lack of clothing. She also spoke about how serials went from 13 to now Diyar -e Dil, which was 30+ episodes. The money aspect dictates the amount of episodes which she ran into with her Jackson Heights, which was originally only supposed to be 20 episodes, but went on to be 27 episodes.
Also read: Final shoot of Mehreen Jabbar's 'Dobara Phir Se' starts in January
Saad Khan spoke about his documentary 'Showgirls of Pakistan' which is about "an exploration of the lives of Punjabi Showgirls, women who defy the norms and live on the peripheries of society, by making a living dancing on stage." He had an issue with the fact that films like Jawani Phir Nahi Aani weren't termed vulgar, but women dancing on stage to make a living or Mujras were vulgar. It was almost as if elite class (JPNA) can get away with it, whereas the lower class (women dancing on stage) can't.
Read also: JPNA Review: A blockbuster and one of the biggest hits of recent times
I later on spoke to the organizer, Zeynab Ali, about what her objective was in regards to this panel and does she think she was successful in her objective. She stated that:
"The idea behind this event was simply to understand how Pakistan is being 'imagined' through it's media and to talk about the new sense of energy and creativity that we see in the Pakistani public sphere today. In that sense I think our event was quite successful as we were able to meaningfully discuss many media related issues and concerns.

I decided to organize this event because I felt that there was not much quality conversation taking place about media and culture in Pakistan in the academic world. Also I feel that there is very little interaction between academics and people associated with the media in Pakistan. For instance every time I spoke to Mehreen Jabbar, I learnt so much from her as she had very insightful things to say given her long-standing association with media in Pakistan. So this event was just a small step in bringing together all these wonderful conversations I have been having with various academics and media personalities."
The panel also had sound bytes from Adnan Jaffer, Osman Khalid Butt, Hareem Farooq, and Salma Hassan. All of them were kind enough to heed our requests and send us clips about the roles of women in Pakistani dramas. Ali went on to thanks all of them and stated that:
"Obviously one of the of the biggest challenges in hosting an event on Pakistan in New York was to incorporate actual voices from the Pakistan media. As it turned out we were really fortunate that many people in Pakistan like Osman Khalid Butt, Adnan Jafar, Salma Hasan, and Hareem Farooq actually took time out from their busy schedules to answer our questions and to contribute their opinions for our discussion. Not only did they have wonderfully perceptive things to say about current concerns in the Pakistani media, it is also evident that these artists actually take the time out to critique their work and the world around them in a very constructive and articulate way. So their contributions were very important for us and I would like to thank all of them personally for putting in all the thought and effort that they did for our event."
Also read: Osman Khalid Butt tells HIP what's next
My take on the panel was that it was a great concept and a great start. We need more conversation about why women and marriage are the main subjects in dramas these days. There are so many issues Pakistan is facing, yet we are insistent on making women victims and keep producing dramas that have nothing to offer.
I do believe though that that the conversation strayed a lot and should have been more controlled. But like I said, it was a great start!