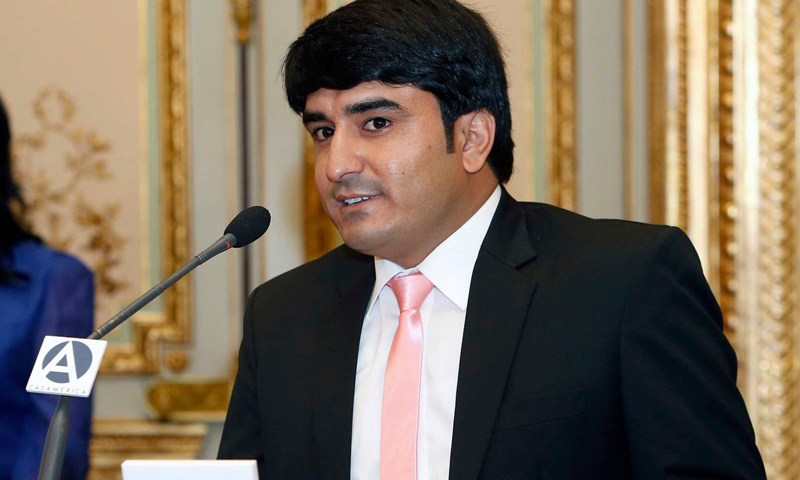 He won an award for his story 'Brick kiln workers: the endless battle' published in Friday Times.

Friday Times journalist Haroon Janjua brings yet another accolade for the nation by winning his second international award this year. He recently won a silver medal in United Nations Correspondents Association (UNCA) annual awards.
Janjua won the award for his story 'Brick kiln workers: the endless battle' published in Friday Times on August 2015. The story contains important facts and figures about the bonded labourers working in brick kiln in interior Punjab.
The award was handed to Pakistani journalist in an auspicious ceremony held in New York on December 14. As Janjua couldn't attend the award ceremony, his good friend Meriam Sabih received the silver medal on his behalf.
UNCA is a professional organization, founded in 1948, of over 200 correspondents and producers from dozens of countries. Each year the organization conducts an annual award function for the best print, broadcast (TV & Radio), and online, web-based media coverage of the United Nations and its field operations.
The award has been given in four categories: The Elizabeth Neuffer Memorial Prize, The Ricardo Ortega Memorial Prize, The Prince Albert II of Monaco, and UNCA Global Prize for coverage of Climate Change and The United Nations Foundation Prize.
Janjua won the award in the category of The Elizabeth Neuffer Memorial Prize. He shared the pictures on his Facebook page.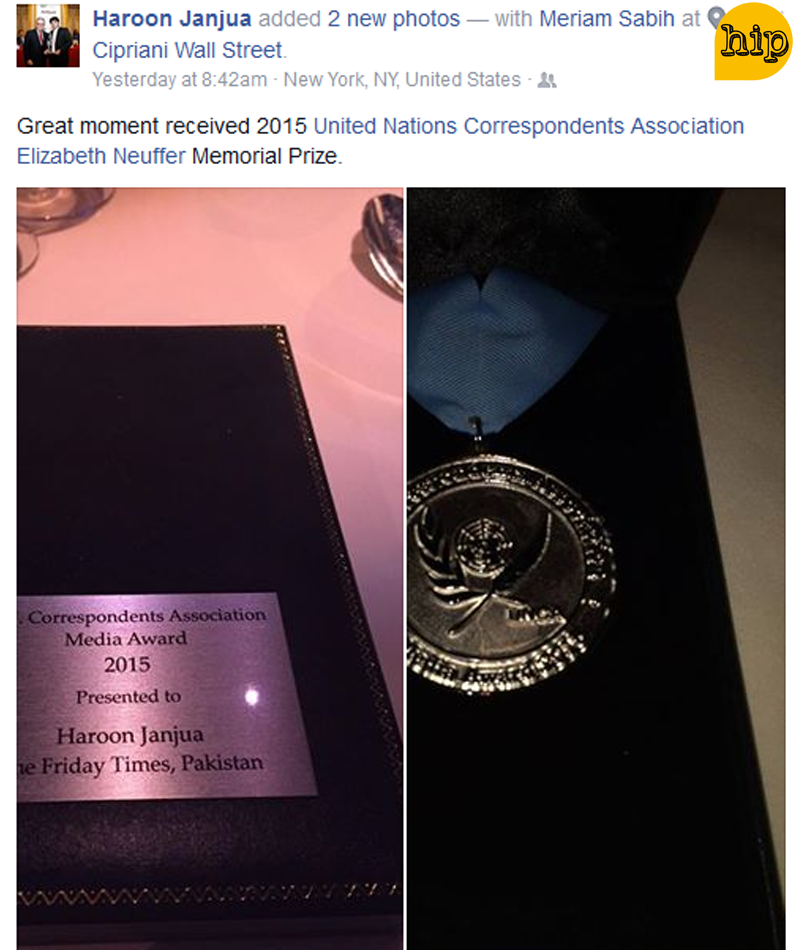 Earlier this month, he won another award for his article Population Explosion published in Daily Times. He won the Best Opinion Piece Award in the 36th Annual Global Media Awards from The Population Institute. The article looks at how gender inequality contributes to Pakistan's high fertility rate and the perpetuation of poverty.
In November, he won IE Business School Prize award for his work on Latin America's economy in Asia from IE Business School of Spain.
Read: Pakistani journalist Haroon Janjua awarded in Spain
He is a freelance journalist and writes in The News International, Daily Times, Dawn, The Nation, The Friday Times, South Asia magazine, Pique and The Daily Star Lebanon. The topic of his core interests include social issues like gender discrimination, human rights violations, environmental issues, South Asian diaspora, contemporary politics, as well as a range of issue that intersect poverty, public policy,and social practice.
He is currently busy conducting an independent research on partition of 1947 via first person accounts for his forthcoming book titled "Turmoil of Transition - Narratives of communal partition violence in 1947 Rawalpindi".