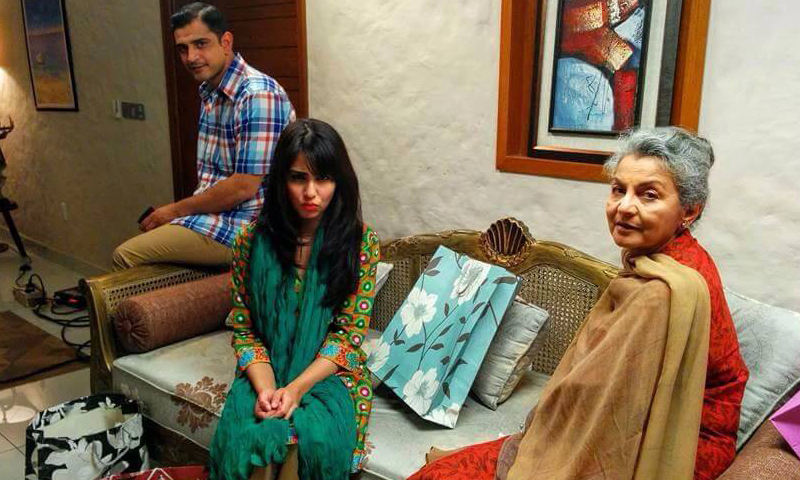 Ushna Shah plays a headstrong girl whereas Mira Sethi is shown as typical gharailo larki in the serial

Gone are the days when huge sets were built in old studios of Pakistan Television Center. Now the drama makers prefer real locations and sets. HIP recently got a chance to go on one such set; it was for iDreams Entertainment's upcoming play Ab Kar Meri Rafugari.
Based on Saira Riaz's famous novel of the same title, it is directed by Neelum Kinary fame Adnan Wai Qureshi. The multi-star cast includes Usman Peerzada, Sakina Samoo, Ushna Shah, Mira Sethi, Nida Mumtaz, Daniyal Raheel, Ali Safina, Shakeel, Maryam Ansari, and Shamim Hilali.
The shooting is currently going on in a beautiful bungalow, in Defence, which is supposed to be Mujahid Taj's (Usman Peerzada) residence.
As soon as I entered the bungalow I saw the director sitting in the lounge recording a scene with Nida Mumtaz, Ushna Shah, and Mira Sethi.
Putting a duppatta on her head, Sethi walked in the room with chai ki tray in her hands and asked Nida Mumtaz if she wanted some tea. Mumtaz on the other hand was busy replying to her daughter Ushna Shah.
The director shot the scene within a few minutes even though it required different camera position covering all three actresses in different frames.
I then went to a room where Sakina Samoo was getting ready for her next scene. Wearing a simple kurti with a white shalwar and a black shawl, she was in character mode. She warmly welcomed me and told me about her role.
"I am playing Ali Safina's mother in the serial. Our characters have a negative shade in the serial, but the audience will not find us typical snooty people; rather we come out as charmers. The witty dialogues further increases the appeal of our characters and I' m sure once it is on air, people will anxiously wait for Ali and I to appear on-screen," she said.
While Sakina Apa and I were talking, Mira Sethi also joined in the conversation and commented that Sakina Apa's character was one she had never done before.
When we asked Sethi about her role she said that it was different in a sense, because audience has usually seen her in negative roles. In Ab Kar Meri Rafugari, she plays a quiet girl who, at times, is too submissive for her own good.
"Maida [character played by Mira Sethi] is a mazloom larki who always carries a duppatta on her head. Many of marriage proposals get rejected because of some family issues and it has affected her personality a lot," she said.
Talking about the way her character is styled in the serial, Sethi added that since she plays a typical gharelo larki she tried to keep the wardrobe simple with shirts and duppatas in vibrant hues paired with plain shalwars or trousers.
Read: 'Ab Kar Meri Rafugari' has a superb script: Mira Sethi
We also got a chance to talk to the iDreams Entertainment make-up stylist Samreen Bukhari on the sets. We asked about the different make-up techniques she used to give the required look to different characters.
"Both Mira and Ushna will have no make-up looks in the serial. Even Nida Mumtaz and Sakina Samoo will be seen wearing less make-up throughout the serial. However, to make Ushna Shah look a bit different and trendy, we have given her a new hair cut with bangs in the front," Bukhari said.
Nida Mumtaz will be seen playing Ushna Shah's mother in the serial. We also spoke to her on the sets.
"As I have recently made a comeback on television, this time I have come with a different mindset. I am open for all the challenging roles, but as we have limited scripts, so mostly roles which I have been offered so far are of mothers," Mumtaz said
She also added that in this serial she plays a woman who doesn't have her own life and blindly follows her husband's instructions.
"I play a typical housewife who is suppressed by her husband and in-laws. You can also call me the 'masoom parinda' of the serial," she added.
Nida Mumtaz's on-screen husband Usman Peerzada was taking a nap in another room after doing his scenes in the afternoon. We disturbed him a little bit to get to know about his role in the serial.
"I am shown as a tyrant father who has his own principle of spending life and on which he can't compromise at all. He is actually a very dangerous person who even doesn't hesitate to beat his wife and daughter if they ever go against his will," Peerzada explained his role in a nut shell.
Finally, we got some time to talk to the director also. He was giving directions to set the room for the next scene with Nida Mumtaz and Sakina Samoo.
Qureshi is among the few directors who knows the art of changing any mediocre script into an extraordinary project. His currently aired play Neelum Kinary is proof of his brilliance where he captured the beauty of Kashmir while narrating a simple story.
About Ab Kar Meri Rafugari Qureshi said that the story is not usual, but it has a few strong messages attached to it.
"In this serial we have tried to give a message that it is important to trust your children and not enforce your decision on them blindly. Another important message is for people who don't encourage getting married outside their cast or biradri." he said
"In Urdu Rafoo is actually a term used to explain the process of fixing a torn cloth. So in this play we've shown what happens when someone's life gets destroyed. We can only try to fix the damage; whatever loss has been done cannot be paid off," he said.
We were about to leave the set when we found Ushna Shah chilling out after a hectic day on the sets. She spoke a bit about her role as Tabaa in the serial.
"It is a bit different and interesting as compared to other roles I have done. I am usually shown as a bechari and masoom larki who doesn't have a personality of her own – which I really find bland. In negative characters too portray me as extremely chalak and buri larki who likes to wear western clothes and speaks in English. Such types of roles are far from reality and fortunately Tabaa is not like them at all.
Read: Ushna Shah and Ali Safina star in 'Ab Kar Meri Rafugeri'
So how would you define Tabaa then?
"She is a real human being with both positive and negative traits beautifully blended in her personality. She is into fashion, possesses a golden heart, and cares for everyone. I find it interesting because she behaves real in actual circumstances. I thoroughly enjoy playing this role because she is funny, but at times acts mature too when needed like giving advice to her little sister," Shah said.
We wish iDreams and the whole cast and crew of Ab Kar Meri Rafugari all the best. The play is likely to go on-air in January.