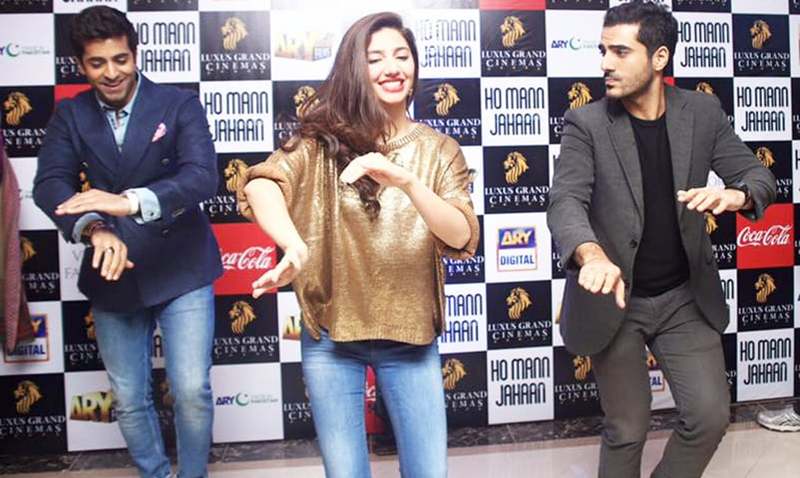 The cast, along with the director, is on a promotion spree as they trot from NCA, LUMS, to Arena Cinema, all in one day!
A few months back, while stalking Bollywood celebrities like Alia Bhatt (for her clothes) or Sidharth Malhotra (for his good looks); I used to wonder how they survive the post-film-frenzy. The mad frenzy between the trailer release and the actual release of the film.
The endless promotions on radio shows, television shows, universities, malls, cinemas, and sometimes even through Skype for countries they cannot visit. I'm talking about Tamasha and Bajirao Mastani's video conference for Pakistan's media.
But, these promotional campaigns only prove that you're taking the industry and the competition very seriously. Asim Raza and Ho Mann Jahaan's marketing team is certainly going all out to make the brand (HMJ) the top of mind of their target audience, especially the primary one (the youth).
Read: 'Ho Mann Jahaan' team on 'Good Morning Pakistan'
Looking at the pace of their visits, I'm sure the whole team feels quote Usain-Boltish right now.The first leg of promotion ended in Karachi last week. Let's have a look at what Mahira Khan, Adeel Hussain, Sheheryar Munawar, Sonya Jehan, and Asim Raza are up to in their second leg of promotions happening in Lahore.
They landed with style in Lahore
As Lahoris complained on social media, saying things like, "Kya yeh sirf Karcahi ki films hai?" Raza and his team thought it was about time they flew off to Lahore before the Karachi versus Lahore rivalry kicked in and Lahoris decided to boycott the film.
I present to you another picture of them walking so stylishly...towards the cameraman.
Press conference Luxus Grand Cinema
The team's first stop was the Luxus Grand cinema, where they interacted with the media.
Read: Campus calling: 'Ho Mann Jahaan' team visits IBA, CBM, and Greenwich
Fortress Mall and Cinepax cinema
After the media, it was time for the people of Lahore to interact with the stars. And did people of Lahore turned up in huge numbers or what! The excitement was building inside them since the film's promotion started in Karachi and it all came just bursting out in Fortress Mall.
HMJ heads to Ek Nayee Subha with Farah
After having a metaphoric good night's sleep, the team headed to APlus' morning show Ek Nayee Subha with Farah. The show hasn't aired yet, but since Farah Sadia is one host who hasn't forgotten the art to interview people, I'm really looking forward to it.
LUMS makes Mahira Khan blush!
December 18, was one long day for the cast and the director. After recording the morning show, Khan, Munawar, Jehan, Hussain, Raza headed to LUMS.
Here is when our spying (reporting) actually started, we contacted a student at LUMS to keep an eye out on the activities of the team.
"Even though there were exams going on, our biggest auditorium was jam-packed. It has a capacity of 300 people, but there were around 400 students packed in there that day," the student from LUMS said.
He further told us that instead of replicating Shakar Wanda steps; a group of students invented their own steps and choreographed the likes of Mahira Khan, Sonya Jehan, Adeel Hussain, Sheheryar Munawar, and Asim Raza.
Read: HMJ's 'Sarak Sarak' will remind you of college days
The mandatory question and answer session was just a formality because everyone knows almost everything about the films now. Who's making guest appearances, who trained to play guitar, or drive a car, or who had really bad falls during the shoot.
Two people were called upon on stage to do impromptu acting. One of them was lucky enogh to be praised by Khan herself. "Tum bohat baray actor banogay," Khan told the starstruck boy.
Speaking of Khan, the crowd went crazy when the host announced her name and she was over whelmed from the response, according to our reporter. Raza was quick to point that out, " This is the first time that I've seen Mahira get shy."
The mandatory Shakar Wanda dance took place in the end, but since everyone was breathing down each other's neck; only the cats could do it freely. Everyone else just sat rigidly and moved their arms about acutely.
Nothing to write home about the NCA event
Our reporter there kept on insisting that it was an "amazing event" and very well-organized. The proceedings, however, were similar to LUMS, so let's not go there.
Off they go to Bahria Arena Lahore
After a morning show and two campus visits, the team couldn't just head home, soak their feet in warm water and have coffee, especially when there were still so many people out there who wanted to meet them. so off they went to Bahria Arena Lahore.
Eidi 'Ho Mann Jahaan' ke liye
If you thought December 18, was over for the HMJ team guys then you aren't yet aware of the energy these guys have. After changing from their jeans into a glamorous sari and dhoti pants; Khan and Jehan along with the boys headed to ARY Zindagi's show Eidi Sab ke Liye hosted by Ahmed Ali Butt.
There appearance there was a minuscule one but a very informative one indeed. Butt asked them to spill a few beans and after a little insistence, they started rolling.
Butt to Khan: Who's the better dancer; Sheheryar or Adeel?
Khan: Adeel.
Butt to his cousin Sonya Jehan: What's the one thing you hate most about Sheheryar?
Jehan: Ye humein kabhi kuch zyada chertai thai!
Butt then asked Jehan: Kabhi isne haath tou nahi lagaya?
(Everybody laughed at Butt playing the possessive cousin)
Munawar: Ek haftay tuk tou mein inke samnay jaanay se darta tha.
Butt to Asim Raza: Who's your favourite among these four?
Raza; Sonya Jehan, because these three are with me here, iski humne rukhsati kardi hai dur.
Butt to Sheheryar Munawar: hat's the one thing you'd like to change in Mahira?
Munawar: Jab mein in se zyada mazaaq karta hoon tou ye naraz ho jaati hain. Naraz na hua karo yaar!
Everybody smiled and the show and Decmebr 18, finally ended.
It's Bloggers' time
Here they come again the Bond-style.
Just like in Karachi, in Lahore too, the team held a bloggers meet up at Espresso. Our reporter Nayab praised the discipline with which every event was planned.
"Everyone got a chance to meet with the the celebrities and there were personal little interviews also going on side by side. These activities are really creating a positive image of the star cats and interest for the movie among public is increasing."
She further added, "I've spoken to quote a few people who have attended the various meet-ups held in malls and campuses and everyone is very happy. They're so humble and give time to us. Also, despite so much rush, the organizers manage to keep every event smooth."
Cine Star and Super Cinema Vogue Tower, Lahore
December 19, was a relatively slow day compared to the previous one. The team had a meet and greet session at Cine Star Lahore followed by a one at Vogue Tower.
These promotional activities were basically of people going crazy at the mere sight of them, the star cast giving out signed posters, and taking selfies.
The team is off to Islamabad today. Here's their schedule.