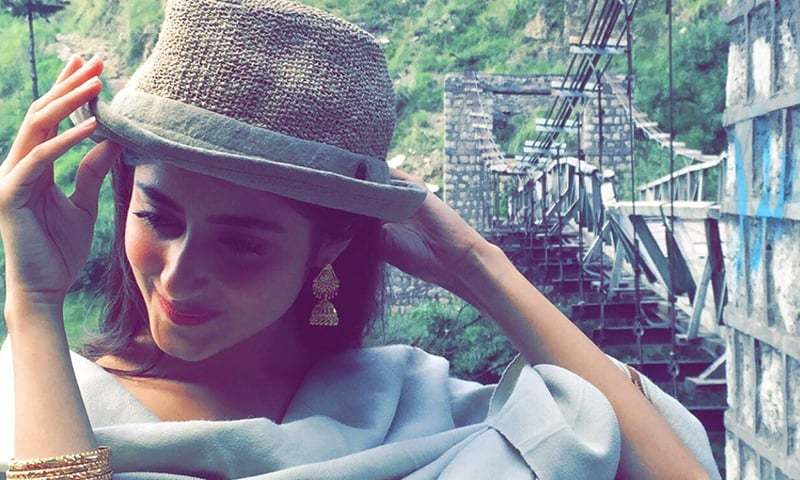 Marriage is on the cards for Rana and Adeel, but sans the bridal 'jora' and bride's consent.

Don't start getting all the wrong ideas. Gul-e-Rana (Sajal Ali) doesn't ask Adeel (Feroze Khan) to kidnap someone. She's quite sane and shareef. It's Adeel who has taken the turn for all things dark. He decides to kidnap Rana because she refuses his proposal.
Now that I have your attention, let's start from the top. So where did we leave off last week? Yes, Adeel was hovering above Rana to convince her to say no for Zafri's porposal, but being a strong girl she said, "Why should I listen to you?" When for the first time Adeel was actually making sense because Zafri, being general store owner and generally a mela person, is no one's ideal.
Read: Gul-e-Rana impresses Adeel..but that's not good
Todays episode started with the end of Zafri's proposal. Adeel and Taaya abu (his father) convey their condolences to Bari phuppo (Samina Ahmed) for not accepting her son's hand in marriage for Rana and that's that.
Gul-e-Rana's little sister (who looks older than her just by the way) is way too happy about and is finding the person who put a stop to this mismatched wedding. In comes Adeel; in fact he's just sitting on the sofa and this over-exuberant girl walks right into his trap. Anyway, he tells her to thank him because he's the angel who saved her baaji from Zafri and he also reveals that now I'll marry her.
She, being her usual talkative self, launches into an inappropriate monologue, "Per baaji tou kabhi nahi manegi. Aap tou unko bohat rude aur selfish lagte hain. Aur waise bhi aap shaadi mein kab se interested hogaye?"
Read: Gul-e-Rana upsets Adeel and Adeel upsets rest of the world
This revelation obviously doesn't go down well with Adeel and he decides to tell Aunty (Step mother played by Farah Shah) that, "I want to get married." Aunty welcomes his decision. He waits for her to ask the girl's name. She doesn't. He cannot control his excitement and says, "Poochengi nahi kis se?"
"Of course Maria se?" she says. he smiles, denies and tells her that he wishes to marry Rana. Poor Aunty is dumbfounded because she can clearly see that this flirt of a person doesnt deserve Rana. But she cannot say this to Adeel's face, so she smiles instead and tells him his father will be very happy to hear the news. Adeel, the self-obsessed bimbo, says, "Zaahir si baat hai sab khush honge. Gul-e-Rana bhi jab usse pata chalega ke meine, Adeel Kamal ne usse propose kiya hai."
Ha! In your face because Rana is furious when she hears the 'good news', but we will get to that later.
It is important to mention here that Feroze Khan has again acted brilliantly and his expressions are spot-on. The shoddiness in editing has also reduced and Samra Bukhari has finally established each character and there's a flow to the serial. I now know that Adeel is confused and unstable so we hsould not expect him to stay consistent. For example, in the previous episode he tells his friend that he's not in love with Rana, but in yesterday's episode he tells Rana (after kidnapping her), "Mein tumse mohabbat karta hoon."
While Adeel has started the Marrying-Rana expedition in his home. Rana, oblivious to all this, is busy chatting with the PTV guy (Asher bhai). You guys might not believe it when I say that Asher bhai is also getting married! You also thought that he was interested in Rana, right? Well, me as well and so did Asher bhai himself , but his mother/father have other plans. So, he's getting married to a girl named Sara and he's doing nothing to put a stop to this because hello, he's our PTV guy, whose sabun is pretty slow.
Read: 'Gul-e-Rana' starts to trot, waiting for it to run
We got to know one thing here though that Rana is not interested in Asher bhai at all. "Woh mera bhai hai!" she yells at Adeel when he asks her "Kis ke saath arahi ho bike pe beth kar?" after this little interaction, Rana heads to the lunge where the whole family - her mother, sister, Aunty and Taaya abu - are waiting to give her the 'good new'.
As expected the news doesn't go down well with Rana and she starts to cry and out rightly says no. Taaya abu understands her and gives her the right to do so even though Rana's mom (rubina Ashraf) is giving her death stares. The chapter closes, but it only opens Adeel's twisted mind.
He confronts Rana and here she appears as the strong woman I was waiting for all along. I have a right to opinion, she tells the fuming Adeel and Sajal Ali's confident posture and soft but strong voice added much value to the dialogue. Adeel, however, is not impressed by her bravery and manhandles her. Rana being Rana, slaps him hard because dude, you can't just squeeze the denial out of her arms now can you?
Intense music starts playing in the background and Adeel's mind goes into overdrive. He plots and plans and comes up with an 'innovative' plan. Next day, he first apologizes to Rana and she being the bigger person accepts his apology. After accomplishing step one, he's off to Rana's college where he uses the 'innovative excuse' he thought of the night before. "Gul-e-Rana's mother isn't feeling well so please allow her to go with me," he tells the principle.
And this is how Gul-e-Rana is kidnapped by Adeel. Khan's acting throughout the kidnapping scene was so villainous that I don't know how Rana will ever develop a soft corner for him. Packed with action, gun, and that really evil whistle; the scene (and the episode) ends when Adeel grins in the most evil way possible.
In all, this episode was better than the previous ones because there were very few moments when I went 'wth'. Rana came out strong finally, especially in the scene when the office worker (whom Adeel had an affair with) reaches Adeel's home and he tries to kick her out. Rana doesn't shy away from telling her that "bibi, you're also at wrong here." But when Adeel tries to drag her out, she protects the girl and speaks for women empowerment and calls Adeel "ghutya aadmi" to his face. Ouch.
The Nikkah ceremony will take place in next episode in that deteriorated apartment, so let's see what happens after that. Will Rana tell everyone about the kidnapping? Or will she be stunned into silence? Let's see.