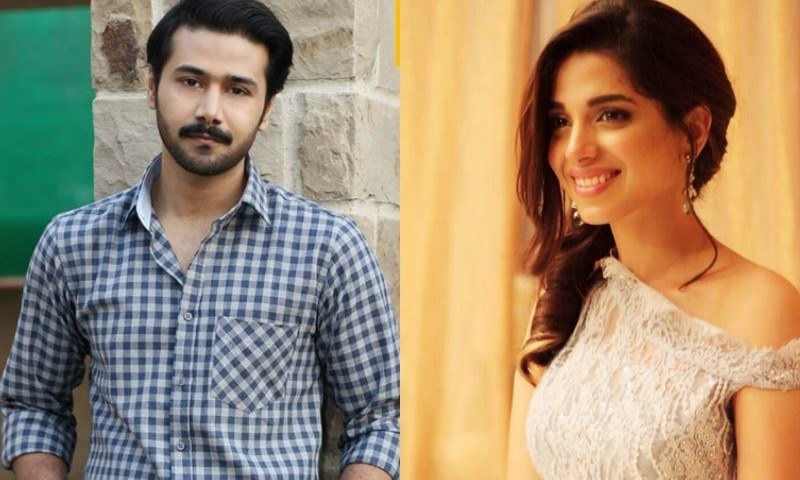 According to Abbas, it's a story of two odd individuals making valiant efforts to stick together as a couple.
Mein Kamli's couple, Ali Abbas and Sonya Hussain, will be seen opposite each other in yet another play Kisay Chahoon.
Produced by Momina Duraid, the play is directed by Ahmed Bhatti, the man behind Meray Ajnabi and Dil-e-Barbad which aired on ARY Digital. The drama also stars Noor Hasan in the lead cast.
Kisay Chahoon's lead actor Ali Abbas, while talking about the drama, said it had a love triangle, but with a twist.
"In a nut shell, the drama is basically about two extremely odd people living together as husband and wife and their struggle to accept each other," he said.
To get into the skin of the character, Abbas underwent a pretty nerdy makeover. He'll be seen wearing gigantic spectacles, mustache, and over sized shirts in the serial.
"My character is of a very simple guy hailing from interior Punjab so I had to look a certain way. The audience will find me in an entirely different look in this serial," he explained.
Check out Abbas's new look in this picture he shared on Instagram.
Ali Abbas on Mein Kamli
Abbas has recently worked with Ahmed Bhatti and Sonya Hussain in the serial Mein Kamli on Aaj Entertainment, a recently launched channel. The actor told HIP about his role in the serial.
"I play Sikander – a macho man in Mein Kamli. To get the required built I had to employ an intense work out regime during that play. We started working on the characterization almost two month ago. In it [Mein Kamli], I have long hair and a mustache. I have also applied a lot of surma and wear customized kurtas for it," he added.
Read: 'Mein Kamli' talks about honour killing and women empowerment
Ali Abbas is the son of the veteran actor Waseem Abbas. A law graduate by qualification, he started his career as a host before taking up acting. He is among the young crop of artists who are making a place for themselves with sheer hard work and dedication.