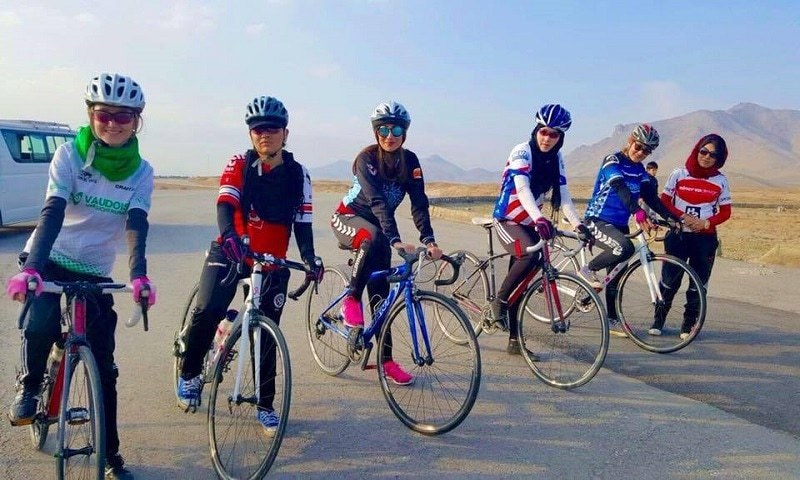 "It's not as unsafe as projected to the world; regular people with regular lives everywhere", says Ashraf

Anoushey Ashraf is Pakistan's first known female "Video Jockey". Born in Karachi, Ashraf loves traveling, desi food, music, and everything about her country.
As a VJ, she appeared on the music channel MTV Pakistan. She has also acted in a play for PTV, directed by Saira Kazmi in a 13-episode serial – in which her role was that of a best friend of the lead, played by Marina Khan.
Anoushey Ashraf has a flare for traveling and recording travelogues. A few months back she was in Delhi, India and recently was contacted by the Afghanistan's channel 'Tolo' as their team learnt that she is a travel enthusiast.
Also read: Travel Diary: Anoushey Ashraf goes to Delhi, India
She shared her such an informative journey to Afghanistan with us and clearly she had an amazing time. I would also recommend my readers to read the complete information she has given along with her Instagram pictures, they are truly enlightening!
1. Where did you choose to go and why?
Let's just say I didn't choose this destination, but it chose me! Got a call from integrated media that they wanted me on board for a travel show that shows people the 'soft' side of Afghanistan. Considering the traveler I am, there wasn't much hesitation. In fact I was most excited about traveling to a country very few venture to!
2. Who do you like to travel with?
Not any one person in particular, but I always like to keep the group small; 3-4 people max. Friends, my sisters, etc are always fun to travel with though.
3. What five things did you pack for the trip?
I knew Afghanistan would be super cold, so I carried a couple of really warm jackets, a good book, tons of moisturizer, a nice pair of shades, and a hair dryer so I could look presentable through the trip! ;)
4. What are the best shopping spots there?
Kabul is actually a fun place to shop if you're looking for ethnic stuff. They have some of the world's best hand knotted carpets, amazing dry fruits, and fun jewelry as well. Shah Ra-e-Nau is a fun street to shop on with shops selling almost everything under the sun!
5. Items you purchased during your visit?
I got a couple of carpets (they are breathtaking), some afghani jewelry, a lovely handbag, and lots of amazing dry fruits!!
6. Favourite meal/restaurant?
I must admit, this country has really good produce. Their meat is yum and their fruits and veggies really really fresh so I enjoyed my meals everywhere I went. However, besides the a awesome kabuli palao, afghani tikkas and the usuals, we were made to eat the most amazing localised burgers at a place called Ehsan burger where they wrap up meat, fries, Cole slaw, and all things yummy in a wrap. Was unlike anything I'd seen before! Was awesome.
7. Tell us about the sights no-one should miss out on!
One should make the trek across to Mazar-I-Sharif and definitely visit what the Afghan's believe to be Hazrat Ali (RA)'s shrine. It was nothing short of breathtaking. Mount Bibi Maroh, from where you can get a birds eye view of the city of Kabul was pretty amazing as well.
8. Suggest places for a perfect night out
This is tricky, we weren't allowed to 'hang' out too much after Maghreb because we were working with a tv channel that had strict rules of safety for their employees. However, the nights we did manage to get out, I didn't want to do much fancy and wanted to explore the local cafes and juice shops which were pretty amazing. I'd recommend to walk on the streets and discover it to your liking!
9. What can you do over there to relax and unwind?
There are some well known Hamaams there for those interested. Or sheesha at a nice chilled out cafe even though I spent my evenings having warm soup and getting a good book going!
10. Most memorable/favourite moments?
I went cycling with the Afghan National Women's team on the outskirts of Kabul one day. I was their guest. It was AMAZING! It was cold, and cycling with 10 awesome women in Kabul was unthinkable and I'm glad and blessed to have had the opportunity to do such a thing in my life :)
11. Please tell us about your overall trip and experience.
I loved it. It wasn't the most amazing place to travel to, but was surely a place where I was cared for, respected, and loved. Years of warfare have reduced them to looking like monsters to the outside world, it's actually quite the opposite. I'm glad I made the trek. It made me wiser and has certainly given me a better understanding of the world. Will never just judge by what the media feeds us any longer.
12. Finally, any tips about the city/country?
It's not as unsafe as projected to the world. Regular people with regular lives everywhere. I would recommend you know someone there.
However travel light, the airport security is next level and lugging all those heavy bags isn't fun. Keep activities for the day because there isn't much to do when the sun goes down. Keep the trip short and keep hopping around the safe cities. It's safer, more fun, and you can easily explore the small cities in a day and a half. Follow my Instagram on Anoushey Ashraf and I've given a million tips throughout over there :)