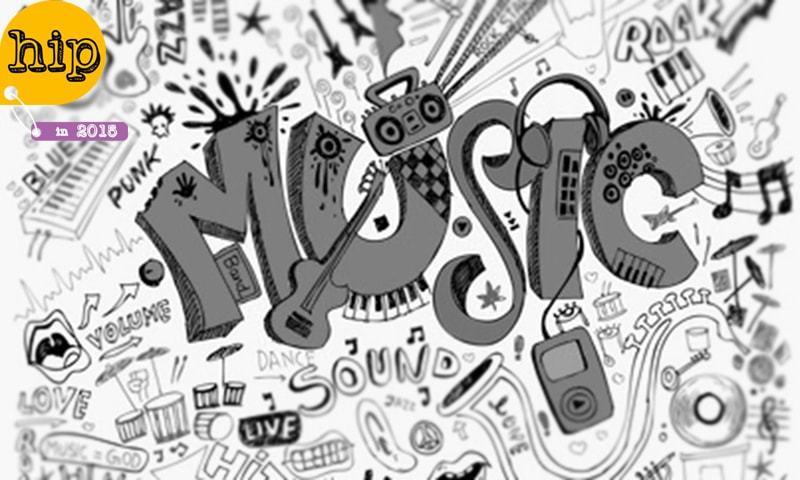 From 'qawwali', anthem, jazz, 'bhangra', to instrumental numbers; 2015 had a little bit of everything!

2015 has been a year for music! May it be on the global front or in Pakistan.
Adele produced an international hit Hello - a song that despite receiving criticism made it to many playlists this year! And in Pakistan Asraar gave us Shakar Wanda - it's not just a song, it has turned into pop culture in Pakistan.
Read: How is 'Patari' financially viable? Let's find out
Musicians are now being paid, thanks to Patari, bands like Noori are launching albums, music videos are being made, and even concerts are happening, so we're definitely on the right track.
Read: Noori is back with 'Begum Gul Bakaoli Sarfarosh'
Today we are going to talk about Pakistani songs that called to us with their puppy eyes till we went through the trouble of downloading them on our cellphones or iPod. Here are the songs that made it to my playlist in 2015.
Shakar Wandaan by Asraar for Ho Mann Jahaan
We heard this song last year in Coke Studio, but a faster, revamped version entered our lives this year courtesy Ho Mann Jahaan. With the mesmerizing dance moves by the trio (Adeel Hussain, Mahira Khan, and Sheheryar Munawar); this song is not only an addition to our playlist but also to all the mehndi nights this winter!
Read: Ho Mann Jahaan: 'Shakar Wanda' has killer dance moves
Tajdaar e Haram by Atif Aslam in Coke Studio
Every Amjad Sabri Qawali night is incomplete without Tajdaar-e-Haram. This year, the highlight of the first episode of Coke Studio was the Atif Aslam's version of this song and I didn't think twice before downloading the song.
Baarish by Jimmy Khan for Ho Mann Jahaan
This song is a personal favorite of all the editors and authors of the HIP Team. We find it cute and it makes us fall in love again and again! Aah it goes so well with the December blues and most importantly, we think Sheheryar Munawar looks so cute with the cake batter smeared all over his face in the video!
Read: Video of HMJ's song 'Baarish' will give you all the 'feels'
Tum Ho by Strings for Moor
The entire music for Jami Mehmood's Moor was done by Strings. While every song is absolutely love, the song that made it to my playlist is Tum Ho! The song is so haunting and is an amazing blend of perfect strumming of the guitar and beautiful lyrics.
Sammi Meri Waar by Umair Jaswal & QB in Coke Studio
The song is impactful and so are the vocals! For me, Sammi meri Waar is a beach song. It reminds me of days spent sitting, lost in your thoughts, and having sheesha looking at the ocean. Oops, sorry forgot sheesha is now banned in Karachi, so imagine a bonfire instead.
Rangeela by Ali Azmat in Coke Studio
While season 8 of Coke Studio mostly gave us mellow, slow fusions and sufi songs, but among them was Ali Azmat's Rangeela which hit us with the nostalgia. It made us revisit the good old days when Junoon was together and was at the top of their game.
Tutti Fruity by Ayesha Omar for Karachi se Lahore
With the bubbly Ayesha Omar and her latkas and jhatkas on this song, this is one item number that made it to my playlist this year. The day the music album for Karachi se Lahore released, I remember downloading it and listening to it all day long.
Aik Tha Baadshah by Noori
As the song begins, you cant actually tell with the dub step version that this actually could be a Noori production but it ends in the classic Noori style! We love the video and the entire role of the king in this!
Read: Noori presents "Aik Tha Badshah"
Tamasha by Khumariyan
Do you remember listening to Bela by Khumariyan? That is one song that touched my heart. Tamasha, again an instrumental, makes you tap your feet and feel upbeat.
Mujhe Dushman ke Bachon Ko Parhana Hai – A tribute to APS Martyrs
We might not have this anthem on our playlist because it brings back heart wrenching memories; but every single loves the message it gives. From 5 years old to even 25 years old – the song has reached out to every single soul who feels for humanity! And it gives you goosebumps every time you hear it.