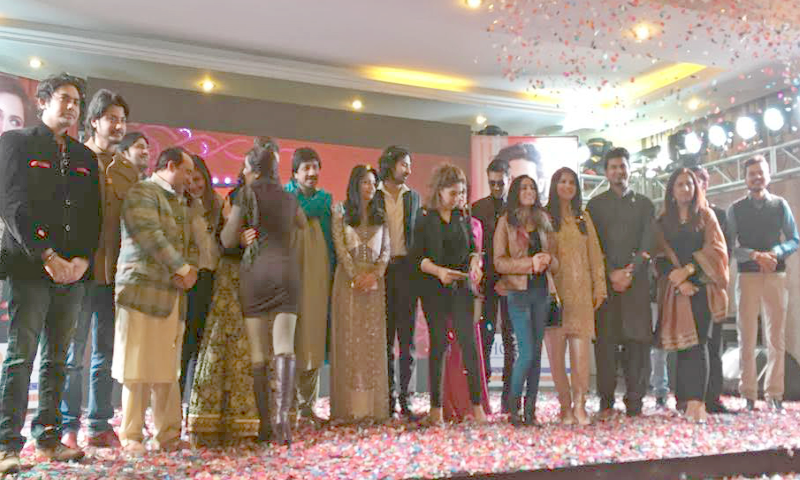 The highlight of the music launch was the performance by Rahat Fateh Ali Khan and Hamid Ali Khan.

After a long struggling phase, Pakistan's film industry is back on track. The new entrants are introducing new trends of movie making and 'Gujjar Culture' is finally coming to an end.
Music launch of upcoming Pakistani movie Ishq Positive was held at the Royal Palm Golf & Country Club, Lahore and the beautiful evening was star studded. Actress Noor Bukhari has debuted as the director of Ishq Positive, which incidentally also stars her sister Faria Bukhari alongside Wali Hamid Ali Khan, Saud, Shafqat Cheema, Amad Ali, and others.
Read: Noor Bukhari to host 'Samaa Kay Mehmaan'
The music of the movie was launched by the legendary singer Hamid Ali Khan and the evening was designed to entertain the audience.
Read: Ishq Positive's first look finally out and it's appealing
The debut actor Wali Hamid Ali, playing the lead role, is the son of legendary singer Hamid Ali Khan. On the other side, Faria Bukhari, the female lead, is sister of Noor Bukhari. The positivity and confidence of the debut actors, was indicative of their bright futures in industry.
After the performances, the producer shared her views and some interesting facts about the movie. Actress Meera also appreciated the efforts of Noor Bukhari and crew and wished them luck. Last but not the least, Natasha Hussain did an incredible job as a host.
The highlight of the event was the performance by the living legends Rahat Fateh Ali Khan and Hamid Ali Khan, who have both lent their voice to the film. Wali Hamid Khan - who has also sung for the film - performed on the title track alongside upcoming singer Damia Farooq. The audiences were in for a surprise as music band 'Raga Boyz' also performed on their super hit number 'Mann Qunto Maula'.
In addition to the live musical performances, the audiences were further treated to the teaser videos of the songs, Ishq Positive (Dil Ka Panchi), Rab Diyaan Rab, and Aja Main Sikhadon Tujhay Dance from the film.
Overall it was perfectly organized and a peaceful evening, which left no one bored. No doubt, the music of Ishq positive seems tempting and has potential to capture the attention of greater chunks of audience.