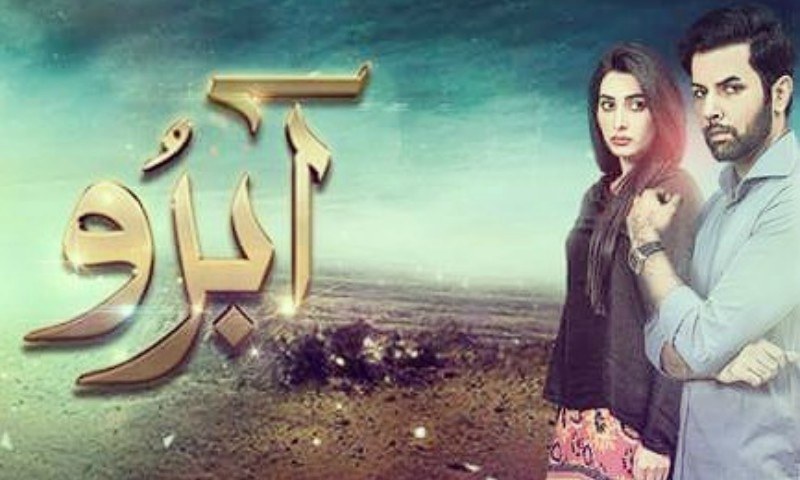 Hum TV recently aired a new drama serial named Abroo starring Iqra Aziz, Farah Shah, Asma Abbas, Mehreen Fayyaz, Zainab Ahmed, and Noor Hassan in lead roles. The play airs every Sunday at 8 pm.
The lead character Abroo is played by Mehreen Fayyaz who is a complete newbie in the business. Maybe that is the reason you can see her trying too hard sometimes. Her character is rude, stubborn, selfish, and most of all extremely loud. The type of characters only a few can pull off so easily, but for someone so new I think Fayyaz is doing quite well.
Qaisra Hayat is the original writer for this story, Pul Sirat being one of her prominent works. The screen play of this serial has been provided by Umera Ahmed and she has also edited the script. I have always been a big fan of Umera Ahmed; be it Zindagi Gulzar Hai, Muhabbat Subh Ka Sitara Hai or Qaid-e-Tanhai, she has never failed to deliver stories that soon become so close to our hearts...so at least I can trust her with this one too.
As the first episode began I found the story line slightly innovative and something the young generation in our society can relate to. The main character Abroo, has a non-serious attitude towards the most important things in her life just like most of teenagers these days do. Some viewers may find this topic indecent, but we need to accept the fact that all that's shown in this drama is what really is happening in our society. Young girls are as spoiled as Abroo is and they don't respect their elders anymore just like she doesn't, so this should be a learning source for such youngsters. Yes, this character is nowhere near to be considered as a role model for the younger generation, but to create awareness as to what can lead to such behavior. Of course Abroo will learn her lesson by the end.
Here is what happened in the first episode.
Abroo (Mehreen Fayyaz) is the daughter of Sakina (Asma Abbas). Sakina works at schools and houses as a maid to support her little family which includes her two children. She is uneducated and a widower and has faced a lot in her life after her husband's death hence, her only dream is for her children to become educated so that they may never suffer the same way. But it seems like neither Abroo nor her brother Hamid is interested in making Sakina's dream come true.
Abroo has just done her matriculation and she's really proud of that. She is apparently the most educated girl in her neighborhood since she gives tuition to little kids. She is nowhere near being soft spoken and is most of the time really rude to her mother and brother. She thinks of herself no less than a queen despite being a maid's daughter.
Abroo desperately wants to get into college, but her low grades do not allow her to do so. A reason for her low grades may be her boyfriend Ali (Noor Hassan) whom she's always on the phone with. The only things that interest Abroo are clothes, makeup, and Ali. She spends most of her time getting dressed up and is careless as a tuition teacher as well. On the other hand Hamid, instead of being his mothers helping hand is a total awaara who is not at home most of the time and does nothing in life except shout at both her mother and sister.
Sakina works at a college principal, who is a very kind woman. She asks the woman if she could do something about Abro's admission in her college. The next day the kind woman greets Sakina with the good news of Abro's admission. Very happy to hear the news, Sakina rushes home to tell Abroo. Little does she know, the only reason Abroo wants to go to college is so she can see Ali without being caught.
Ali belongs to a respective middle class family who value education a lot. He, due to some health issues, could not continue with his education after his FA, but still has a small job. He has a brother named Abid who unlike him, went further with his education and is pretty successful with that. Their parents are really proud of Abid and they wish Ali could also be like him. The character of Ali and Abid's mother is played by Farah Shah.
Ali's parents want him to get hitched with her cousin Fouzia (Zainab Ahmed). Fouzia seems pretty interested in Ali, but he obviously doesn't feel the same way about her.
Since Abroo does not have a good record of her education, her college principal advises her to work hard and to stop wasting her time around with makeup. She promises to work hard and later in the episode she's only bunking her classes and gossiping with her friends on her favorite topic, boys.
The director Illyas Kashmiri, gives us even high hopes for the upcoming episodes of Abroo.
Lets wait till Sunday to know more about what Abroo is upto at college.