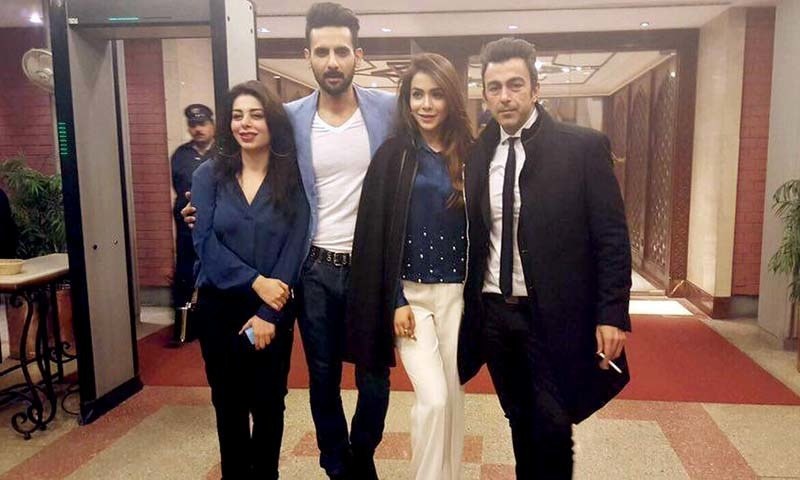 Shahid disclosed that Mohib Mirza was his original choice while Humayun Saeed gives his best wishes to 'Arth 2'.

The veteran actor and director Shaan Shahid, along with the lead cast - Mohib Mirza, Humaima Malick, and Uzma Hassan, attended a press conference in Lahore where they spoke about Arth 2 and how it was essentially a commercial film, but its script is synonymous with art films.
It is a remake of Mahesh Bhatt's film Arth, hence, the director gave his best wishes to the team via a tweet and a video message (which is at the very end).
Apart from that, Shaan Shahid also spoke about the reason behind the change in the lead cast. He said,
"The only reason why Humayun Saeed was a part of Arth 2 was because ARY was involved with the film and they were pushing for him. As soon as ARY left , Mohib came on board as was my initial plan for the film."
The press release was held to announce the collaboration between Telenor Easypaisa and Arth 2, reported Momin Ali Munshi from Galaxy Lollywood.
HIP contacted the veteran actor Humayun Saeed, but he decided not to comment on the matter and said he'd rather stay away from the situation.
He did however give his best wishes to the Arth 2 team, "Shaan bhai is like my elder brother...unhon ne jo bhi kaha sar aankhon per. All the best to Arth 2 and my best wishes to Mohib who's like my younger brother."
If you're a bit dazed at what just happened then let me take you back to ARY Film Awards 2014 where Arth 2's first look was unveiled.
The cast included Shaan Shahid, Humaima Malick, Uzma Khan, and Humayun Saeed. The film then went completely off the radar and made a comeback earlier this month with new producers (AAA Motion Pictures, 5th Element - Shaan Shahid's production house -, and HKC Entertainment) and a revamped cast.
Read: HIP Exclusive: Unveiling final cast of Shaan Shahid's 'Arth 2'
Mohib Mirza had replaced Humayun Saeed. HIP got in touch with one of the producers, Ali Murtaza of AAA Pictures to know about the final cast and the reason behind the change. Murtaza had then said, "It's the director's call really, but it was a mix of factors. Mohib Mirza is a brilliant actor and he fit the character perfectly."
Today, however, Shahid revealed the truth saying that ARY Films (the then producer) had asked him to cast Saeed and as soon as the partnership ended with them, Shahid reverted to his original choice that was Mohib Mirza.
The director, producer, writer of the film (Shaan Shahid) further spoke about having experience of around 570 films.
"I have done 570 films and half of them have flopped. The hits didnt teach me much, but the flops had lessons," Shahid said.
Read: Shaan celebrates 25 years in cinema with 'Arth 2' shoot
Arth 2's cast on Shaan Shahid
When Mohib Mirza came to the podium, he felt it was his duty too clarify that Shaan Shahid was highly misunderstood.
"Media industry and especially male actors and celebrities have certain misconceptions regarding Shaan Shahid. Now that I've worked with him, I can safely say that the insecurities that our male stars have regarding Shaan are not called for. Right now, he introduced me as the lead and that speaks volumes about his personality," he said.
"Shaan se bara koi nahi hai. If you can look up to someone in Pakistan then it's him. Shaan stayed resilient and worked for the industry [when all of us had given up]. And I think I should clarify few things about him. There's a perception, misunderstanding regarding this guy and I, as a person now close to him, am telling you that there's no truth to these rumours."
One of the lead females, Malick also thought it necessary to share her views regarding the 'super star' status of some of our actors. She didn't directly pinpoint anyone, but said,
"Star jo hota hai, woh Pakistan mein reh ke star banta hai. Hum jinko aaj star kehtai hain. Kuch ginay chunnay jo hamare male 'actors' hain. Our industry supports male film actors and they're always paid more than us chahay humne jitni bhi hit film di ho. This person who has done 570 films in Pakistan is the strue star," she said praising Shaan Shahid. "Those actors who're only hit because of one play or one film are not stars."
Here is the video of Indian director Mahesh Bhatt wishing luck to the cast and crew who is remaking his film.
Keep reading HIP for more details about the film as the shooting progresses and we get closer to a release date.