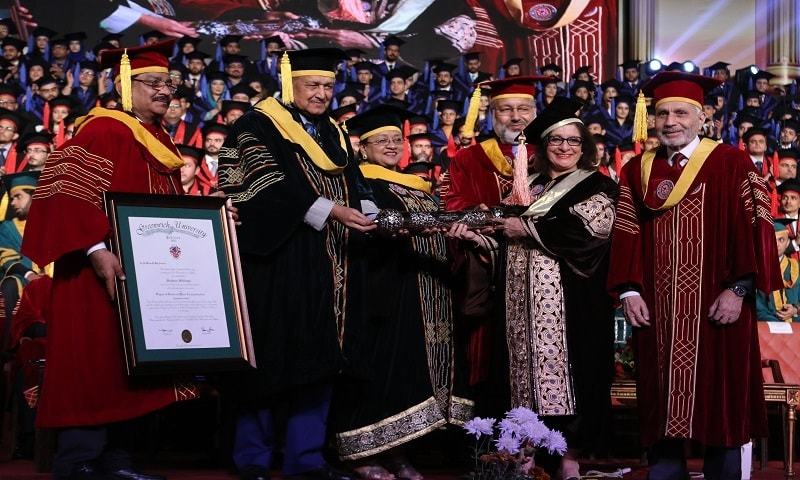 Greenwich University conferred degree of Mass Communication, Honoris Causa, to Sultana Siddiqui, President HUM Network

Greenwich University, in its 11th convocation, conferred the degree of Mass Communication, Honoris Causa, to Sultana Siddiqui, President HUM Network at a ceremony held at the University on December 29, 2015 in Karachi. Apart from Sultana Siddiqui, the University also conferred doctor Honoris Causa to Mr. Sardar Muhammad Yasin Malik, Chairman Hilton Pharma Ltd, and Mr. Sirajuddin Aziz, Chairman Habib Metropolitan Bank Ltd, in their respective fields.
The honorary degrees were presented by Dr. Abdul Qadeer Khan, Dr. Mukhtar Ahmed, Chairperson HEC, and Seema Mughul, Vice Chancellor Greenwich University.
Sultana Siddiqui, who has been at the helm of the country's entertainment for over 4 decades, was presented the degree in recognition of her outstanding achievements in the field of entertainment and for revolutionizing the media industry; empowering women in film and television across the globe and for highlighting social issues, causes and creating mass awareness.
"It is truly an honour to be awarded with such a noble accolade by Greenwich University and to stand alongside illustrious thinkers and personalities from our society. To have the opportunity to address the leaders of tomorrow at one of the most distinguished private universities in Pakistan is a special moment for me," said Sultana Siddiqui after receiving the degree.
While addressing the graduates, Sultana Siddiqui said,
"I want you to believe that the path to success is always there; your efforts should be focused on finding the means by which you can set yourself on this path. You will stand in good stead with an expansive vision and a positive approach towards learning. Always aim high, stay determined and develop the ability to turn your dreams into reality. Make decisions that not only benefit you but bring a positive change in the society. Whatever you have gained in terms of education and character building is in invaluable and you must do your best in giving it back to the society."

"Sultana Siddiqui is a woman of substance with outstanding leadership qualities, she is determined resilient and hardworking, a role model for entrepreneur, young and old. She has raised her children to be successful and this amazing balance between her professional and personal life makes her the ultimate choice for our highest honour, a doctorate of Mass Communication," said Seema Mughul, Vice Chancellor, Greenwich University.