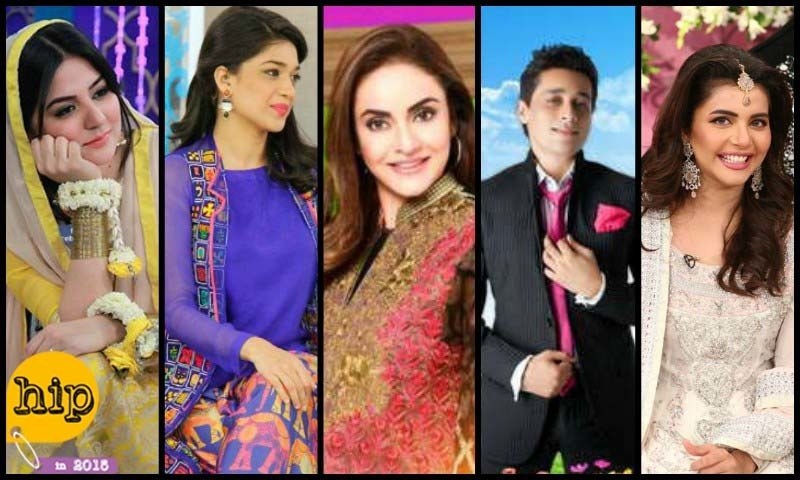 Results tell us that while the host may be considered 'most entertaining'; their show might not be highly rated.

Around 90 percent housewives of Pakistan wake up, send their husbands to work, children to school, make their breakfast, and are rooted in front of their television screens for three hours as they binge-watch multiple morning shows running on various channels simultaneously.
This is the picture the morning show hosts paint. What about women who work in offices or at home and are not really interested in making pickles or learning totkas about wooing their husbands. There are women out there with more important things on their mind; females who are busy building their own identity. But apparently they are not part of the much talked about 'masses' and should satisfy themselves by watching foreign channels or download seasons of their favourite shows.
Coming back to morning shows, this segment witnessed an immense amount of activity in the last quarter of 2015. First Shaista Lodhi made a comeback, on Hum Sitaray instead of Geo Entertainment. Then Nadia Khan came back on Geo Entertainment, Amir Liaquat on Geo Kahani, and Farah Sadia shifted from the terrestrial channel ATV to the satellite one APlus. Looking at this hullabaloo, and as the year comes to an end, we decided to conduct a poll and also got hold of the yearly ratings.
Here we discuss the discrepancy between the most entertaining hosts, according to our poll result, versus people meter's ratings for the most popular morning show this year.
Nadia Khan
Nadia Khan topped as the most entertaining morning show host as 32% of our voters voted for her. Her morning show, however, didn't make it to the ratings chart. The absence of her show from ratings chart can be due to the fact that the show was launched in November this year so its average ratings for the year didn't possibly sum up to a considerable number.
Read: "Ratings never affected me at all," says Nadia Khan
Sanam Baloch
She was the second most popular host in the category with 25% votes, but her show was rated fourth on the ratings chart. Baloch's show The Morning Show with Sanam Baloch airs on ARY News and while her show has all the 'right' ingredients such as weddings, totkas, and games; she still manages to keep things real with her hosting.
Read: Mahira Khan's advance birthday bash at Sanam Baloch's morning show
Sanam Jung
Jung was a close third as 23% of our audience voted for her. Her show, Jago Pakistan Jago, garnered 0.2% ratings and is ranked third this year. It is one rank higher than Baloch's show with only Nida Yasir's Good Morning Pakistan and Amir Liaquat's Subh-e-Pakistan ahead of her.
She's younger than most of the morning show hosts in the industry so young girls relate to her the most. Also, she was a VJ before becoming a host and was quite popular with the youth due to her natural style of hosting. She may have channeled that audience towards her morning show too, although as a VJ she targeted a totally different target audience.
Read: Sanam Jung wins our hearts with her Defense Day look
Nida Yasir
Yasir is probably the most consistent host amongst this lot and while her show topped the ratings chart with 0.6% rating, she was ranked the fourth most entertaining host in the poll we ran with 17% votes going her way.
Read: TV ratings: Nida Yasir's morning show tops the charts
People are definitely watching her show more as compared to others, but they still don't feel she's the most entertaining host in this category. The credit of Good Morning Pakistan's success then goes to the team behind her and of course ARY Digital's reach and ability to invite celebrities such as Mahira Khan on their show on regular basis. also, her style of hosting has become improved and become more smooth over time.
We even wondered earlier this year if Nida Yasir was the third queen of morning television?
Sahir Lodhi
The notorious Lodhi grabbed the fifth slot with 3 percent votes going his way. Sahir Lodhi is currently hosting Subha Saveray Samaa Ke Saath which is ranked eighth on the ratings chart. This morning show host enjoys cult fan following and we even heard that his interview of Bollywood celebrities, Kajol and Shahrukh Khan, was the least painful (actually enjoyable) to watch. Now that's something.
Read: He's back! Aamir Liaquat to replace Madiha Naqvi on Geo Kahani
Hosts such as Amir Liaquat, Farah Sadia failed to make it to HIP's top five most entertaining hosts list, but their shows' enjoy considerable popularity. Farah Sadia's A Morning with Farah is ranked seventh on the ratings chart. I personally am a fan of her subtle style of hosting.
Liaquat's Subh-e-Pakistan, which earlier aired on Geo Entertainment and then relaunched in November on Geo Kahani, is ranked second on the yearly rankings with 0.4 rating points. The televangelist enjoys a cult following like Lodhi. Although his show went off air for a few months, he managed to find a place, and that to the respectable runner up spot, on the ratings charts.
The show with fifth highest ratings was Noor Bukhari's Good Morning Zindagi on APlus which was recently replaced by Farah Sadia's Ik Nayee Subha. Bukhari is currently hosting Hum TV's show Jago Pakistan Jago in the absence of Sanam Jung.
Read: Noor Bukhari back as HUM TV host for JPJ in the absence of Sanam Jung
Most surprising fact for me was the absence of Maria Wasti's morning show Sunrise from Istanbul - an interview based show - from the rankings chart and presence of Dunya News' morning show Peyam-e-Subh hosted by Aneeq Ahmed. The Dunya News morning show is ranked sixth and follows a totally different format, targeting the segment which is looking for a program "based upon the Islamic principals and values."
The important point to note here is that the audience might feel one host is more entertaining but, still prefer to watch another show. The reasons for the slightly odd result are endless. The highly rated show may not have the most entertaining host, but it might have the most popular celebrities as guests or popular segments.