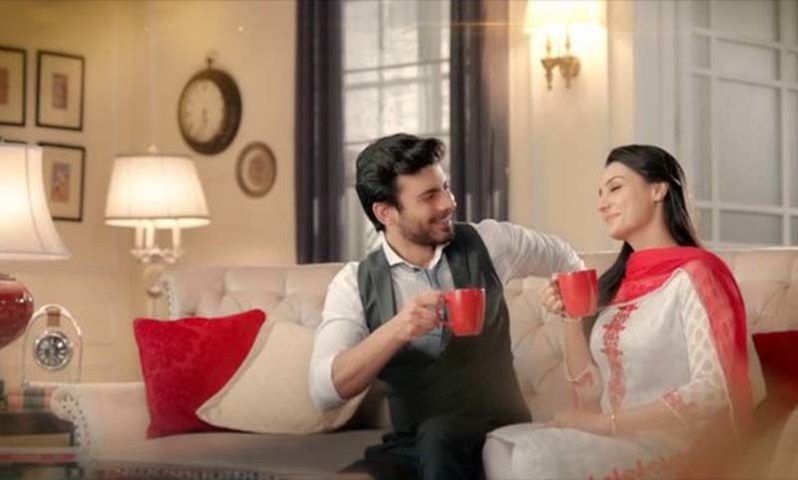 Fawad Khan endorsed Tapal tea. Tapal felt they were the game changers of the decade as they introduced the concept of husband making tea for wife (as if it's the miracle of the millennium). The TVC was lauded for it's role reversal strategy.
Even we played a minute role in the lauding: Fawad Khan tells us how to pamper wives in Tapal TVC
If you thought that was the end of it then, you my dear, are living the life of a caveman.
Soon after, other brands - some popular (Espresso) and some not-so-popular ones (QnE) - started using the TVC to their advantage. Just like Ufone used Nargis Fakhri's print ad fiasco to their advantage and Fasial Qureshi was seen posing on his stomach a few days later in another Urdu daily.
Read: Mobilink is crying for help in their new print ad and TVC
Tapal's slogan/tagline "Tum, mein aur ek cup chai" (You, me and a cup of tea) made it easier for other brands to bank on the popular TVC.
Espresso resorted to satire and released a poster saying, "You, me and a cup of coffee. Forget the other guy, forget the tea." Please note that the 'other guy' here is Fawad Khan - the most 'non-just-another-guy' person in Pakistan.
To this, people replied,"but how can we ignore 'Fawad Khan' man!" Instead of alienating people by forcing them to leave the 'other guy and chai'; the brand decided to include Khan in their communication (the tea of course was intelligently ignored), but not quite the way we expected. Cheeky!
Espresso played on the not so funny joke that if Fawad Khan's around , females rarely pay attention to their spouses or boyfriends, so came the hashtag: #EspressoWithYourOwnGuy and copy, "You, me and...uh please look at me." Now that makes sense.
I wonder what IAL Saatchi & Saatchi - the ad agency for Tapal - have to say here, or is it allowed to use graphic representation of other brand's ambassadors?
Read: Facing post wedding woes? Have Tapal tea!
Meanwhile, a small (and relatively unknown) online grocery brand QnE's marketing person was sitting silently in a corner and eyeing Espresso's marketing gimmick. He/She stood up, headed to the conference room and said, "We're going to do what Espresso did!"
"What did they do?" asked his team. He replied, "They did what Tapal did." As the team stared at the genius in awe. He walked out victoriously towards the graphics guy who came up with this.
Tapal, meanwhile sat and stared at this brazen hijacking of their TVC by Espresso and QnE. The latter, however, have successfully created the buzz they wanted and are probably passing cheeky smiles to anyone who'd care to notice and saluting the inventor of slip streaming marketing - a move which is "all about seizing opportunity to hitch a ride and boost competitive performance with minimal cost".