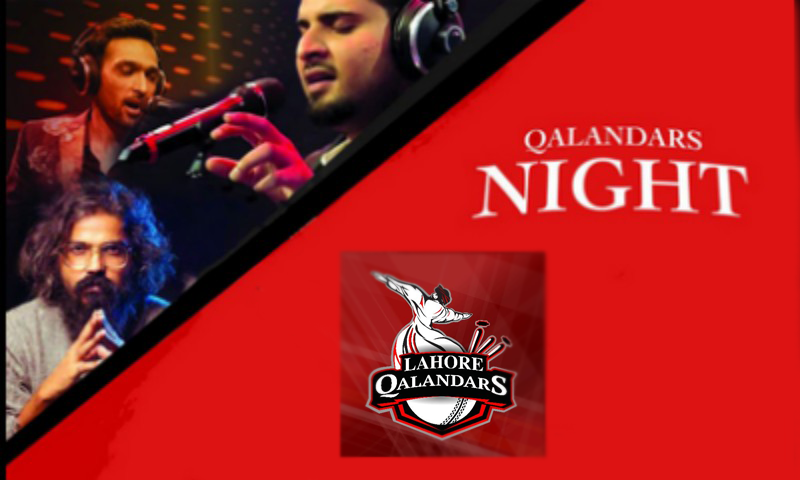 Asrar launches Lahore Qalendars' official song 'Dama Dam Mast' in an exciting concert.

Pakistan Super League team, Lahore Qalandars, launched its official anthem Dama Dam Mast, sung by Asrar, and the team logo (the whirling dervish) during a concert held in Lahore recently.
Apart from Asrar, Ali Sethi and Nabeel Shaukat were also part of the concert. Keeping Sethi and Shaukat's recent performance in Coke Studio in mind, I'm sure they must have entertained the crowd to the fullest.
As expected, Asrar set the stage on fire with his raw vocals, energy, dhol dhamakas,and a performance that was Lahori to its core.
Ali Sethi sang his version of Dama Dam Mast during the concert and wile it was sedate as compared to the latter, it charmed the audience.
Nabeel Shaukat's performance was pretty mast too, as the crowd chanted along with him.
Lahore Qalandars' CEO Fawad Rana welcomed the Zinda-dilane Lahore and the equally excited team members who had come to support their team.
The head coach, Paddy Upton, while giving an important message to the supporters, thanked them for rooting for Lahore Qalandars and promised to entertain them through quality cricket in PSL.
Read: PSL releases a teaser of its official song
Lahore Qalandars' official kit was also revealed during the event. The red shirts with black front reflected enthusiastic anthem, logo, and team perfectly.
Owned by Qatar Lubricants Company, Ltd., Lahore Qalandars is representing the city of Lahore in Pakistan Super League and their home ground is Gaddafi Stadium. The team is captained by Azhar Ali and coached by Paddy Upton - a former South African cricketer. Their batting Coach is Ijaz Ahmed.