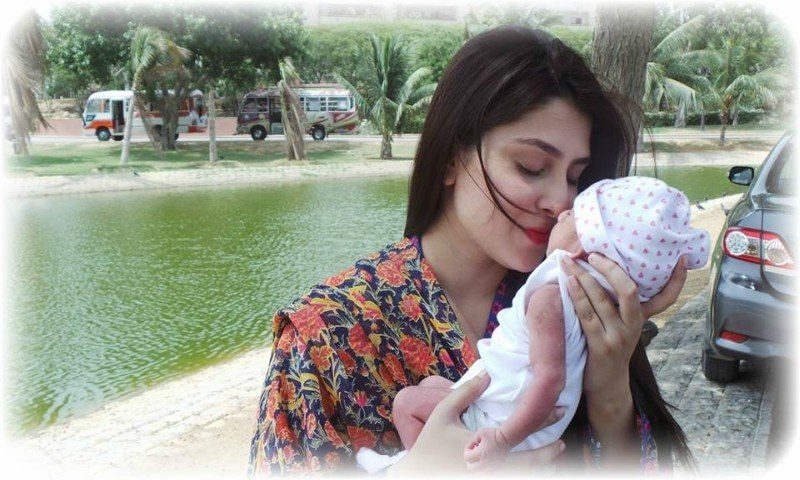 "I want to be role model because socializing, parties, and these distractions are not important," says Ayeza Khan
With her blockbuster serial, Pyaare Afzal, for which she received the Lux Style Award for 'Best Actress', this young actress rose to immense fame. She was found everywhere from red carpets to billboards around the country, her marriage with fellow actor, Danish Taimoor was nothing short of a celebration for all the fans worldwide and then came along her beautiful baby girl. From her bubbly personality to her charismatic presence on the screens, nothing was ignored.
She had taken a break from television after getting married and having a baby, but with 2016, she returns with a bang. She spoke about what she has waiting for her followers, how all of the craziness began, her association with her better half, and much more over a cup of tea.
So Ayeza, tell us a bit about what are your current lineup of projects?
I'm doing a serial by Yasir Nawaz opposite Imran Abbas titled Tum Kon Piya. It's a simple love story about how some situations end loyalty in a relationship. That's all for now, but I'm looking into one more which will start shooting in February.
Read: Ayeza Khan and Imran Abbas to star in Yasir Nawaz's 'Tum Kon Piya'
And now that you have an adorable little angel, how do you intend to manage work and family?
Well I shoot for 15 days non stop and then take a month off to look after my family; besides my in-laws are very supportive and so is Danish. And I'm not in a hurry either. I intend to take up a project and take an off once I'm done with it, so one step at a time.
How did you and Danish first meet, was it love at first sight?
We first met through the agency we both were working with in 2008 and there used to be an Orkut, like we have Facebook today. We added each other and chatted there. Later, we both got on with our own commitments and due to some problems we had to part ways, but finally when we did a serial called Jab We Wed together after ages, something just attracted us to each other again and it just happened!
Read: Ayeza Khan and Danish in a Morning show
Was acting always a dream profession for you? How did it all start.
Well there was a beauty contest in my college from which I got selected by 'Citrus PR' for a 'Fair and Lovely' commercial which landed me another ad working for Warid.
I never thought of showbiz as a profession, I did my bachelors in Marketing and Finance, but as I got more offers and I took up more projects, my interest started building up and now I believe I couldn't have done anything better.
Tell us about what sort of films you would like to do now that local cinema has revived?
I would do a film which is of my type; a love story with emotions and feelings, some comedy here and there, but overall it should be family oriented. I've never planned anything and films were certainly not on the cards for me, but such brilliant scripts are being written in Pakistan that it's really difficult to ignore now.
What do you think when you see Danish on the big screen?
I see a superstar, the way Danish looks in films, he never looked that good in dramas. His cinematic appearance is larger then life and I'm really proud of him!
How would you describe yourself?
I'd say I'm simple; I never thought too highly of myself. I'm the same Aiza who started off years ago as a nobody. I like living a simple life!
Read: On the sets of Yasir Nawaz's 'Tum Kon Piya' for Urdu 1
You have been blunt when it comes to sharing personal pictures on social media, for which you've received a lot of a criticism. Tell me about your take on that?
I think fans are your family, they are people who want to watch you and I love sharing my life with them. And if the majority wants to see all of that, it doesn't matter because haters are going to hate. Besides I know my limits; I do keep my privacy as among a thousand pictures I only post four! And because they're being shared on every other page doesn't mean that I don't have a life beyond social media.
On an ending note, what would be your message for the HIP readers?
I want to be role model here because socializing, parties, and all the other distractions one has are not important. To achieve anything in life, you have to work for it and nothing else. Undoubtably hard work is the key to success!