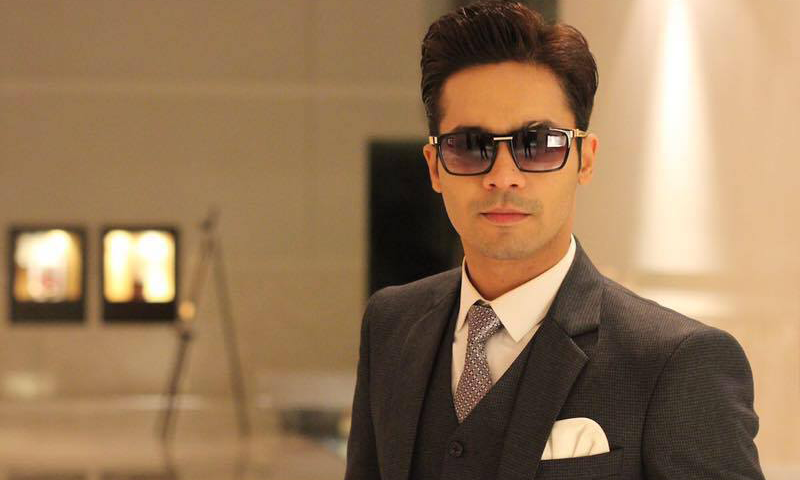 "Humari film ya tu ek achi film hoge ya phir ek buri film hoge – yeh drama kahin se bhi nahin hoga," says Ayaz Samoo

When I first heard about Pakistan's first found footage horror film, Aksbandh, I didn't take it very seriously, but after watching the mind-blowing trailer, I can't wait to see it in cinema soon.
Produced by ARY Muzik VJ and actor Ayaaz Samoo and Maqbool Ahmed Durrari the horror flick is directed by Imran Hussain. The cast of the film mostly comprises of novice artists including Saud Imtiaz, Danial, Bilal Yusafzai, Ayaz Samoo, Shehzeen Rahat, and Mahrukh Rizvi.
The multifaceted Samoo is making his debut as a film producer in this film. We saw him essaying a negative role with ease in Jami Mahmood's Moor and 021. Popularly known as Sajid Billa, he has numerous achievements to his credit including best stand-up comedian title in Indian's comedy show Comedy ka King.
The actor recently came to HIP's office where in a casual chit chat he talked about his production venture, Aksbandh.
How did Aksbandh happen?
Actually I was busy working in Moor when I got a call from my old friend and colleague, Imran Hussain. He wanted to make a horror film working on the lines of internationally famed Paranormal series. After initial conversations, I agreed to assist him in this project.
We worked on the scripts for three months before giving it a final shape. Initially, we planned to tell a story of a couple, but when I got associated with the project I did a few amendments and turned it into an adventure trip of five friends with different background stories.
Aksbandh is going to be the first found footage film. Was it risky to work in this genre?
From day one we knew that it would not be an easy job to do this project. I liked the idea as it involved the unconventional mood of film making. I agree, that it was a bit risky to do such a project which was not in the league of films being made in Pakistan, but we were eager to do it. So we took up this project as a challenge and started working on it.
Tell us about the film's cast and is it stars; any big names of showbiz?
The film's cast is entirely fresh as besides me you won't find anyone known in the film. We have intentionally opted for new faces so that the film appears real to viewers. We have not picked people through any agency, rather they all came from word of mouth in our social circles.
The first actor we took on board was Daniyal Talha. He was a VJ at play and my college mate. While I was working on the scripts I got a random text from him about any good role in the showbiz, I immediately called him up for an audition. After him, we signed a young kid from Iqra University, Bilal Yousufzai, he perfectly suited one of the characters in our film.
Another friend of mine, Saud Imtiaz, also showed interest in being part of the film. The coloured eye boy worked in ARY Muzik as GM Operations. After him, we started looking for girls and found Shehzeen Rahat and Mahrukh Rizvi through acquaintance.
Read: 'Paranormal Karachi Nights' is now called 'Aksbandh'
Tell us about your role in the film?
Before giving you any detail let me honestly tell you that I didn't want to be a part of the cast at all. The type of guy we were looking for in this particular role was difficult to find, so Imran bhai asked me to take the plunge.
In this movie you will see me remain in my comfort zone. I play a guy jo har waqt sab ke bajata rehta hai and doesn't leave an opportunity to take pleasure from it.
You have changed the film's name from Paranormal Karachi Nights to Aksbandh; why?
We did it because we wanted to take a name which could be easier for local people to remember. There couldn't be a better translation of Found Footage than Aksbandh. There is some mystery attached to this name and it summaries the story of the film.
Where did you shoot the film?
The film has been shot in the dense area near Drigh Lake Larkana. Initially, we were planning to shoot in Hawksbay Karachi, but my co-producer Maqbool Durani suggested a haunted place in Larkana. When we saw the initial visuals of the lake we were elated to finally find a great place to shoot.
How much budget have you allocated for the film?
Frankly speaking, our budget has been very limited. When we were planning for the film, we knew that we had to work under a limited budget, but we were eager to opt for it. We spent around one and half crore for the film. We aren't even aiming for big profits; we are just glad that we'll be pioneer of new kind of genre in Pakistan.
I invested my money in it because I believe that Kuch na kar ke dosro ko criticize karne se behtar hai ke kuch bura kar lo magar karo zaroor. So it was in my mind that I wanted to do it.
You have recently released the film's trailer. What kind of response have you received so far?
The response has been really tremendous. When I showed a few clips of this film to Jami, he said that it was mind blowing and he would definitely go to watch it.
If you visit our page, you will find comments of people praising our work. They all were saying that 'it was something which we are looking for, yeh kuch hatke hai aur hum ise dekhne zaroor jaye gen.
When are you planning to release the film?
We have recently locked a deal with Hum Films and within a few days we will reveal the theatrical trailer of the film, After that there will be full-fledged promotional campaigning for the film. We have plans to release it in the initial months of this year.
What expectations have you have?
There aren't expectations, we have just made a film and want people to go and see before passing any comments. Our industry has been in revival state so there is little margin to make mistakes and learn from it. We have also made a small contribution by opting for an unusual film genre and it is up to the audience to either accept it or not.
During the last few years a lot of films have been released which look like a drama serial. I guarantee that it will not happen with us. Humari film ya tu ek achi film hoge ya phir ek buri film hoge – yeh drama kahin se bhi nahin hoga. If around 6000 to 7000 people come to see this film, we'll think that our goal has been accomplished.
Who is your target audience in the film?
Aksbandh is made for youngsters – the young school and college going kids who are interested in taking up challenges in life. We knew that horror films have a great market in Pakistan; especially in multiplexes it gets tremendous response. So we made our film for the audience that never hesitate to invest their money in something unusual being offered to them.
Read: Ayaz Samoo to play college boy in 'Mein Haari'
Have you encountered any horror incident on the set?
You will not believe that the place where we were staying was actually haunted. A couple of incidents happened with the boys in the group where they heard strange voices and someone grabbed bed sheets from them, but we preferred to stay calm so avoid panic during the shoot.
Who has done the film's editing?
We could take the help of any expert for the editing, but we initially wanted to include abrupt shots and raw images in the film to give it a real look. There wasn't any editing need in scenes as they were taken in one-go and we just needed a smooth transition from one scene to another. Two of my good friends, Zak and Yasir, were taken on board for editing. They did a fabulous job in it. Due to their tight editing, the first horror moment of the film will show within 8 minutes into it, whereas earlier it was supposed to be shown 20 minutes into it.
Are there any sound tracks included in the film?
No, there aren't any songs in the film. We have used some background voices to create the right mood for it.
What's next from Ayaz Samoo?
I am currently busy in shooting the drama serial Dil Haari and I have also been busy in writing script for another film. It will go on floors Inshallah in March.