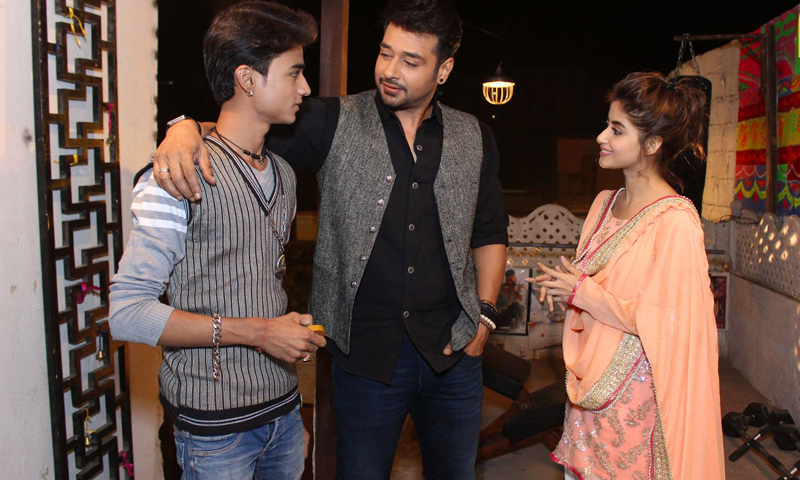 "it's a romantic story with a social message beautifully embedded in it," says the director

Few weeks ago we reported that Faysal Qureshi and Sajal Ali are all set to grace television screen together for the first time and that too in Anjum Shehzad's serial. We had an opportunity to go on the set and actually meet the stars while they were shooting.
In the densely populated area of Jamsheed quarters, the colourful set of Daboo's (Faysal Qureshi) was placed at the rooftop of a slum house. When we got there, Anjum Shehzad was briefing Qureshi on his the scene.
It was a small room with posters of Pakistani stars,Sanjay Dutt, and old Pakistani flicks were posted on the wall. The colorful accessories with striking truck art were used to decorate the room, but above all there were boxing gloves placed at one corner grabbing attention at first glance.
Read: What are Faysal Qureshi and Sajal Ali doing next? A serial with Anjum Shehzad
Big Bang Entertainment's creative head Hina Aman was giving directions to the spot boys to place the accessories in the right places before the shoot starts. I couldn't resist and headed towards her first to inquire about the usage of colours on the sets. She gave us a little brief about the characters.
"We have worked a lot on the characterizations of each role and in fact we have used certain colours to describe it. In this serial you will find Daboo wearing shades of grey and black and to incorporate colours in his life we have decorated his surrounding with bright truck art accessories. At some places you will also find him using red in his wardrobe – the colour has a message in itself as it is a symbol of passion and rightly describe a personality of a doer."
Aman further added that our heroine Sajal Ali was not a typical girl; she represented a girl who could to any length to get love of her life.
"We have tried our best to keep Sajal away from girly shades of pink. She will mostly wear blacks and we have beautifully blended that with purples, greens, and magentas."
After Hina Aman we approached the director Anjum Shehzad. He remained tight-lipped about revealing the drama's details, but he did share the story's one-liner with us.
"I can't tell you much about the serial except that it's a romantic story with a social message beautifully embedded in it. People have loved Faysal as the flirt Aashiq Hussain in Rang Laga and in this drama they get a chance to see him in an entirely different light."
The gorgeous Sajal Ali was getting ready for her scene downstairs where the child artist Fazal Hussain also joined him. Ali told HIP about her role in the serial.
"It's a bit filmy role which normally people don't find it easy to accept. I play a girl who lives life on her own terms and will go to any length to achieve her goals. She sometimes shows over the top behavior as she is someone who is deeply in love with herself."
Read: Sajjal Ali and Feroz Khan to make a film debut together
The drama's lead actor Qureshi was elated with the professional approach of the production team and applauded their efforts to make the serial look fantastic on-screen.
"It is hard to find professional people in showbiz and in this serial we are lucky to be working with a wonderful team. I love the fact that there is a thorough study behind every character. Art work and different props have been used to describe each character," he said.
Qureshi also added that the storyline was not like run-of-the-mill saas-bahu soap operas, rather it had substance which would definitely hook the audience.
"The story is really interesting and quite different from the monotonous shadi, talaaq, aur dusri biwi dilemmas. It's a romantic story with love as the core topic which is an eternal and universal fact."
He plays a tapori larka in the drama and lives with an adopted kid striker in the slum area of Karachi. He serves as a great masiha to others as he has a touching background story and it is not easy for him to come out of his past.
"My character has different shades which will be unfolded with each episode. He is a lover, a big brother to someone, a healer for sufferers, but above all a good human being, the actor said.
The drama is currently in its shooting phase and after a 40 days spell, it will go to the editing table. It will air on ARY Digital.