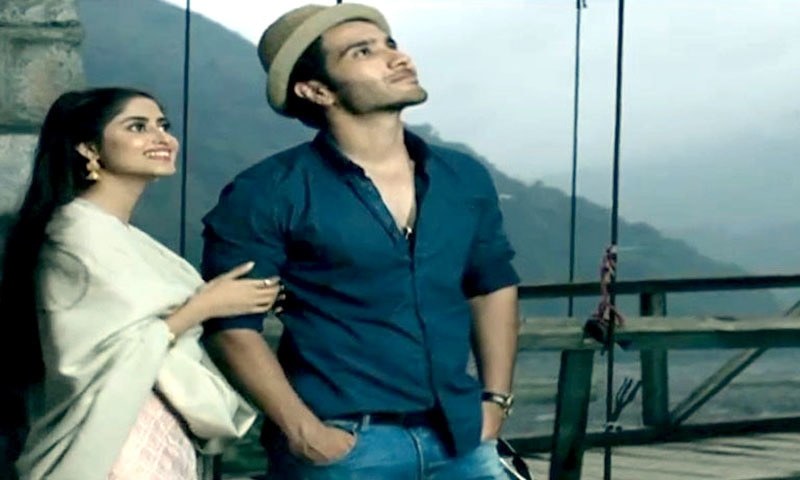 Feroze Khan's acting keeps a fainting script a bit alert; as we wait for magic to happen!

I left you guys when Gul-e-Rana (Sajjal Ali) was a fair maiden and Adeel (Feroze Khan) was trying his best to snatch the 'maiden status' from her. Well, he succeeded, and now Rana is only fair, not a maiden anymore.
The last two episodes of Farooq Rind's (the director) Gul-e-Rana were a whirlwind of emotions. I actually thought Adeel was daydreaming when he walks into a flower-infested room where Rana is sleeping (with her jewelry and make up on) in all her bridal glory. Turns out, the rukhsati did happen, but behind the audience's back. No mayun, no mehendi, and no wedding ceremony. This reminds me of the 'snap-shot wedding ceremony' of Zaroon and Kashaf in Hum TV's serial Zindagi Gulzar Hai.
Read: Adeel turns into a kidnapper for Gul-e-Rana
Moving on from my very desi, "didn't invite us to their wedding" rant; the editing continues to be shoddy. It had improved in the last episode, but then episode eight and nine again came across as if we were watching highlights of a cricket match. There were a few sixers from Adeel, mishits by Rana, and no balls from Asher bhai.
Don't understand what I'm saying? Here's a little recap of what went on.
Gul-e-Rana tells Taaya abu that she cannot marry his flirt of a son. He agrees, but Adeel doesn't, and kidnaps Rana and marries her on gun point. She, of course, isn't happy and promises to herself that she'll make his life hell. No body knows about the gun-point Nikkah, but soon Gul-e-Rana's mom (Rubina Ashraf) spots them together in a room and you can imagine what happens next.
Adeel goes all, "Chachi, mein aur Rana ek doosray ko bohat pasand kartay hain. Please aap mana matt kjiye ga." Ashraf is shocked because Rana had said no to Adeel's proposal only few days ago and that too quite vehemently. Anyway, the issue reaches Taaya abu and soon we see Rana sitting there confessing that she likes Adeel and will marry him. Nobody suspects Rana of doping or anything.
Meanwhile, both the phuppos and their daughters, Maria and Laila, can do nothing, but make bad faces as Adeel and Rana get married. While i can understand why Maria didn't take any drastic step to cancel the wedding (Adeel has wooed her), I don't really get Laila's hibernation. Maybe she didn't care that much about Adeel any way and it was only her mommy dearest's wish to marry her off to her nephew.
Coming back to Maria and Adeel's heart to heart. When she hears the news, Maria cries her heart out, but Adeel asures her that he's only marrying Gul-e-Rana because his dad is forcing him. Seriously? What kind of a pleasure is he deriving from not accepting that he actually (forcefully) pleaded Rana to marry him.
Read: Gul-e-Rana impresses Adeel..but that's not good
Now that you get the picture, let's discuss what went wrong with Gul-e-Rana (the serial).
Strong woman...where is she?
The writer and director may have tried to portray Rana as a strong girl ( I know I've droned on and on about this forever, but I can't help it), but I'm sorry, she's only coming across as petty and stubborn. I understand that she hates Adeel to his guts and she has every right to, but some how her intense monologues fail to reach me.
Rana is having this conversation with Asher bhai, in the middle of the living room, where anyone can hear and spot them, especially Adeel whose keen eye has caught the fact that the bhai doesn't have any bhai-like feelings for Rana.
"Uske dil me meri zaat, meray wujood ki ehmiat [importance] hi nahi. Lekin mein saans bhi loon tou uski ijazat se. Kyun? Mein kaise aise insaan ki izat karun. Theek hai, mein manti hoon, woh karta hoga mujhse mohabbat. Per mein nahi karsakti….Mein aaj bohat kamzor mehsoos kar rahi hoon. Lekin mein nahi hoon. Mein Kamzor nahi hoon, lekin aaj ek sookhay patay se…"Gul-e-Rana stops abruptly when Adeel enters and spots them.
Then the taanas from Adeel begin. Asher bhai is sent off to Rana's mom's room. I loved the way Khan said, "haath pakar ke chor kar aaon?" when Asher bhai continues to stand there like a statue. Sounds sadistic, but I'm quite enjoying his evil streak.
Sajal Ali's tonal variations, expressions, and dialogue delivery, in this particular scene, was perfect, but still the performance didn't touch my heart. I didn't feel like yelling, "you go woman!" whereas I should've. Why does the character need to spell out that "mein kamzor nahi hoon"?
The 'out of the blue' things
Okay, so the director/Editor, in fact the whole team, is a bit forgetful. Here are a few things that they've either forgotten, or just keep changing.
1) They forget that Rana's little sister calls her baaji and not aapi. She fluctuates between these two titles.
2) Adeel started used to call Rubina Ashraf aunty and now he calls her chachi. Believe me, this is pretty upsetting.
3) Asher bhai was getting married, remember? He even went shopping for the event. What happened to his dulhan and wedding? Yes, he did leave his house, but how can you call off a wedding just like that with no explanation. I'm sure his bride is in a pretty bad mood right about now.
4) Rana has no fixed college timings. She can go off to college whenever she wants, even if she has just arrived from college a few seconds ago.
Then there were continuity issues. For example, Adeel and Rana are going to a dawat; then suddenly they decide not to go or something because we see them having a cup of tea with Taaya abu. I'm not saying show the parties and elongate the serial, but at least the audience shouldn't feel they're watching a slide show of different scenes.
I started watching Gul-e-Rana because I saw potential in it, but now all I see are good performances going to waste. Everyone's playing their role perfectly. Zafri is as irritating as he should be. Maria and Laila are cunning yet stupid. Feroze Khan portrays Adeel to perfection. And even Sajal Ali has everything right, but there's something off in the serial. I just hope the makers spot it and correct it before a good project goes to waste.
Anyway, the newlyweds are now off to Murree where Adeel can freely torture Rana. Poor, enthusiastic girl may have to say no to her education. She shouldn't though, but let's see!