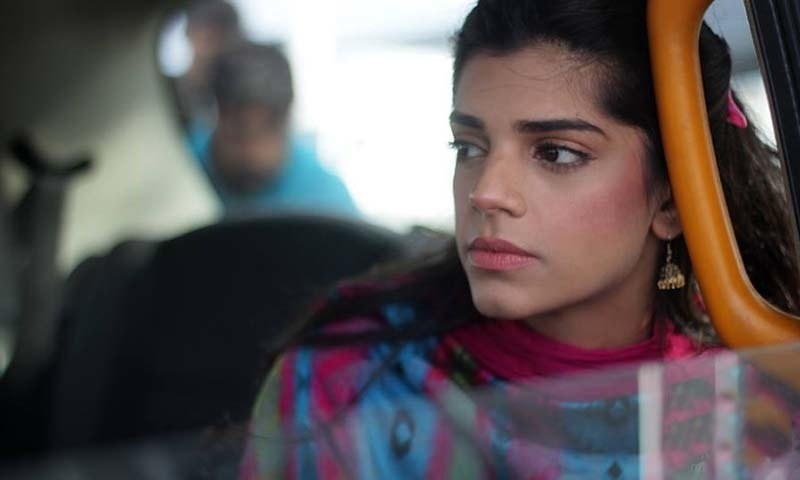 The romance, action, and comedy-packed film will release on February 26, 2016.

"It's an easy breezy, cheesy, feel-good film," Sanam Saeed, the lead actress of Bachaana said at the trailer launch of Hum Film and Big Film Entertainment's production.
As soon as pictures from the trailer's launch event ofBachaana, started coming in, I kept an eye on the film's official Facebook page for the trailer. Finally, I let out a scream and opened the the video.
While I watched the trailer, I smiled, frowned a little, and then laughed out loud, but I wasn't alone. I felt my laughter had multiplied, so I looked back and almost half my family was bent on my laptop screen. The dialogues and music had attracted them.
We discussed the trailer a bit, the smile never leaving our face, and came to the following conclusions.
It's a cheesy love story
An Indian girl, Aalia, meets a Pakistani stud, Vicky. She is a damsel in distress and he, being a man, tries to save her from whoever is after her. That's a perfect recipe for a very cheesy (romantic yet action-filled) love story.
The thing which distinguishes this from your gazillion other chick flicks is that the chick isn't such a damsel after all. She can run like Usain Bolt and can injure gangsters with one , hard blow to their medulla, with the help of a stick of course.
Read: Mohib Mirza to play Pakistani taxi driver in 'Bachaana'
The Dialogues were a total win
(at least the ones used in promo)
By using the famous quote, "Degree asli ho ya naqli, degree, degree hoti hai," by Chief Minister of Baloshistan Nawab Aslam Raisani; won me over. The film used a different version (obviously) where Vicky (Mohib Mirza) says, "Larki Hindustani ho ya Pakistani, larki, larki hoti hai!"
Then there was the cricket link. Vicky asks Aalia (Sanam saeed), "Dhoni ki fan ho?". "Nahi Afridi ki," the Indian girl replies breathlessly, and he heaves a sigh of relief and says, "Shukar! Phir tou Allah ne bachaya!"
I'm expecting a lot more funny one-liners from Bachaana now. Don't disappoint me Saad Azhar (the writer).
Comic timing
Just watch the scene where Sanam Saeed and Mirza both think they've been shot by a bullet. They ask each other, "lagi tou nahi?" and then run off. Their comic timing, expressions, and chemistry was perfect. The credit goes to the writer of course, but more to the lead pair for doing justice with the situation.
Chemistry
Speaking of chemistry, the lead pair has managed to create magic which is needed for the big screen. I had gotten a hint of Saeed and Mirza's on-screen chemistry in Firaaq, but since that drama serial turned out to be a convoluted mess, I'm excited to seem them again in a relatively saner setting.
Read: 'Bachaana' will release this Valentine's Season
The wardrobe
There is a big question mark on that department. I understand, Sanam Saeed plays an Indian girl, but that doesn't mean she has to wear that extremely bright yellow and lime green churidaar. One look at Indians on Instagram is enough to tell you that they've packed their churidaar's in Mad-eye Moody's trunk (the one with a gazillion locks). Saeed, however, looks stunning throughout the trailer an din all the BTS images.
We even spoke to the film's stylist, Madiha Qaiser, to understand the science of styling in films.
Read: Madiha Qaiser: The emerging film stylist
So I'm hoping the actual film has more to offer in terms of style and wardrobe.
Final Verdict
In all, Hum Films and Big Film Entertainment's Bachaana encapsulates the Valentines spirit and the spirit of Olympic marathon because there is a lot of running involved. But both Saeed and Mirza look stunning while running, so I really don't mind. Good job done by director/cinematographer Nasir Khan.
Bachaana has romance, action, and a fair bit of comedy. Adeel Hashmi, an integral part of the film, had a nano second appearance and he looked pretty deadly in that short appearance. I've a hunch he's playing the villain in this love story. The film will release on February 26th, 2016.