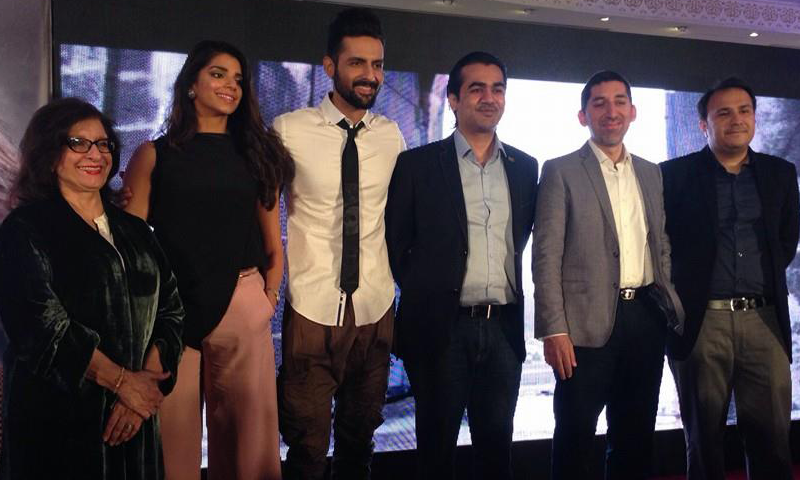 "I can not leave television as it has given me an identity and fame," says Sanam Saeed

The trailer of Sanam Saeed and Mohib Mirza's Bachaana was recently been unveiled in a star-studded event. While we all adored the chemistry of the duo in the trailer, people couldn't help noticing the script's striking similarity to Salman Khan's blockbuster Bajrangi Bhaijaan.
The film cast and crew were all geared up to deal with this much-anticipated question during the presser. The handsome Mohib Mirza was the first to respond.
"Bachaana's script was in my email before anyone had even heard about Bajrangi Bhaijaan. So, let me assure you that it has not been inspired by the Indian flick at all," the actor said.
Read: Trailer alert: 'Bachaana' looks cheesy yet fun
While this statement of Mirza's received applause from the presser attendees, it was film director Nasir Khan's witty remarks that set the mood for the evening.
"Bajrangi mai Indian hero choti bachi chor kar gaye thay aur Bachaana mai hum un ko bari larki de rahe hai," Khan said in a jovial mood.
The film's lead actress Sanam Saeed, who came fashionably late in the event, was least bothered by the film's resemblance to the Indian movie. She was just excited to make her debut with Rizwan Syed and Nasir Khan, who had given her first television break in a sitcom on Hum TV.
"I have been intentionally trying to stay away from the shine of silver screen for so long, but finally these guys have convinced me to venture into movies, she said.
Read: First looks of 'Bachaana' and 'Sanam Teri Kasam' revealed
When asked if she had bid adieu to television, the actress was quick to respond with a clear 'no'.
"I can not leave television as it has given me an identity and fame, but it is true that I have not signed any project lately because I have been busy with this film and other projects," she said.
The cute trailer of Bachaana was best described by Sanam Saeed as 'an easy breezy, cheesy, feel-good film'.
For me, another highlight of the film was to meet the ever great Adeel Hashmi. The man with a poker face has entertained us umpteen times with his excellent comic timing. The role he has done in films is still a mystery and Hashmi was in no mood to reveal the suspense. When we asked if he had played a negative role in the film, the actor replied with a suspicious smile on his face.
"Apnay role ka bare mai tu mai nahin batao ga. Us ka liye to ap ko film dekhni pare ge. But one thing I can tell you is that it is extremely different from whatever I have done in my career so far," he said.
The actor had another big surprise for his fans – another film.
Read: 'Bachaana' will release this Valentine's Season
The film director Nasir Khan and producer, Big Films Entertainment CEO Rizwan Saeed, were also roaming around the ballroom while briefing the media about the film.
Bachaana was a directorial debut for Nasir Khan – a Lahore based film maker who worked on an award winning documentary Made in Pakistan before taking on this project.
"I have been working on this project for over three years and with the release just round the corner, I don't have anything to say, but to wait for people's response," the director said.
And he finally had his favorite moment of the night when the PC hall echoed with applause and claps after the launch of the trailer. The film's music is given by Ali Sher, and besides Pakistani singers, it also includes some Indian voices.
Other than Mohib Mirza's wife Aamina Shiekh, Bushra Ansari, Farooq Mengal, Satish Anand, Sultana Siddiqui, and Azra were also present at the event to show their support for the film.
It is heartening to see popular politicians and media personalities rooting for the film. PTI's Chief Imran Khan's tweet came as a pleasant surprise in support of the film.
Jeeto Pakistan host Fahad Mustafa also extended his support for Bachaana team.