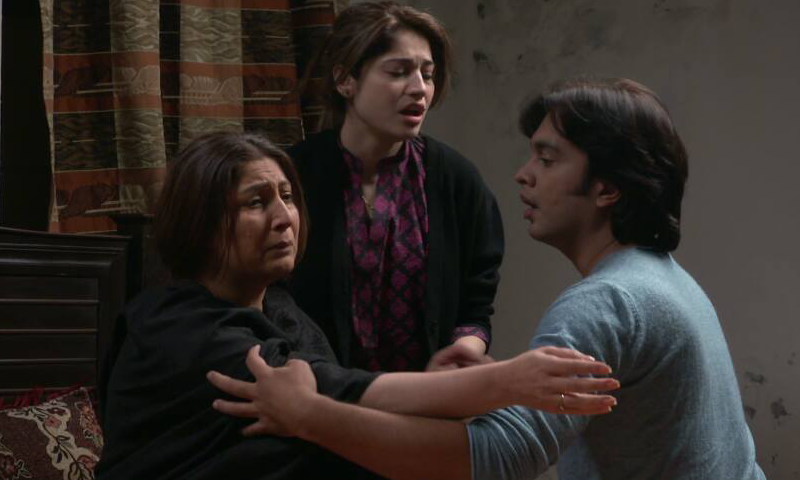 Neelam Muneer plays Samina Peerzada's step daughter in the serial

We all know that life is unpredictable and no one knows what it holds for them in future. Things take a strange turn when it brings you in circumstance a person has never imagined. iDreams upcoming play Khali Aasman is all about such strange circumstances.
Starring Samina Peerzada, Usman Peerzada, Saima, Neelam Munir, Imran Aslam, and Affan Waheed in the lead roles, the play is about finding comfort in the company of unwanted relationships.
The play is written by Parisa Siddiqui, whereas the veteran Roomi Insha is directing it. iDreams Head of Content, Rabia Razzaq, in an exclusive conversation with HIP revealed the drama's story line.
"The message the serial will give is based on the fact that sometimes in real life a person's blood relations are not available at tough times due to their own priorities. Surprisingly, an unwanted relationship comes in as your biggest support to endure the hard times," she said.
Razzaq added that Khaali Aasman is a story of young girl Neelam Muneer and her equation with her step mother Samina Peerzada, and her real mother, Saima.
Read: Neelam Muneer all set to venture into films
Samina Peerzada is shown in a role quite similar to her persona. Unlike, many mazloom roles she has done in recent past, this one shows her as a strong confident woman.
"When we showed the script to Samina apa she loved her role because of the striking similarities with her real persona," Razzaq said.
As a representative of upper class, Peerzada will sport a look of a confident modern woman. For that, iDreams has especially worked on her look. She will be shown wearing the fashion brand 'NAJWA' in the serial.
Read: On the sets of IDream Entertainment's 'Ab Kar Meri Rafugari'
Contrary to Samina Peerzada's role, film star Saima will be seen in a de-glamorized role.
"With a no-make-up look, we have tried to show the real beauty of the gorgeous Saima in the serial. Her emotive face goes well with her character," Razzaq said.
The drama shoot just kicked off in Lahore and the second phase will be shot in Karachi.
"In the Lahore part, audience will get to see the beauty of the old city with red bricks houses and hustle and bustle of Punjab University's life," iDreams Head of Content said.
The drama will air on ARY Digital in mid-February.