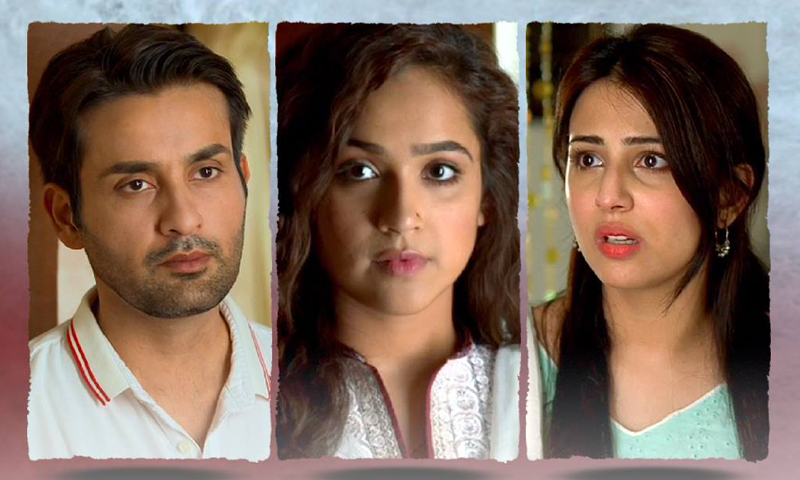 Affan Waheed and Faryal Mehmood do great justice to their roles.

A few more episodes of Bheegi Palkein have aired and the drama is progressing at a fast pace with interesting twists and turns, taking the story in a new direction.
Fariha as usual continued her efforts to get her bhabhi in trouble, but nobody knew that it would end up with the death of Umer. After much efforts, Fariha's mother finally able to find a better suitor for her, but unfortunately the guy showed interested in Mehrbano.
Despite of this awkward situation, Umer's family was in full mode to enjoy the moment. They went out for dinner and shopping and everything was going fine till Mehrbano dropped her newly gifted phone in a shop in a mall. Although Fariha had noticed it, but she preferred to stay silent – thinking it would be another golden opportunity to prove her bhabbi careless in front of everyone.
Read: Ushna Shah's acting gets better with each episode
The caring husband went out to pick the mobile phone, but faced a terrible accident which took away his life. While Mehrbano was equally disturbed by the accident she tried to stay composed, but Fariha took advantage of the situation thereby avoiding getting involved in any home chores.
Meanwhile, Hasan's mother made a surprise entry in the house. She was also grieved on the loss of her sister's only son, but to lessen her pain she again asked for Fariha's proposal. At that Fariha's mom informed her that she had already fixed her engagement. Little disheartened she went home and informed Hasan about it.
On the other hand Fariha's fiancé Bilal proposed to Mehrbano – at it Fariha created a scene in front of her mother blaming her bhabbi for intentionally wooing her finance in her absence. Totally dejected, Mehrbano ran away to her room and cried while remembering old times spent with Umer.
Hasan and his mom once again visited Fariha's family. However, this time around it was Fariha who showed interest in him after seeing his wealth and status in the society. So far the guy didn't shown any interest in her, rather he developed a soft corner for Mehrbano who was completing her idaat days and was not allowed to come in front of any man.
Read: A-Plus 'Bheegi Palkein' is another tedious script with nothing new
After the quick recap it's a time to talk about the acting. Overall, all the actors have done good job in essaying their roles – one of the reason for it is the careful casting. The director has picked the right people for the script. We have seen Ushan Shah and Faysal Qureshi doing such roles umpteen times, so they really were perfect for the roles. I haven't seen a lot of Affan Waheed and Faryal Mehmood's work though, but these two youngsters have also turned out to be true acting gems.
Faryal Mehmood is a little loud in most of the scenes, but again I believe that must be the requirement of the script to show her like that. There is a lot of potential in her and let's just hope she gets some more good scripts to make a name in the industry.
While I like the drama, I just don't understand why they have presented Ushna Shah as the ultimate beautiful girl in the world. Every other guy has been falling for her – be it Bilal (Fariha's ex-finance) Umer, or Hasan. It is especially even more strange because she looks quite ordinary with a simple get-up and not-so-impressive looks.
To see whether Hasan will propose to her instead of Fariha, we have to wait a little more.