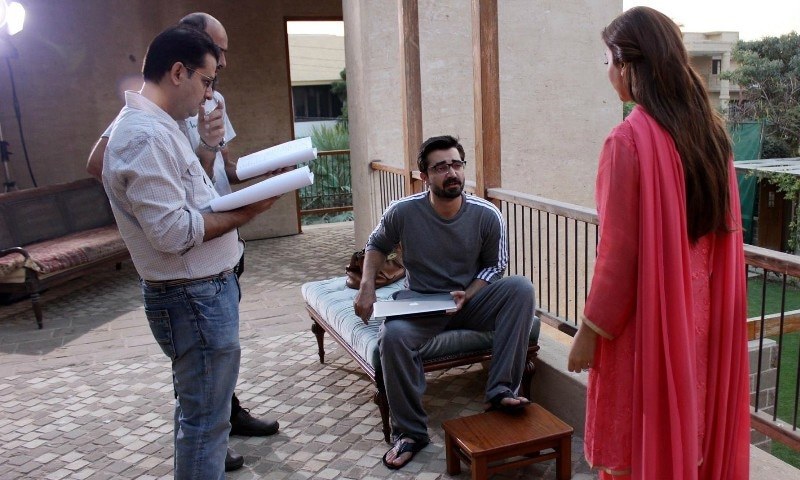 'Mann Mayal' has 24 episodes and slated to go on air at the end of this month

Another great project, Mann Mayal, is on its way from the makers of Diyar-e-Dil, Haseeb Hasan and Hum TV.
The drama has a lot of significant factors to look forward to – it is Hamza Ali Abbas next serial after Pyare Afazal, Sana Shahnawaz's first production venture, and has Ayesha Khan, Maya Ali, and Gohar Rasheed all working together for the first time and that too never seen in characters before.
The above reasons were enough to make me excited to visit the drama set situated in the posh locality of Khayaban-e-Tanzeem. While we entered the lavish bungalow, the stunning Ayesha Khan was busy talking to the director Haseeb Hasan. After a brief introduction with the HIP team, they got ready for the first shoot of the day.
Read: Title of HUM TV's 'TGAH' changes to 'Mann Mayal' and 2nd teaser revealed
As soon as the director ordered to begin the shoot, I noticed a remarkable change in Ayesha Khan's attitude – the girl who was laughing and enjoying a moment ago was in character mode doing an intense scene and she did it all in a blink of an eye. It was something one could expect from an acting maven only.
Also read: Samira Fazal and Haseeb Hasan present 'Tera Gham Aur Hum'
Written by Samira Fazal, the drama is expected to be next big thing coming from Haseeb Hasan and after visiting his set, now I know why his work stood out from all the others; being a perfectionist, he went into the details of everything. the shoot started with the name of Allah and to keep them cast in constant loop of how they were doing, he showed captured visuals to them time and again.
While the director was busy in making arrangements for the next scene we quickly rushed to Ayesha Khan who was looking drop dead gorgeous in a peach eastern attire. We talked to the pretty lady about her role in the serial.
"I play Jeena and my role is the surprise element in the drama. She is the game changer of the play. I opted for this role because she is not a typical damsel in distress which I think I have done umpteen times; instead she is needy for love. She gives unconditional love to others and expects the same for herself," the actress said.
Khan also said that her on-screen character was related to her real persona too in many ways.
"She is somebody I can relate to really well because I don't think I am needy for love, but I am very emotional and the only thing which give me happiness in life is the feeling of unconditional love," she said.
Ayesha Khan and Haseeb Hasan have given several hits together including Geo's award winning serial Bol Meri Machali and Tum Ho Ka Chup. When we asked her about her equation with the director she had this to say:
"Haseeb is a perfectionist which I love. He is very particular about the details and looks into even the minute things on the sets– from wardrobe, characterization, to the look and everything, which I enjoy a lot being an actor," she said.
We also spoke to Ayesha Khan and Maya Ali's make-up artist, Babar Zaheer on the set. He told us about the different looks he had given to both the leading actress.
"I have to literally work hard on Mano (Maya Ali) as she has attained four different get-up in the serial. We experimented with different hair styles like long hair and shoulder length wavy cut with nude make-up. You will see Jeena (Ayesha Khan) sporting cool twisted hairstyles with glowing make-up during the play," he said.
Read: My look in 'Tera Gham Aur Hum' will create magic on screen: Maya Ali
Ayesha Khan's western outfits for the serial were provided by Sana Safinaz whereas the eastern attires were by Din Industries.
The drama's main protagonist, Hamza Ali Abbasi also joined us on the sets. He was equally excited for the project.
"I have done this serial after giving a hit film because I don't want to leave television and it is my moral commitment to myself to do one serial a year. Other than it, the story is not a typical saazishi aurto wali kahani and has room for me to come out as a better actor," he said.
Read: Sana Shahnawaz brings you a dream cast in 'Tera Gham aur Hum'
The director, Haseeb Hasan, had his own reasons to cast Abbasi in this role.
"Mann Mayal is a serial about a man and his feelings to be in love. Our main hero, Salahuddin, is a decent guy who doesn't talk much and has a stiff personality. Hamza fits the character really well and I am sure that Mann Mayal will prove to be the right project for him after Pyare Afzal," the director said.
Abbasi as Salahuddin will be seen sporting attires mostly in the shades of black and white in the serial and there is a reason for it.
"Salahuddin has a very neat and clean personality and whatever he has achieved in life is due to his pure intentions so we have given him shades of black and white on screen," the director said.
The 24 episodes long drama has been shot in Hyderabad and Karachi. In the initial episodes the director was required to show a small city of Punjab so they chose a hundred years old haveli for that purpose.
"The haveli we chose as Hamza's house was almost 100 hundreds year old. I am glad we shot there because it has been demolished by government now," he said.
The recently released teaser of Mann Mayal introduced us to the wonderful world of artistic work. Other than Haseeb Hasan, it was Hum TV's art director Zeeshan behind it.
"The wonderful artwork you will notice in the drama has been done by Zeeshan. Whenever I take up any project I always have some period in mind; n this serial the props and accessories we have used would represent the old era and it has been done in a way that everything look relatable," the director said.
After the tremendous success of Diyar-e-Dil expectations are obviously high from the director and he was not in mood to compromise on less.
"I have taken my viewers to a certain level when it comes to visual appeal and emotional attachment, and in this serial I will try to live up to their expectations," he said.
He also said that Diyar-e-Dil was about family ties whereas Mann Mayal would be about the eternal love of a man. Most of the scenes Haseeb Hassan shot in our presence were without any dialogues and the feel was coming in with the touching music played in the background with Ayesha Khan's wonderful facial expressions. The director told us that background score was done by Mohsin Javed, son of legendary Javed Allah Data.
The drama's OST is by Shuja Hyder and Humsafar nightingale Quratulain Baloch has lent her voice for it. The teasers were already on air the channel and the play was expected to go on air at the end of this month.