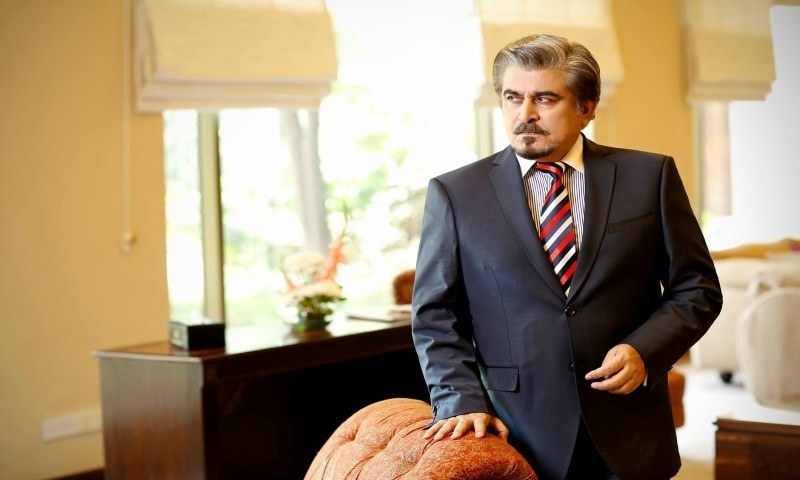 "Production mafias are on each channel, they are worried about competition so avoid variety and transparency," says Shah

Jamal Shah is name known not only in Pakistan, but also abroad. He is one of the finest actors of our industry and highly regarded by all. His love for arts and culture is known to everyone. In 1984 he established the Fine Arts Department at the University of Balochistan and headed the department for three years. in 1985 he formed the Artists Association of Balochistan and became the first Chairman of Artists Association of Pakistan.
Being an actor, he performed in many TV serials like Padosi, Talluq, Aag and Tere Pehloo Mein to name a few. He also did a renowned mini series titled Traffik produced by Britain's Channel 4 about illegal drugs and the role of Pakistan, Germany, and Britain in its production, transportation, and usage. Traffik was nominated for six BAFTA Awards, winning three. It also won an International Emmy Award for best drama.
He made his international film debut in 1992 in Hollywood's K2 and was also seen in the role of Mahira Khan's extremely religious father in Ho Mann Jahaan. Apart from HMJ, his own movie, Revenge of the Worthless is also about to release where he isn't just acting in, but also directing it.
Also read: Ho Mann Jahaan Film Review
Recently I got a chance to speak to the actor/director and here is what had to say:
We don't see you on TV that often anymore; why not?
Well, it's because I have to be very selective in my work for the simple reason of not being a great / versatile actor and there doesn't seem to be any variety left either as the roles are all the same. Also, at the moment, I have too many things on my plate that I need to focus on.
How do you think TV is different these days compared to when you used to regularly act?
Slicker than before, but content wise we do not have the variety we used to. It has become a lot more commercialized. Marketers decide how plays should be and so content becomes compromised due to that lack of variety. Even though censorship isn't like before; things are shown much more openly these days, but still we are stuck in the same rut - we are following Indian ways and I blame the marketers as their vision isn't so vast. They are only making safe, formula driven dramas. This is the reason why I don't do too many plays and reject at least 15 serials a year. They think they are wiser than us. In the long run, this will hurt our industry greatly.
Plus there are production mafias now on each channel. There is lack of transparency. Those who buy content are linked to specific production houses which is why on each channel you only see plays of those exclusive production houses. I would like these guys to work along with others, but they get worried by competition and try to avoid it. Some production houses have bound writers and actors through contracts to work only for them. Artists should be free to write or act for anyone and entertain anyone they choose.
A while back I produced a drama [Aag] which was shown on Playmax TV simply because it was hard to break the monopolistic firewall of production mafias at Ptv, Geo, ARY, and other leading channels. I had spent 1.15 carore of my own money so I'm thankful to Playmax that they ran the play.
Why did you decide to make The Revenge of the Worthless?
It is a very representative subject. Forty years of our country have been spent under the influence of violent extremism and we have lost 70,000 people; not to mention the fact that the economy went down and the country is suffering greatly. This extremism in my opinion is the biggest issue. My film is against all kinds of extremism and violence and in defense of our cultural narrative. Because terrorism has ruined it and we need to rebuild it, hence I chose to do this film. Art is relevant because it reflects life in totality and becomes an agent of change. Art, music, film, poetry, politics and exercising your free will are very important things in life, yet religious extremism has completely ruined all our values for us. A lot of people tried to stop me from doing this subject because of the risks it entails, but I did it only because of its relevance and authenticity. This film will educate while entertain and present the true Pakistani narrative before international audience.
Also read: Maira Khan plays rape victim in 'Revenge of the worthless'
Why did you decide on this specific cast?
My characters needed suitable and believable people and there is no one better than Firdous Jamal or Ayoob Khoso, Shamil Khan, Noor, and Imran Tareen for those parts. Quite a few names excused themselves from doing a risky film so I chose the committed and brave artists. Maira Khan has done a great job with her character that I believe no one else could have done. I have cast the biggest number of new actors from Art schools and universities including a Turkish actor Emel Karakose who will impress the viewers and find their due place in Pakistani cinema and TV. Characterization is more important to me so I have tried to cast suitable actors rather then names. The movie is an analysis of our socio-political situation and we have shown people's points of views rather then promoting specific agendas. But, yes, it definitely is a serious film since it is about sacrifices and struggles.
Why has the release date been delayed?
Because due to some technical issues the DCP (digital cinema prints) haven't been received as of yet. In a week we are hoping to get the DCPs and then will decide on a release date with proper publicity and promotion.
Read also: 'Revenge of the Worthless' to release on January 15th 2016
Do you think such a movie will work in the days of 'item numbers?'
Absolutely! It will definitely make an impact as it is totally different. It is not about cheap or compromised entertainment, nor is it a dry art film; it's an intense and a very fast moving film about people and their lives, struggle, sacrifices and achievements. It is about our land, culture, and music.
The songs are mostly Pashto as one of the lead part is that of a singer. One is a classical number in Urdu and one is Pashto and English rap. The songs are all situational.
Thoughts on the fatwa police these days on social media?
They are idiots in my opinion. I seriously believe they are bewaqoof. The comparison and contrast that they did in one post that went viral with Malala and APS kids is the mindset of the Taliban; that's who they are following. What has Malala done to disrespect out country? It is all utter nonsense. She was a very talented girl even before she was so famous. I know my school Hunerkada had given her a prize a few years back. This is the kind of mentality that is hurting out country and giving it a bad name.
You play the role of a strict religious father in HMJ, who thinks music is haram; why did you accept this role since it's the complete opposite to who you are?
Thats very clever of Asim Raza because they cast me in this role specifically for that reason; that I'm known for my love of cultural and art. It's a cameo role and I did it to support our cinema. It is a relevant role and will become even more relevant later because of the contrast that my persona provides and the fact that people do think like I do in the movie.
Where was the film shot and did you use a foreign DOP?
The film was shot in the scenic Swat Valley and on most challenging and tough location which were very stunning too. All the locations were authentic including Peochar, which was the head quarter of Taliban. Our art department renovated a 200 years old mosque which was used by the Taliban. I wanted a SOP from US or Europe, but could not afford it so Amir Roa shot the film along with a team of top camera men including Farhan Golden and Ferhan Hafeez. The costume, styling, and make up etc, have all been paid special attention so the characters seem more believable. I think people will enjoy the production values of the film specially its cinematography, sound,music, and characterization.
Also read: Jamal Shah's ROTW trailer is intense
Who according to you is good actor in our industry; past and present?
I would say Firdaus Jamal, Salman Shahid, Abid Ali, Ayoob, Talat Hussain, Shakeel, Bushra Ansari, and Rubina Ashraf; these are all people I have worked with before and are great at their craft. From the younger generation I would say Mahira Khan and Maira Khan and few new actors (from Revenge of the Worthless). Sheheryaar Munawwar was very good in his role in HMJ, was very comfortable doing his part. The entire credit goes to Asim [Raza] who provided him the space. Asim is a very fine human being and very disciplined director.
Anymore movies after this?
Have a few projects in the pipeline, but I need to raise funds first as my kind of cinema can not find corporate sponsors to promote their commodities. One is an international project, so especially for that I need a lot of funds. I am looking into the possibilities of International collaborations. Since I have done Traffik and a Hollywood movie K2, I still have my contacts there. It is actually a challenging film as it is a playful account of the ordeals of a sleepwalker who ends up in Guantanamo Bay. The film deals with challenging situations, locations, logistics, and cast; all of which is beyond me to arrange so I am talking to a friend to co produce/ co direct with me as I also need to cast American actors in it. But before I do this project, there is another very light romantic and music based film that I will most probably do.
Any message to your fans?
I'm really grateful to my fans, they are very generous that despite my limitations as an actor and rare appearances they still appreciate my work which is very encouraging. Hope to never disappoint them. Koi maze ki cheez kar ke dikhaonga ab.