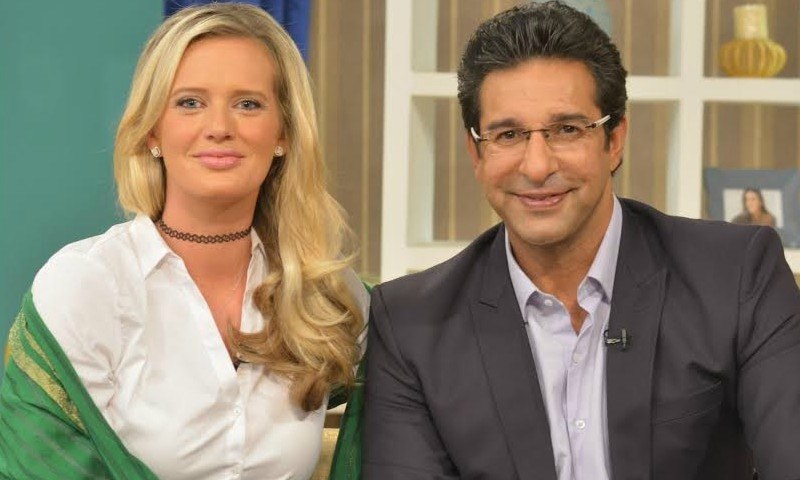 The couple met at a BBQ hosted by mutual friends and Wasim Akram proposed when Shaniera came to Pakistan to meet his son

Nadia Khan's morning show on January 8th consisted of the 'power couple' Wasim Akram and wife Shaniera Akram. They went to commemorate their daughter's first birthday, not to mention discuss how they met, got married, and Shaniera Akram's move from Australia to Pakistan and the trials and tribulations she was faced with while settling in a foreign country.
Wasim Akram was brought on first and was asked various questions by Nadia Khan; one of them being the sad demise of Huma Akram after developing heart and kidney complications. Akram stated he had never thought about getting married, but things changed and the time when he met Shaniera being one of his changing circumstances to push him to commit again. Certain controversies were also discussed such as the shows done with Bollywood actress Sushmita Sen and him being portrayed as her lover which was called by Wasim Akram as a complete scam fabricated by the media and related agencies. He then went on to talk about his two sons from his first wife Huma, Taimur and Akbar Akram and how they are very decent and innocent and whole heartedly accepted Shaniera becoming part of the family. He was also asked about moving back to Pakistan with Shaniera after the wedding to which he shared his love for being a Pakistani.
Shaniera Akram joined in later and was asked numerous questions on her life in Australia and her move after her wedding to Pakistan. Nadia Khan started by asking about her name and as it turns out, Shaniera is an Islamic name which lead her to talking about her marriage with Wasim Akram being a match made in heaven. Her life before was like every ordinary Australian girl's; working on weekdays and usually with friends and family. She got married at the age of 30. Her father, she said is a private investigator and a former police officer, but he was on board about the wedding as soon as she told him.
To spice things up a bit, she was asked by Nadia Khan if she had problems with Wasim Akram being 17 years older than her. Mrs. Akram respectfully replied stating how when you're young it's all about a fairy tale story coming true which changes with age and then it becomes all about being emotionally satisfied as well as financially supported by the man which has all come true so she is happy with him.
Both Wasim Akram and Shaniera said they met at a mutual friends Bar B Q and immediately got along. Shaniera Akram did not actually respond to Wasim Akram's texts until much later. On his third visit to Melbourne, Australia when they met for dinners and lunches, she then finally came to Pakistan, spent time with his son, and was proposed to by Wasim Akram.
Shaniera Akram also advised the public to be careful about gestational diabetes and how it affects one during pregnancy and is usually not diagnosed by doctors which is what happened with her as well. it is only when she went to Australia and got tested was diagnosed with it. She also spoke talking about the language barrier she was faced with on her move to Pakistan and her dealings with the labour at home were difficult, but she has learnt well and is not so bad anymore. Her favourite food is Nihari and she loves chicken yakhni.
Wasim Akram, towards the end of the show discussed cricket and how the players and people in general should be learning Urdu for press conferences or otherwise, and always should be prepared to answer tricky and controversial questions. They also spoke about celebrating their daughter's first birthday by catering to four hundred orphans for 'The Akram Foundation' which was a day well spent for all with lots of food and presents and games.
Also read: Waseem and Shaniera Akram celebrate Aiyla's 1st birthday with Orphans
Lastly, the couple spoke about their relationships with Imran Khan and Shahrukh Khan and the fact that they regularly attend dinners with them and have friends all over the world which they occasionally meet in their spare time.
The show came to an end with the celebrities carrying out a few more activities and speaking to callers being their fans and wishing people on their birthdays.