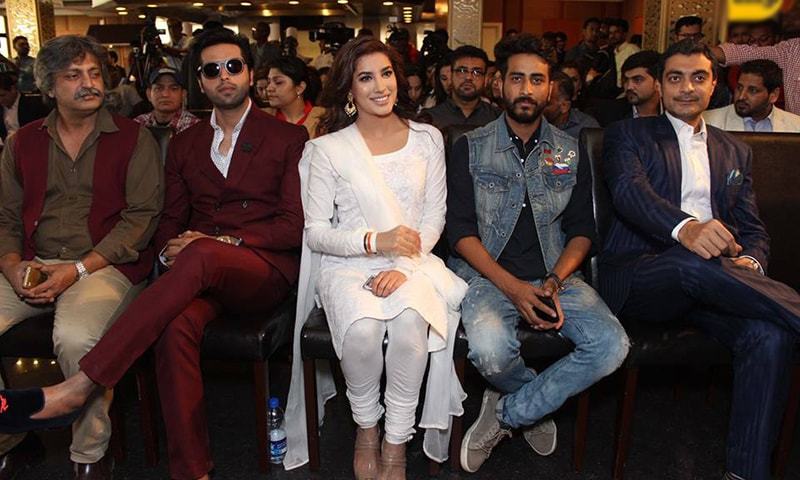 The film casts Mehwish Hayat, Fahad Mustafa, Aly Khan, and Indian actor Om Puri in lead roles.

One of the leading television channels, Urdu 1, is all set to venture into film distribution by revealing their association with Nabeel Qureshi's upcoming film Actor In Law.
The film stars Mehwish Hayat, Fahad Mustafa, Aly Khan, and Indian actor Om Puri in lead roles. Talking about Urdu 1's role in the film, the producer Fizza Ali Meerza said they would distribute the film locally and internationally.
Read: Update: Om Puri joins Fahad Mustafa and Mehwish Hayat for 'Actor In Law'
"We usually don't go in association with distributors in in the initial stage. We first try to complete the project and then go ahead with our distribution partners. However, this time around we took Urdu 1 on board a lot earlier because of eagerness they showed towards the film. So Urdu 1's role with us is to distribute this film locally and internationally and because it is their first film I am sure it will have better international release than any other Pakistani film released so far," she said.
Founded by Urdu 1's Chief Executive Officer Faraz Ansari, the channel started its operations in Pakistan in 2012 and has played a major role in changing the shape of local industry by offering internationally fame programs. Although the channel faced severe criticism from local showbiz fraternity for airing foreign content, the public welcomed the diversity of said content, turning it into a household channel.
Read: Urdu 1 partners with PFDC for PSFW16
The channel's popular drama series include Ishq-e-Mumnu, Feriha, Fatima Gul, Aashiyan Meri Mohabat ka, and Kala Paisa Pyar.
The channel representative, GM Programming Nina Kashif also spoke about this new venture.
"Our channel has played a significant role in introducing new trends on television with successful plays like Ishq-e-Mumnu and Feriha at our credit. Now, it is the time to add another feather in our success cap so we have decided to venture into film distribution also. There couldn't be better way than to become partners with one of the finest filmmakers our industry – Fizza Ali Meerza and Nabeel Qureshi," she said.
Kashif also added that the channel has bigger plans regarding the future and they will unfold them over the period of time.