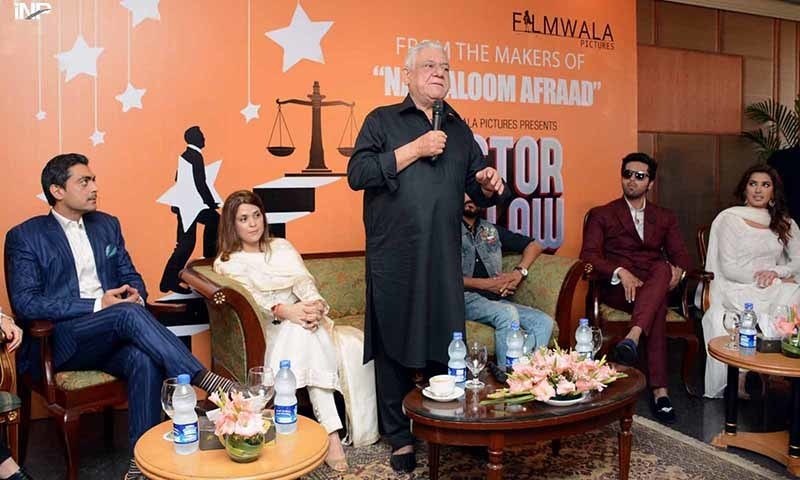 The first spell of the film has already been shot and the it is expected to release on Eid-ul-Adha.

After the blockbuster comedy Na Maloom Afraad, the duo, Nabeel Qureshi and Fizza Ali Meerza, are back with their latest venture Actor in Law.
Starring the Indian veteran actor Om Puri, Fahad Mustafa, Mehwish Hayat, and Aly Khan, it is expected to be another dose of laughter coming from the film makers who have played a significant role in changing the shape of the film industry.
Read: Update: Om Puri joins Fahad Mustafa and Mehwish Hayat for 'Actor In Law'
A press conference was held in the Karachi giving a sneak peak to the story. The film's co-writer and producer Fizza Ali Meerza, while introducing her ensemble cast, said that it also stars Rehan Sheikh, Saife Hasan, and many other big names of our industry.
"There are some really big names like Rehan Sheikh, Saife e Hasan, and many others associated with the film which I am not mentioning right now. It will be big surprise for everyone that for even a single scene, people have come on board and have shown their willingness to be a part of it. I take pride in saying that the trust in films is finally here and people understand that one scene in film does matter," the producer said excitedly.
She welcomed Indian actor Om Puri and said his presence in the film was a big morale support for everyone. Meerza spoke about Om Puri said that when she first asked him, he was ill and not available for the film. She somehow dropped a script at his residence and within days he reverted with a phone call agreeing to be a part of it.
Read: Urdu 1 ventures into film distribution with 'Actor in Law'
"His presence is a moment of pride for us and will stay with us till the end of our lives that he actually came to Pakistan and shot for us," she said.
The young and energetic director Nabeel Qureshi talked about the film in his humorous way and spoke about how Fahad Mustafa tried to impress Om Puri with desi food. He also said the film would serve as another entertaining roller coaster for the viewers.
"Actor in Law is a different story just like Na Maloom Afraad. In my earlier film, I picked a topic and played with humor around it. In this film, you will find me narrating another unique story. Main Lateefey nahi suna sakta to kahani sunata hon. I am sure the audience will connect to the story with its engaging plot," he said.
Read: Clean sweep for 'Pyaare Afzal' and 'Na Maloom Afraad' in LSA 2015
The beautiful Mehwish Hayat was also present in the press conference. Dressed up in an elegant traditional attire, she preferred not to say too much about her role in the film.
"I not going to reveal much about my role, but let me assure you that it is something I have never done before and you'll get to see me in entirely different light in this film, she said.
The co-star Alyy Khan also remained tight-lipped about his role in the film.
"I thoroughly enjoy being part of this film. Nabeel is a chill guy to work with and we had a great time working together," he said.
Fahad Mustafa, who ventured into films through Na Maloom Afraad, was also excited about his latest film.
"I am the Actor in Law in the film so I am quite excited to talk about it right now. Pakistan has a lot of stories to tell and it is going to be another new story highlighting many social issues, but in a humorous way," he said.
The press conference's highlight was the presence of Om Puri who was in the city to complete the first spell of the film. Contrary to his on-screen persona, he turned out to be a crowd pleaser in personal interaction.
Calling Nabeel Qureshi a dedicated person he said the director knew how to get the best out of his team.
"Nabeel tang zaroor karta hai, magar kaam bohat acha karata hai. He wants to get everything out of you, which is a very good quality of any director," he said.
The actor also said that just like his previous visits, this time too he found Pakistani as hospitable and warm as always.
"Although I have played a Pakistani guy in many Bollywood films, it has been a pleasure doing my first actual Pakistani film. I have been to Pakistan before, but this time Nabeel sahib ne mujhe apne bike per betha kar pura Karachi dekha diya," he said.
Besides the unusual story, Puri found the Pakistani team wonderful to work with.
"I have found thorough professionals here. Our DOP Rana Kashif, does his general lighting on the sets and doesn't irritate actors with constant demands. Our art director Noman has also done a fabulous art work and placed sets which look as real as the original locations."
While stressing on the need for a smooth peace process between Indian and Pakistan, the actor in his usual humorous style said, to build a resort on 'no man;s land' where Indo-Pak relatives are allowed to meet.
The first spell of Actor in Law was shot in Karachi and the film is expected to release on Eid-al-Adha.