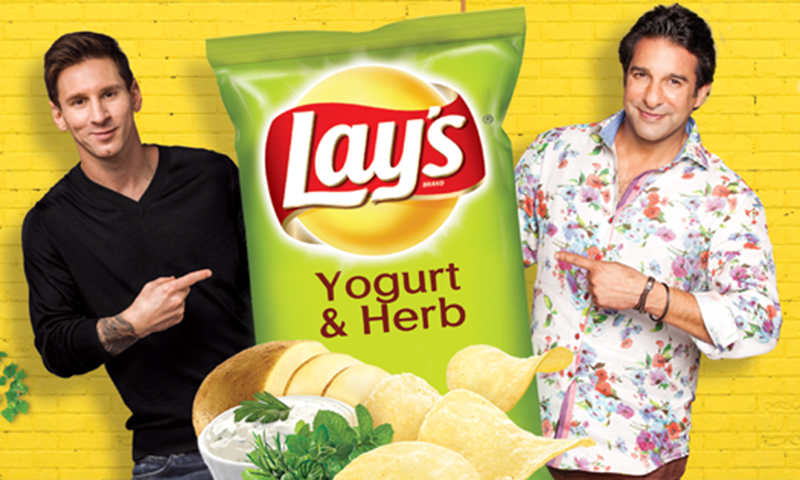 The ad is a superb reminder ad, but the question is why didn't Messi and Wasim Akram shoot the TVC together?

If you're a fan of Argentine footballer Lionel Messsi AND Pakistani legendary cricketer Wasim Akram then this Lays TVC is a dream come true for you.
You can ogle at both your favourite sports personalities in one go. Just ignore Akram's awkward walk and you're good to go.
I was particularly in love with the jingle, This is Gonna be the Best Day of my Life, of previous Lays TVC, and I used to think how will Lays top this. Well, they managed to top it with flying colors.
Using prominent stars has its pros and cons. The biggest pro is that your communication becomes the talk of the town. It goes viral without you even resorting to drastic measures. And Lays could not have aired the TVC at a better time because the Barcelona forward (Lionel Messi) won the Ballon d'Or award for the world's best player for the fifth time yesterday.
Read: Wasim Akram featured in the Nestle Fruita Vitals' new '3S' TVC
The con is that the celebrities become the hero of the TVC. It is no more Lays' advertisement. It has become, 'Messi and Wasim bhai wali ad'. But is Lays bothered by that?
I don't think so. It's not like Lays is trying to create awareness about the brand and establish it in a new market. It is a known brand and they mostly do reminder advertisement. This TVC, although introduces a new flavour, but it mostly acts as a reminder ad and for that purpose using Akram and Messi is a smart ploy.
Read: Wasim and Shaniera Akram on Nadia Khan's morning show
In the end, the good news is sports legends, Wasim Akram and Lionel Messi, appeared in one TVC. The bad news is that they weren't there in one frame. It was quite obvious that they shot separately and never got to actually meet each other and that takes fair bit of charm away from the advertisement.