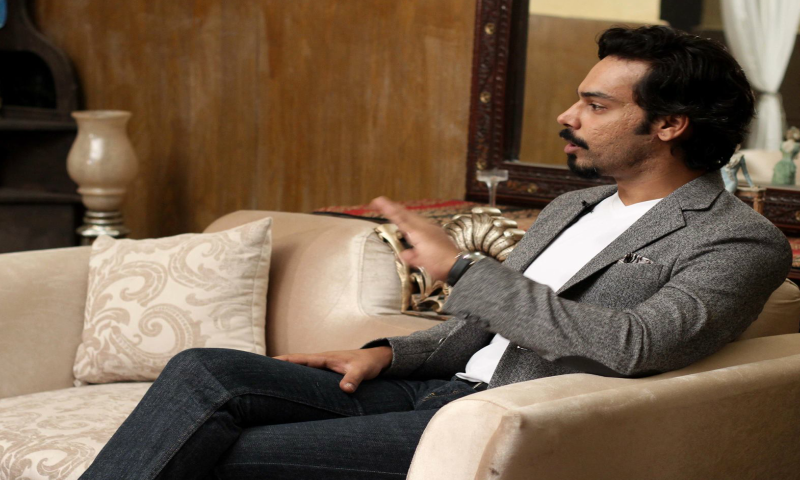 "We tried our best, worked hard, & kept the right intentions; ab izzat or zillath Allah ke hath main hai," says Rasheed

HUM TV's Mann Mayal (originally titled Tera Gham Aur Hum) is perhaps the most awaited drama serial since Humsafar or Diyar-e-Dil was on air; coincidentally, both were HUM TV dramas.
Also read: Update: Title of HUM TV's 'TGAH' changes to 'Mann Mayal' and 2nd teaser revealed
Directed by Haseeb Hasan (Diyar-e-Dil) and written by Samira Fazal, Mann Mayal stars Gohar Rasheed, Ayesha Khan, Maya Ali, Talat Hussain, Hamza Ali Abbasi, Vasay Chaudhery, Saba Hameed, Laila Zuberi, and more.
We spoke to Gohar Rasheed, who plays the character of the rich and spoiled, Mikail. Let's see what he has to say about Mann Mayal and his character:
Who is Mikail and what is his role in Mann Mayal?
Mikail is rich and a little bit spoiled; he has his own set of insecurities which he tries to overcome in his own way. From the promos it is very clear that Mann Mayal is a love story, but without Mikail it can't become a love saga.
We tried our best, worked really hard, kept the right intentions; ab izzat or zillath Allah ke hath main hai.
How does it feel to be working with the best of the best?
I think it gets really competitive, which is good, which is healthy for the project. Being an actor I want the person in front of me to give their best, so I too am under pressure to give my best, my 100%; so at the end of the day, this competition is in all of our collective interest as we are all helping each other to do our best. Also such an ensemble cast is a dream come true for any writer, producer, or director. You don't see a cast like this every day or in every drama. The credit goes to the director and producer who have made such a lineup of actors.
Read also: Sana Shahnawaz brings you a dream cast in 'Mann Mayal'
Besides the cast and director, the crew too is the best; like Zaib Rao, he is the best DOP in Pakistan and Feroz bhai, who is an amazing Assistant Director. There is Babar who is an amazing make-up artist. Then you have the fantastic Momina Bhabi, Samina Bhabi, and Sana Shahnawaz, they are all just amazing. This is all a blessing from Allah that all of this happened the way it did and we all came together for Mann Mayal. We have all worked very hard to present to the audience the best of the best cast and to present this amazing project. Now it is all up to Allah. Keeping my fingers crossed, so let's see what happens.
What advice would Adnan of Goya give Mikail of Mann Mayal?
Adnan from Goya would tell Mikail that "Bro, jussssst chilll...everything is going to be fiinnneee, just chill....and drink some water.!" (he says in full Adnan 'high' form).
How was the experience working with Haseeb Hassan?
I can easily say this with full assurance that, by far in my television career, working with Haseeb is the best thing that has happened to me. Apart from the fact that Haseeb is a great director and a brilliant story teller, he is a great human being as well; very positive, very sweet, very friendly, and very humble, not to mention very hard working. Jis tareekhe se woh eik junior artist ko set e respect dete hain, bilkul usi tareekhe se woh apne her artist ko respect dete hain. The level of equality he has on set is just amazing. I think this project would not have been possible had Haseeb Hassan not been the director. There was a small phase where there were roller coaster type ups and downs, but the way Haseeb handled it and the way he managed all of us, it shows how credible, reliable, and how genuine he is. So again, apart from him being a great director, he is a great human being and now after this project, I can say that he is a great friend also; I have immense respect for him.
What's next after Mann Mayal?
After Mann Mayal I will be wearing a directors hat and will be directing a tele film with Abdullah Seja of 'iDreams Production' for ARY Digital. I can't disclose much about it, but all I can say is that it will have some very interesting guests appearances by some of your favourite stars in the industry which you don't want to miss; the genre is comedy.
Read also: Gohar Rasheed ventures into Direction
Mann Mayal will air some time this month on HUM TV. Keep reading HIP for more details.