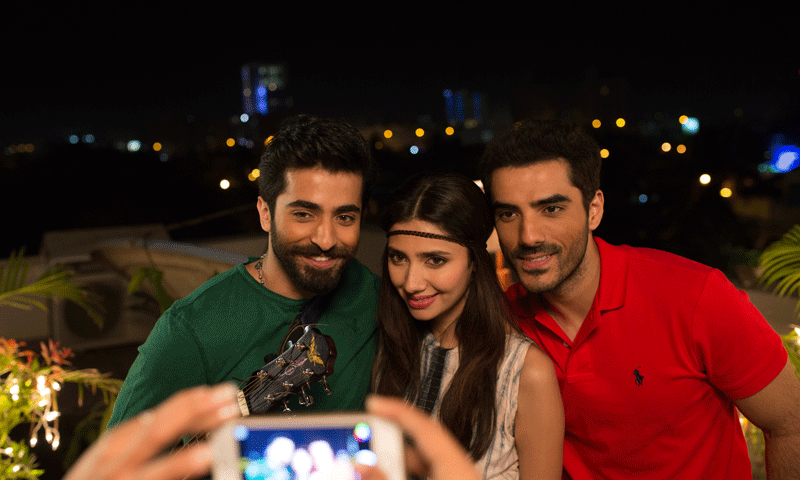 The HMJ team intelligently keeps the audience engaged over social media with videos of the making, surprise visits,etc.
We saw a new age of promotions with Asim Raza's film, Ho Mann Jahaan. From mall, college, and cinema visits, music concert, to a Dubsmash competition; the film's team went all out to promote the film ahead of the release.
Read: Campus calling: 'Ho Mann Jahaan' team visits IBA, CBM, and Greenwich
Quite a few of their fans made it to these events, taking selfies, and all, but some missed all the fun and sat casting ugly looks at the lucky ones. If you belonged to the unsuccessful, sulking lot, then we have good news for you, Ho Mann Jahaan's promotions have by no means come to an end.
Read: 'Ho Mann Jahaan' review: Perfection in cinema
The team is paying surprise visits to cinemas (at least in the first week), releasing full videos of their songs online, and their cast is still giving interviews like nothing. Here is an example of what I'm talking about.
By the sound of it, crowd loved every bit of this surprise visit by HMJ's lead cast, Mahira Khan, Adeel Hussain, and Sheheryar Munawar. Although this happened on the third day of the film's release, but the online audience doesn't know that and is being kept engaged through these TTL (Through The Line) activities.
You'll spot Sonya Jehan and Asim Raza on Hassan Sheheryar Yasin's show Tonite with HSY soon and I'm guessing fair bit of their discussion will revolve around HMJ.
Read: Tonite With HSY Season 3: Bigger and Better!
The best part, however, for me is the release of the full videos of their songs online for two reasons.
1) They provide an insight into the story for those who're still contemplating to go watch the film.
2) It is a nice reminder for those who've seen the film. Trust me, anyone who's seen HMJ launches into a monologue as soon as they see these videos telling the rest of us how this certain scene is misleading and so on.
Videos of Baarish and Mann ke Jahaan Mein have been released. Zeb Bangash's Mann ke Jahaan shows snippets of Manizeh, Arhaan, and Nadir's college life and their love for music.
Jimmy Khan's Baarish is all about Jehan and Munawar's chemistry. Sigh. But don't sigh too hard because if you're expecting to see more of their scenes then you already saw in the shorter version of Baarish then you're in for a rude surprise.
They've incorporated Jimmy Khan in between to make the video longer and fit the actual song. No offence to you Jimmy Khan, but that was upsetting for people like me who were looking for more spoilers.
Then of course the full video of the making has released and is a mini film in itself.
The video of the making is a window into the soul of the film. It'll tell you how passionate each and every person was on the set and how hard they've worked. The highlights of the video were the little visual treats of Khan, Hussain, and Munawar's training/rehearsal session where they're dancing like maniacs, and Sheheryar Munawar's PDA for his father.
The film currently stands at Rs 10.9 crore mark in Pakistan, according to Box Office Detail. Let's see if the release of the making, full songs, and surprise visits impact Ho Mann Jahaan's box office collection.
Read: Ho Mann Jahaan's worldwide business grows twofold in two days