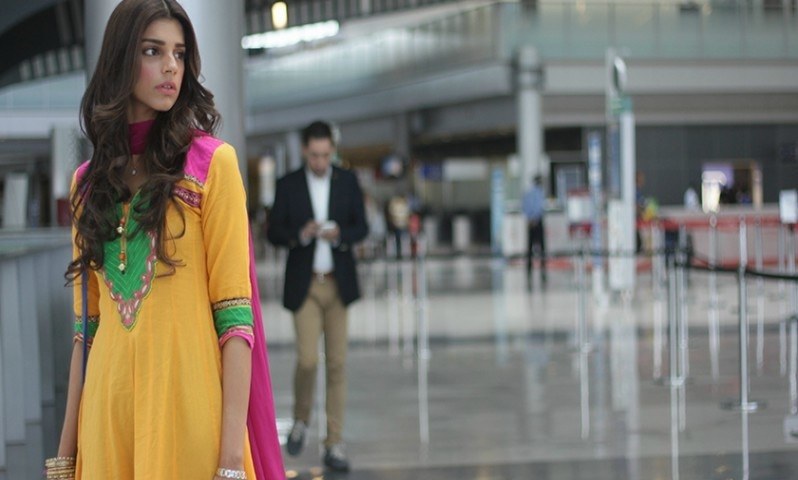 The Bold and the Beautiful, Sanam Saeed, speaks exclusively to HIP

Modelling, singing, television, theatre, and now cinema; what hasn't this girll achieved? From her supporting role debut in Daam to being one of the most celebrated and acclaimed actresses in the business, Sanam Saeed has truly been on the top of the celluloid. Multiple award winner actress is now on her way to set the big screen on fire! And here's what she had to say in a candid conversation with HIP.
Also read: 'Bachaana' will release this Valentine's Season
How was your experience with Bachaana and how would you describe your character in it?
My experience was unforgettable. A lot of hard work and dedication went in to it. Saw some stunning locations, learnt to push my self to the limits, face challenges, and soak in some Mauritian sun and culture.
My character is of an Indian girl called Aliya - a doe eyed, bubbly, friendly young girl who can brave through difficult situations with a little help and support, and still comes out smiling.
After this film what are your current lineup of projects, what's next?
A: Well after Bachaana there is Mah-e-Meer set to release this year, then Mehreen Jabbar's comeback to the big screen, Dobara Phir Se and two other completed films, Azaad and Rehm.
Also read: Final shoot of Mehreen Jabbar's 'Dobara Phir Se' starts in January
Tell us something about all of your other films, they seems completely different from Bachaana. What made you sign these projects?
Curiosity, excellent team and interesting script respectively. I thoroughly enjoyed playing a variety of different characters!
How do you think your films would contribute to the revival of local cinema/heritage?
Right now we need to get the cinema going, culture revived or started, and its happening! Pakistanis are actively going to watch and support Pakistani cinema. The more options they have, more variety, new faces, new stories, different genres they have to watch, the better it is for the revival and future of cinema!
With Zindagi Gulzar Hai, you've created a very feminist like image for yourself; is that a good aspect, if not then how do you intend to break it?
I don't think I need to actively try to break that image. It usually always is 'one' defining character or project that stands out for an actor. People may always remember that character I played but I don't think it will come in the way of the other roles I do now.
In a recent interview you revealed you were offered Raees. Is Bollywood or working internationally on the cards for you?
I wasn't offered Raees, I auditioned for it, along with several other films from across the border. I have no qualms with working in Bollywood. If the script is substantial and the team top notch in the game, only then I'll take up a project.
You started off with modelling and then ventured into backup singing on Coke Studio, but eventually settled down with acting. How has the journey been?
I always wanted to act and I always have acted too. I learnt a lot from modelling, but it wasn't for me and I had a blast doing backing vocals for songs sung by my favourite musicians, singers, and legends. Singing helped me tune myself, which now helps me with my acting vocal range as well!
Read also: Trailer alert: 'Bachaana' looks cheesy yet fun
Bachaana was shot in Mauritius, which means aesthetically it'll be amazing; what should the audience expect from the film?
Expect great one liners, comedy, romance, action, beautiful locations, and brilliant camera work. A fitting and feel good soundtrack and some high energy different and surprising performances!
If you were making a film yourself, which genre and cast members would you pick?
I like thrillers or bio-pics or drama, so I'd pick an interesting bio-pic to do which has thriller and drama involved. I'd love to work with whoever fits the person whose story I'd like to tell. Have never thought about it, so maybe I'd answer this better when I have given it some thought. But I do know I would more then love to work with Saba Qamar, Noman Ejaz, and I bet there is so much undiscovered talent out there too!
What makes Sanam Saeed the star that she is today?
I'm a long way away from being a star, but passion, hard work, a good work ethic, staying true to who you are, and respecting your work and everything about it goes a long away!
Also read: Shakespeare Ka Lahori Chatkhara, Sanam Saeed's 'Rehm'
On an ending note what would be your message for the HIP readers?
Go out there and support Pakistani cinema. Respect the work people do out there. Its not all glitz and glamour, a lot of hard work, time, love, dedication, commitment, patience, and talent goes in to making dramas and movies. We all do this for the love of the craft, the magic it creates and for your entertainment. So support it, encourage it, respect it and enjoy it!
Take look at Bachaana's BTS video of Sanam Saeed: