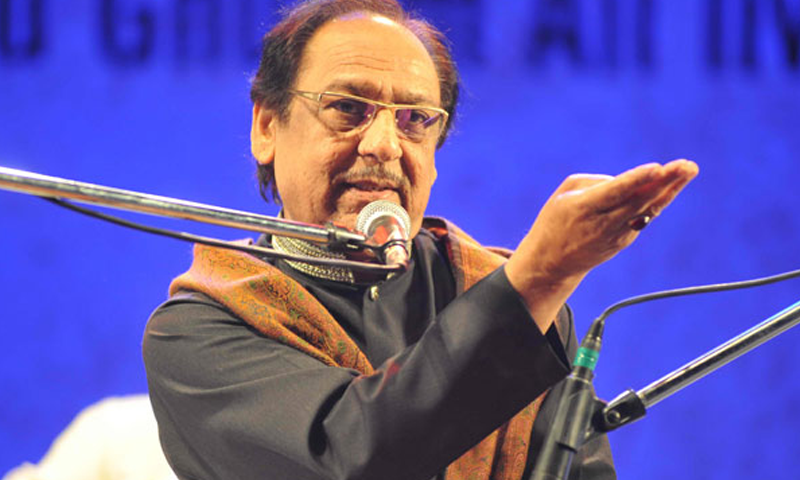 Shiv Sena can threat all they want, but there's no stopping the ghazal maestro who'll launch film's music in Mumbai!

While Shiv Sena was busy targeting Pakistani stars such as Mahira Khan and Fawad Khan and we were busy debating whether palazzo looked smarter than cigarette pants, ghazal maestro Ghulam Ali was silently bagging a role in Bollywood.
Ali will reportedly make his acting debut in Suhaib Ilyasi's Ghar Wapsi, according to Hindustan Times. The Indian news agency caught up with the singer when he arrived at the studio to dub for his part. Ali confessed that he had taken up the role because Ilyasi was "just like his younger brother".
Read: Ghulam Ali to sing for Mahesh Bhatt's theatre play
"If I keep on doing this for three to four more days, I can be a (professional) actor. I guess singing is very easy," told the singer.
The film stars Alok Nath, Farida Jalal, Reema Lagoo, Deepak Tijori, and Zarina Wahab, and also includes the work of singers like Sunidhi Chauhan, Sonu Nigam, and Shaan apart from Ghulam Ali.
According to NDTV, the movie "delves into 'ghar wapsi', which was organised by Indian Hindu organisations Vishva Hindu Parishad and Rashtriya Swayamsevak Sangh to bring back non-Hindus to Hinduism. Okay so is including a singer from across the border - who is already controversial thanks to Shiv Sena - in an already controversial script, an intelligent move?
The ghazal maestro will attend the music launch of the film which will reportedly be held in Mumbai on January 29. It is importantto note here that Shiv Sena had earlier stopped Ali from performing in Mumbai.
Read: Ghulam Ali no longer performing in Mumbai after Shiv Sena opposition
The director was also confident that the event will go smoothly.
"I have been assured that nothing will happen. I'm sure that everything will be alright. I feel that lot of positivity will spread across Mumbai post this event," Ilyasi said.