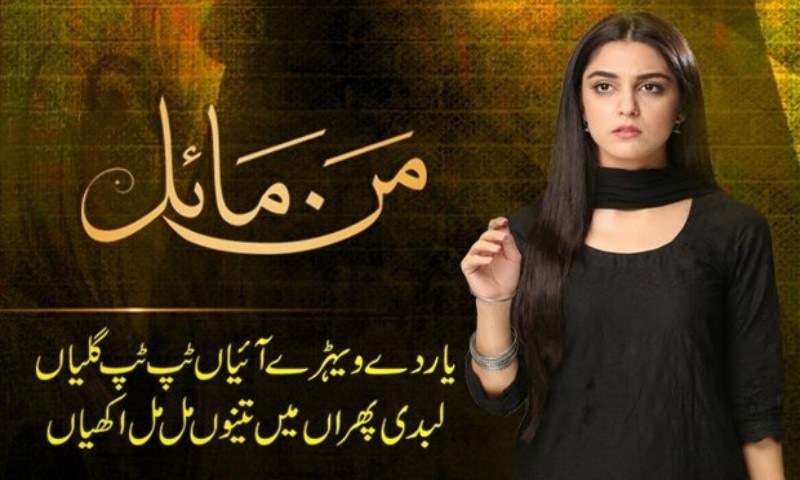 The script, direction, background music, OST, everything was flawless!

Before I start this review, I have to mention how incredibly amazing the background music of episode 1 was. I mean, it was spot on whenever we heard it, not to mention the volume was just right. It didn't blare into my ears so I had to turn the volume down, neither was it too slow to hear. So whoever is responsible for that, well done!
Read also: Get ready for Mann Mayal in 2 days
Alright let's dissect the episode a bit...to be honest, there was so much hype regarding this play that I was afraid, it would just be that, hype! From the character reveals to the name changes, there was an overdose of Mann Mayal and expectations were very high! HIP itself did like 4 stories a week. So it was a actually a delight that episode one didn't only meet expectations, but took it up a notch for next week.
Mannu (Maya Ali) has a best friend, Bia (Aiman Khan) whose big brother is Sallu (Hamza Ali Abbasi). Mannu is loud and quirky, whereas Sallu is sober and still. (Waise, be honest, when HAA spoke for the first time, how many thought Kaptaan (IK) was speaking)? Mannu comes from a life of a haveli, while Sallu comes from a middle class family it seems. Mannu seems to be afraid of Sallu because he is always yelling at them. "main to jab se dekh rahi hoon na, itne he bare hain aur itne he roab wale." She knows she probably won't pass her exams and convinces Bia to go with her to the Mazaar, and Sallu ends up taking them.
Bia passes with an 'A' while Mannu's scores are so low, she isn't even in the system (ouch)! Since Mannu failed, by default the 'rishta dhoondna' has started, but she has a chance to redeem herself; get tutored from Sallu since he is the reason Bia got an 'A.' Bechare Sallu bhaiya, couldn't even say no even though he has his own CSS exams (HAA drama mein bhi CSS ker rahe hain, Samira Fazal ;)) to study for, not to mention his job hunting.
Back in Mannu's haveli, even though her father had promised there wouldn't be any talk of a wedding if she studied and passed, rishtawalaas are coming, but she isn't to know about it. Ho gaya Mannu ka MBA!
Okay so Sallu starts tutoring Mannu while trying to hide his feelings and Mannu is also dil he dil mein khush. Of course on the onset, because it is a drama no one is willing to admit it. All of Sallu's fears of tutoring Mannu come to life when he sees her face in his book while trying to study for his own exam.
When Mannu is told to wear her Eid wala jora when the guests come, she gets that the rishtawalas are coming for her...the chahci bechari has to lie and tell her ke it is actually for 'Sara baji.' And because her mother 9Saba Hameed) had told Sallu that Mannu couldn't study that day, Mannu makes an excuse, grabs her books, and goes to see Bia to learn how to make khopre ki mithai.
This essentially was episode one. There was no crying or any such over the top dramatic flairs; the episode was sweet and simple, not mention fast. The one thing I really liked was that the audience knew who everyone was without it being in their faces...nor was anyone trying to figure out who was who's what? Also very casually was the mention of Sara Baji's divorce and that too without any unnecessary stigma. She is getting a divorce, that is it, simple. Even while Sallu's mother mentions it, she didn't do it in a degrading tone. It was just matter of fact.
Read also: Haseeb Hasan, the Director Extraordinaire
Acting wise, this is the first time I am seeing Aiman Khan and act in a drama and sorry, I never saw Pyare Afzal. Aiman Khan was just fantastic and I'm guessing she is going to be the 'Zarmine' of Mann Mayal. HAA is fantastic actor. I've seen him in Waar and I think a telefilm or an episode of some other drama, but he plays his character flawlessly in MM, not to mention the depth in his voice helps his character. Maya Ali however seemed to be having a 'Faraa' hangover from time to time unfortunately. And whereas Aiman Khan completely suits her age bracket, Maya Ali doesn't...she seems older than the age her character demands. She was really good in the first scene, the Mazaar one, and in the kitchen, but other than that the pairing of her and HAA seems a bit off. I'm hoping that will change in the coming episodes, just like it did for her in Diyar-e-Dil.
All the elders were obviously great, but I was really hoping to see Talat Hussain in the first episode.
Script wise, Samira Fazal wrote a fantastic first episode. The episode didn't once lag and since it has only 24 episodes, I'm hoping that will stay the same. Let's talk direction. Haseeb Hasan is a master at his craft and if you watch this episode, you'll know why He take Samira Fazal's script makes a perfect visual for us. Every frame from scene one to the last, was amazing...even the editing was flawless (and HUM TV is notorious for getting that wrong)!
Read also: Mann Mayal's OST is a trademark QB song
Last, but definitely not the least, the OST. QB does her magic once again and this OST just might be bigger than Humsafar's.
All in all, even though there wasn't anything 'new' in this episode, it was still nice to watch because there was nothing OTT about it. That old, traditional feel is hard to find in dramas these days...DeD was the last family friendly drama on air so I am grateful for Mann Mayal and how it was presented!