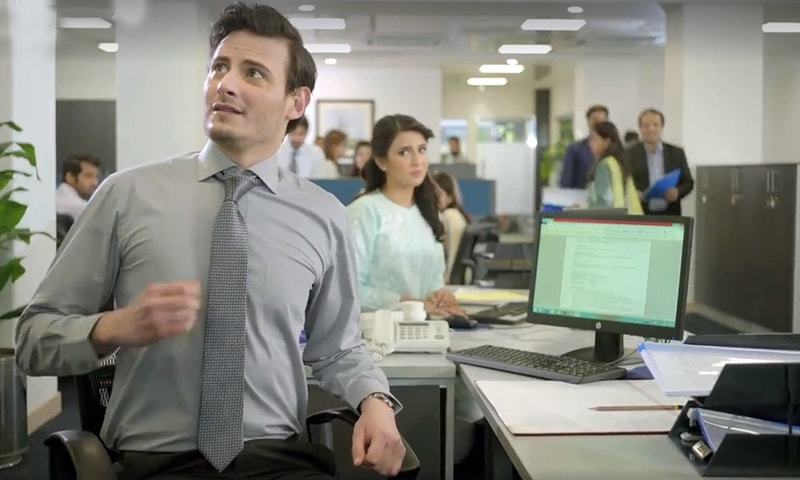 Ushna Shah is also there...in the background....giggling...with no dialogues whatsoever.

If you belong to the Wali-Faara fan club and have swollen eyes due to watching re-runs of Diyar-e-Dil then we've got something fresh for you to gorge on. Osman Khalid Butt aka Wali has reappeared on our television screens!
Now, before you start jumping with joy, it's important for you to know that he'll be seen in 45-second commercial not a 30-episode drama serial. Yes, so please observe controlled excitement, especially when the TVC isn't all that fun.
Read: TUC new TVCs featuring Osman Khalid Butt & Ushna Shah
Askari Bank's latest TVC features the TUC couple, Osman Khalid Butt and Ushna Shah.
The TVC shows the couple (Butt and Shah) enjoying a long drive. The slightly blur edges hint towards the fact that this may just be a dream and it is. The boss barges in, giving a rude wake up call to Butt (who works in some office and Shah is his colleague). The voice of god then tells us that Askari Bank's 'Ask 4 Car' campaign can make your dreams come true.
Like all the TVCs doing rounds these days, this one too banks on celebrity appeal and that's it. There is nothing creative about the creative strategy and Shah doesn't have a single dialogue in the TVC which is a dampener.
Read: Ushna Shah is sick of stereotyping on TV, would like to do theatre
Another turn off was the voice over. For some reason the makers have used another person's voice on Osman Khalid Butt. For me, that's a criminal offence. Everybody knows Butt doesn't sound this nasal then how can they do this?
It looks like the creative team took the 'Steer Your Dreams' tagline too literally.
The direction, by Saqib Malik, is on point with all the right angles and Anila Murtaza's styling makes the visuals bearable, but unfortunately there's no story. The protagonist wants a car so that he can go on a long drive with his girl friend. That's it.
Where's the innovation? Where's the bank's drive to capture the audiences' attention?