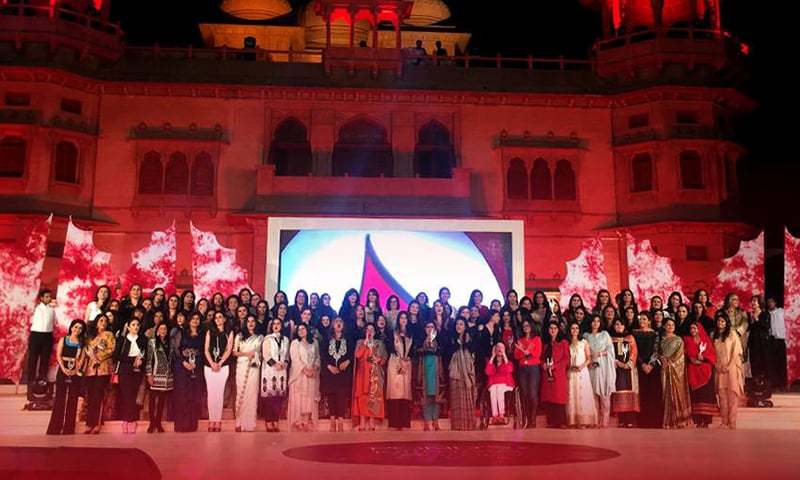 From Sadaf Jaleel, Zaahra Saifullah, to Nina Lotia; HIP highlights some of its favourite miracle women.

Whenever I look at Mohatta Palace, I get a very grand feeling! And much to my delight the venue for the Pond's Miracle Journey Gala was held there. It served as the perfect backdrop to highlight, celebrate, and honor the miraculous women of today from all walks of life.
Hosted by Aly Khan who recited beautiful verses acknowledging the beautiful and inspiring women around him, the show started off with a breathtaking performance by Joshindar Kaur Chaggar, after which one by one all the mentors were called up on the stage with their 10 miracle ladies!
This round of Pond's Miracle Journey included Saba Hamid, Shehla Chatoor, Hadiqa Kiyani, Dr. Mahnaz Naveed Shah, Muniba Mazari, Sameena Abbas, Tahera Hasan, Momina Duraid, Sharmain Faruque, and Nadia Hussain.
Read: Pond's announces 10 new Miracle Mentors for 2015
While all of these women are amazing in their own domains, HIP thought of highlighting the a few inspiring stories of miracle women who are doing wonders in the field of media and fashion.
Sadaf Jalil - COO Sana Safinaz
When you think of a designer brand, the first words that come to your mind are creativity and innovation. Sadaf Jalil is a mother, a successful model, and a part of the brand Sana Safinaz.
But here is the surprising bit, she became a part of the fashion industry by chance! She actually has a degree in International Relations! What we love about her is the happiness and contentment that reflects on her face!
Kanwal Khoosat - Owner, Olomopolo Media
Ever heard the phrase that you should always chase your dreams? Kanwal Khoosat proved this by leaving her thriving career in television production and pursued her dream of theatre. What we learn from her is that you should never let go of your dreams and not give in to the norms of the society. Kudos to this wonder woman!
Nina Lotia - Hairstylist
The concept of hair maintenance got a new meaning thanks to this awesome woman. Nina Lotia has been in the industry for more than 25 years. She is a mother, owner of a five story salon, and very respected in her field of work. Nina Lotia claims that she was lucky because her father saw the entrepreneurial spark in her and encouraged her to move in that direction.
Zahraa Saifullah - Publisher HELLO! Pakistan Magazine
Not so long ago, Hello! Magazine, which is all about lifestyle was brought to Pakistan by the dynamic Zahraa Saifullah. Life gets tough when the magazine is to be printed, but she knows exactly how to juggle between work and family and strike a balance!
Zarnak Sidhwa - TV Chef
Some people know how to win the hearts of others by cooking amazing food for them! Zarnak is one of them. She left her 9-5 job to pursue her passion for cooking. While her new job may sound exciting, but she explains how hard it is to actually cook live on television and that too with perfection. Then there is the added pressure of taking phone calls and ensuring that every thing goes according to the plan.
Aamna Taseer - CEO of First Capital Group of Companies
They say that when life gives you lemons, make a lemonade out of it. We all know the inspirational lady Aamna Taseer and how she has coped after her husband, Salman Taseer's, assassination and the captivity of her son.
Not only has she gotten back on her feet, she is has also come back with a bang as the CEO of First Capital Group of Companies.
Speaking on the occasion, she gave credit of her strength to her mother, "My mother was an amazing women who began working at a time when very few women worked. We were always her priority but she taught us that you can go out there and do what you want. She gave us an amazing value system and taught us from an early age, that if you work hard, you reap the rewards."
Read: Malala to Mahira: Who should be 'The News' power 50′ women?
Asma Nabeel - Writer/ film-maker
After gaining over 17 years of experience in advertising, Asma Nabeel has recently switched to writing.
Speaking about creating balance between her work and personal life, she said, "When I was getting married I was clear that choosing to work or not would be my choice. Nobody will take the decision on my behalf. I struggled a lot because sometimes you have to do all the housework, look after children, and then do your office work too."
Nina Kashif - Head of Scripted Content at Urdu 1
From MTV to HUM TV and now as the GM Production for Urdu1, Nina Kashif has made her presence felt on screen as well as off screen! She was offered the position at MTV when her child was only two years old and that was the beginning of her eventful career.