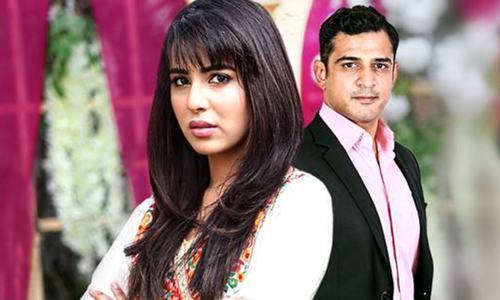 There isn't any Mr. Darcy like character in here guys so please let's just relax. The similarity lies in the house full of eligible girls who are waiting to be married off. The eastern twist is that the their groom must be a pure blood (from their own prestigious clan).
Everyone walks shaadi, talks shaadi, and sleeps shaadi in ARY Digital's Ab Kar Meri Rafugari. The plot isn't out of this world, but let's see if it's treatment is different.
It went on air yesterday and since we had spoken to the cast and visited the set earlier, we were curious to know how the product had turned out. Naturally, I placed myself before ARY Digital on January 28th at 8 pm and watched the first episode.
Read: On the sets of IDream Entertainment's 'Ab Kar Meri Rafugari'
Before moving toward the review, let's introduce the cast and the plot.
Meet the cast and characters
The serial's cast includes Ushna Shah (Taban), Daniyal Raheel (Jazib), Usman Peerzada (Mujahid sahab), Nida Mumtaz, Mariam Ansari (Taban's sister), Sakina Samo, Hashim Butt, Ali Safina (Shaqeel), Shakeel Yousuf, Shameem Hilaly (Jazib's mum), Humaira Zaheer, and Mira Sethi (Maida) to name a few.
Taban is Mujahid sahab's ladli daughter and Maida's cousin. They have a joint family system where everyone, especially Samina chachi (Sakina Samo) interferes in everyone's life. Maida is the plain Jane of the family with no father to buy her fancy clothes, make up, or attitude. Maida's mother, Ayesha bhabhi, is an eastern version of Mrs. Bennett who worries all day (and night) long for her daughter's wedding.
Zahida (Taban's mum) is the good relative who's there to protect Ayesha bhabhi from Samina – the evil one. Samina has a son Shaqeel (Ali Safina) who is as spoilt as one can be. He dances to Afghan Jalebi in his (baap's) office!
Everyone loves each other in this household except Samina chachi who hates everyone and will remind you of Amitabh Bachan in Kabhi Khushi Kabhi Gham with her "hamare khandaani usool" rant.
On the other hand is Jazib and his modern family. Jazib belongs to a stereotypical modern family – where the mum runs or contributes for an NGO and dad reads the newspaper and has chai all day long. But yes he has a successful business running (on autopilot, I guess) in the background, hence, the grand bungalow and the lavish lifestyle.
Read: 'Ab Kar Meri Rafugari' has a superb script: Mira Sethi
Main plot
Ab Kar Meri Rafugari is a story about love, trust, and obsession. It revolves around Taban (Ushna Shah) who is not allowed to marry outside the family, and Jazib (Daniyal Raheel) who falls in love with her and would do every possible and craziest thing to make her his own, a press release stated.
This obsession might make Taban's life beautiful or destroy it forever.
Ab Kar Meri Rafugari has been penned by Saira Raza and directed by Adnan Wai Qureshi and is an iDream Entertainment production.
"With the constant effort of our team and our viewers love and support we bring to you our new venture Ab Kar Meri Rafugari which is about love, obsession, and trust and we promise to bring more and more exciting shows for you on ARY Digital," Jerjees Seja CEO, ARY Digital Network shared his views on the serial.
Read: Ushna Shah and Ali Safina star in 'Ab Kar Meri Rafugari'
Time for the review
The fact that Ab Kar Meri Rafugari is all about weddings made me go "haww haye", but then I controlled my emotions and put my biases aside to watch the first episode. Saira Raza's dialogues may come across as too generic, but they're natural and fun too (sometimes).
Jazib's friend, Lucky, for example is fun with his one liners like, "Mein larki hi theek hoon. Dari, sehmi, ghabrayi hui aurat!" He says this when he arrives on a heavy bike with Jazib at top speed and is scared too death.
Mira Sethi is superb as ever, but her melodramatic dialogue, "Larkay ke bagher shaadi kaise ho sakti hai? Aur aaj kal tou larke milte hi nahi," made her look too bechari for my liking. Maybe the writer could've tweaked the dialogue a bit to make it more contemporary and valid for this day and age?
The cast, as we can see, is stellar so there's no doubt that their acting and dialogue delivery is natural. Even the worrisome mommy won't make you skip the channel. You might even end up feeling bad for her and understanding her situation.
Ushna Shah's character's self love and Mariyam Ansari's enthusiasm could do with some toning down. Okay, so Shah's character, Taban, loves to praise herself and call her self 'different'. If she's different then she doesn't need to 'say' it, audience should 'feel' it through her actions. For example, Mira Sethi doesn't say, "I'm a poor aging girl with no rishta". Her aura says that.
Getting to know Jazib's family
Daniyal Raheel and his family (Shameem Hilali and Shaqeel) are superb. They do use their own set of cliches, but since they're all good actors, you don't feel bogged down by the cheesiness. The dad does deliver age old dialogues like, "Zindagi mein khush rehne ke liye zaroori hai ke begum ki har baat maani jaye, " as they discuss Jazib's wedding on the dinner table. Yes, his wedding. How exciting!
In their opening scene, Jazib's parents (one is diabetic and the other is heart patient) are discussing their barkhudar who doesn't want to get married yet, but the parents feel they need grand children ASAP. So Jazib has to marry.
Soon after, barkhudaar arrives on a heavy bike. You expect this biker person to be a spoilt brat, but turns out he's a decent guy who wants to do PhD in peace. Girls are falling all over him, but he doesn't have time for them. Wait, there's more.
Jazib doesn't like to attend shaadis! (I love this person). So to counter his fear of raunaq mela, Lucky decides to take him to a mehendi. On their way to the mehendi, theyd ecide to buy flowers. 'The khandaani girls' are also on their way to a wedding and decide to do the same and the 'pehli mulaqaat' happens. Taban enters the flower shop and is all "Jab meri shaadi hogi tou mein ghar flowers se decorate karungi because I'm different!"
Since Jazib is also 'different' (remember he doesn't like girls or weddings), he cannot help but notice her.
The episode ends when a rishtay wali aunty brings some photos over to Jazib's place and guess what...Taban's photo conveniently drops on the floor. Right there where Jazib can see it. Let's see if Taban's khandaani parents allow her to enter Jazib's (apparently a non-khandaani person) life. And yes, let's not forget Maida who's desperately looking for a suitor.
Verdict
Let's give this serial a chance guys!