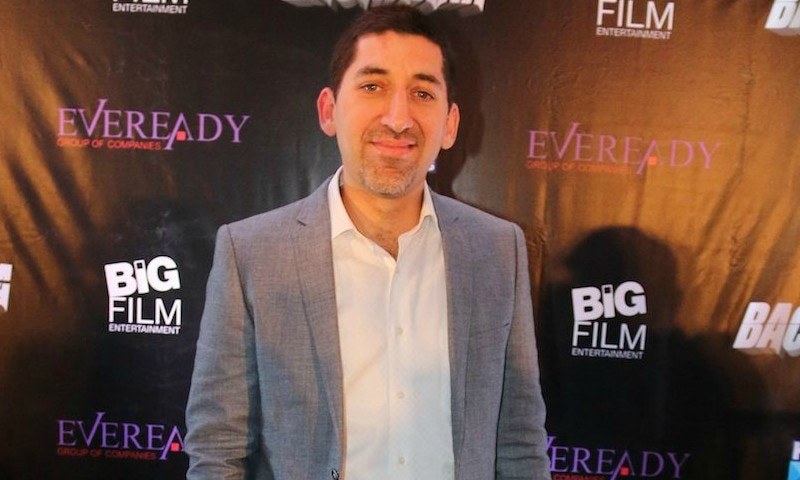 Coming from the family of Faiz Ahmed Faiz, after debuting in films, Hashmi is all set for the director's chair!

"You're playing a negative role right?" I asked with a flood of curiosity in my voice. After a minute of silence, he replied "Yes". Which clearly means that this powerhouse of talent will be seen showing off his skills in a whole new light. Being the grandson of the legendary poet, Faiz Ahmed Faiz, talent flows through his veins. From the hilarious U-Fone commercials to Bachaana, he has truly came a long way.
Speaking about the film and what's next - Adeel Hashmi gets HIP!
How was your experience with Bachaana and the character you're playing.
Nasir (the director) will tell you about the experience better as he was at the receiving end. But as far as my character is concerned, it's a kind of role that I've never played. When Nasir offered me the role, I asked him if he's ready for such a risk, so we'll see if it pays off when it releases. Overall it's always fun shooting.
Read also: Trailer alert: 'Bachaana' looks cheesy yet fun
Why should people spend their money to watch the film?
Because people are clever and they want quality entertainment. We need to support and invest in a certain type of art; popular or unpopular, shallow or deep. There's very rare theatre in Pakistan, so finally cinema is reviving and it's the kind of entertainment that one can take part in. That's why people need to pay!
What are your current lineup of projects besides Bachaana?
I'm writing a film, so that will take a while. Then there's lots of work not related to showbiz which I do. I work for the the development department with governments of Punjab and KPK. So there's lots of stuff that I'm up to, not all related to what people would eventually see. I find it gratifying.
You are a professional filmmaker; is that the next step for Adeel Hashmi? If it is then what genre would you choose?
Yes! That's the plan later this year or early next year. I think I would go with the ever popular 'comedy' genre. You can't go wrong with it as the audience is familiar with it and can connect to it as well. But if the first one goes successful, the second one would be completely different. I'm not going to stay with humour forever.
Read also: Bachaana's lead pair to perform in PSL's launch ceremony
You belong to a legendary family; was there any sort of pressure when you ventured in the same field as them?
To begin with, the pressure was not to enter the same field, as at that time there wasn't any fame or money it it. So my family was worried about it economically, but I have always been a very rebellious person. I entered and things changed from then onwards.
And then the pressure was continued to not selling yourself cheaply. To do everything with dignity and class, I believe there's a sense of responsibility on my shoulders that way. I always do what I believe in. But, still my family needs to approve whatever I do.
You are known for your brilliant comic timing whereas your character in Bachaana is perhaps the total opposite. Were there any difficulties for you?
I hadn't done anything like it, I was conscious about the fact that whatever little training and experience I have was not going to come in handy. I studied the genre I was about to play before the shoot started. I discussed all my scenes with Nasir, we agreed and disagreed, and then we settled with a certain type of portrayal. It was an alien thing to do, but that's what actors do, they play something in contrast to their actual personalities. But honestly deep down, I have something in common with the character.
What would be your message to the HIP readers?
Go out and see all the movies and I literally mean all of them. Don't wait for it to get pirated. Take your friends and family along and watch the movie you want to.
Read also: Mad house at the music launch of 'Bachaana'