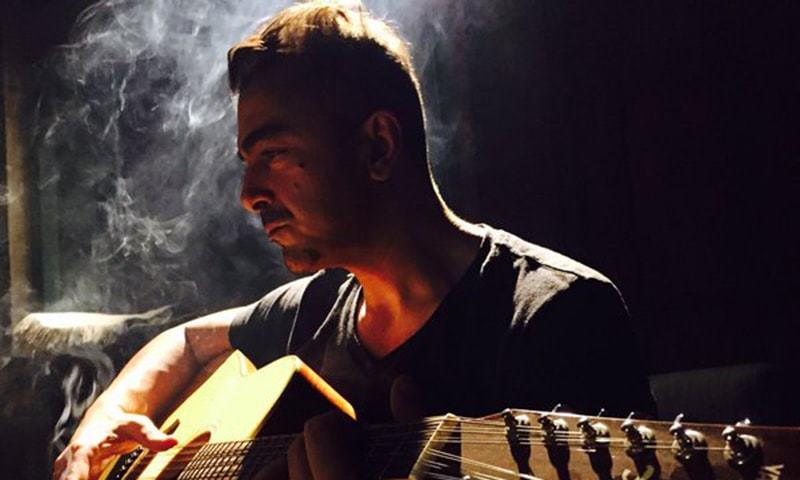 Shaan Shahid wants Pakistan's cinema industry to grow by leaps and bounds.

It was a dark, dark night (studio) and Shaan Shahid sat there, under the spotlight, with his guitar, singing a ballad as Uzma Khan stood in the audience waving her hands. As we began to enjoy the scene, a reporter's enthusiastic voice greeted our ears.
Read: Shaan Shahid's 'Arth 2' wraps up second spell
According to him, Lahore's Alhamra Art complex was host to Arth 2's song shoot yesterday and Samaa TV was quick to cover it.
"Pakistan's industry is growing by leaps and bounds and I want it to keep on growing like this," Shaan Shahid made the pronouncement.
Read: 'Arth 2': From Humayun Saeed to Mohib Mizra
Uzma Khan then appeared next and said that in Pakistan we have good actors and script writer, the only thing which is missing is the platform where they can exhibit their talent.
"We're trying to create enough platforms so that our people don't have to go across the border to showcase their talent," Khan said.
Arth 2 is a remake of Mahesh Bhatt's film Arth and is being directed, written, and co-produced by Shaan Shahid. AAA Motion Pictures' Ali Murtaza, one of the producers of Arth 2, earlier spoke to HIP and said,
"Arth 2 is set in the backdrop of modern Pakistan, but of course we've taken the essence from the original film. We've packaged the old characters [of original Arth] in a fresh screenplay with a new plot set in contemporary Pakistan."
Read: HIP Exclusive: Unveiling final cast of Shaan Shahid's 'Arth 2'
The film's cast includes Mohib Mirza, Humaima Malick, Shaan Shahid, and Uzma Khan.