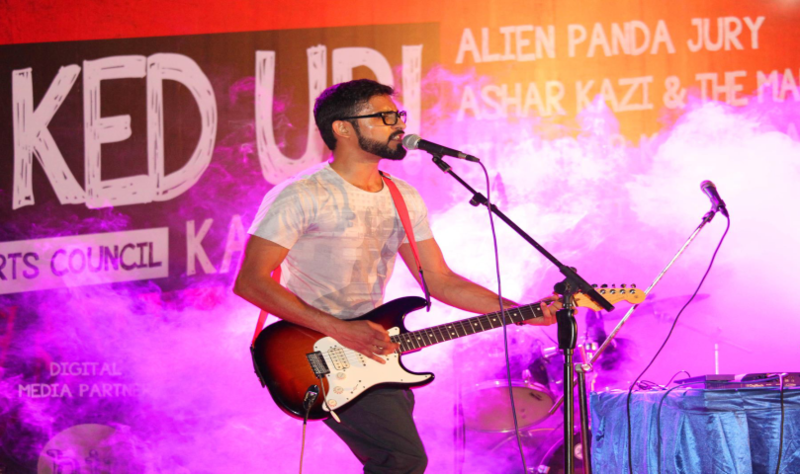 We, as lovers of music, would like to see young musicians venture out and revive the local music culture in the city

On a casual Saturday evening, when usually I would have called in an early night, I decided to instead go and support the local Pakistani music scene. CrankedUp Karachi was all about fresh talent brewing and showcasing the potential that lies in these young talented people!
The show kicked off with Isnain Khan and her band with her personal favourite song Iradey followed by her rendition of Moves like jagger vs lucky. When HIP spoke to her, she said:
"I think we need such artistic gatherings now more than ever. Not only because of the whole morale boost due to recent circumstances, but more importantly because we need artists to represent the nation. 'Art for art's sake'. We cannot only depend on commercialism to reveal musicians. This is how it should be done. Music should be easily accessible to all."
I was personally thrilled when Danny P from Alien Panda Jury started performing. I have been a serious fan of electronic music and we all were literally tapping our feet when Danny started performing! Here is an interesting fact; he has been in the industry for since 2001.
Here is a link to his soundcloud profile if you to listen to more of his work https://soundcloud.com/alienpandajury
The highlight of the evening was the live graffiti by Neil Uchong – the guy has got some talent!
Ashar Kazi, along with his Mausikars (Zain Jafar, Danny P on the bass, and Umair Dar) gave us a taste of the kind of music they write and perform to. From Call up My Name to Meant to Be, all had a story behind it. With Plush by Stone Temple Pilots, they also gave a tribute to Scott Wieland who passed away last month! Ashar Kazi is also the main organizer for CrankedUp Karachi and when when we asked him what hurdles came his way when he had to put together this entire gig, this is what he told us:
"This was certainly challenging with all the red tape, legal permissions / NOCs - I planned and executed everything myself with whatever little support I could gather; definitely quite taxing for a one man team to out this together. I feel that Karachi's institutions and general public could do more to support this local music scene. As a Karachi native and musician from Canada, it didn't take long to connect with high caliber musicians in the city and get people on board."
The second last performers for the evening was the Indie band - Sikandar ka Mandar with an addition of two females to overall band structure. Yay for them! Sikandar Ka Mandar had their friends supporting and rooting for them throughout, as they performed on their usual songs Bemisaal and others. When HIP asked how these events are generally put up, he responded,
"It's a mammoth task doing events at the arts council or any of the bigger venues because there is a series of bureaucratic steps that one as an organiser has to take in order to stage an event and it can be pretty tiresome and frustrating to do so since people try to exploit artists even though there's not much money going around. If anything we hope that there can be better spaces with fairness to upcoming artists and performers. The government and the powers that be really make it hard for musicians like us to do anything really without paying through our noses, which is why many people just give up trying to put up gigs at all."
The night ended off with an unnamed band from Islamabad with Iman as the lead vocalist performing the covers of Audioslave and Velvet Revolver to name a few!
What we, as lovers of different forms of music, would now like to see is young musicians venture out and take charge and revive the local music culture in the city. We have so many people who have this apt for music and different forms of art and all, that they need is a platform to launch themselves or showcase what they are capable of doing! Since now we know how much effort is put in to put together such an event, the HIP team would like to congratulate Ashar Kazi and the entire team and performers of CrankedUp Karachi for putting this together and introducing Karachi to different musicians.