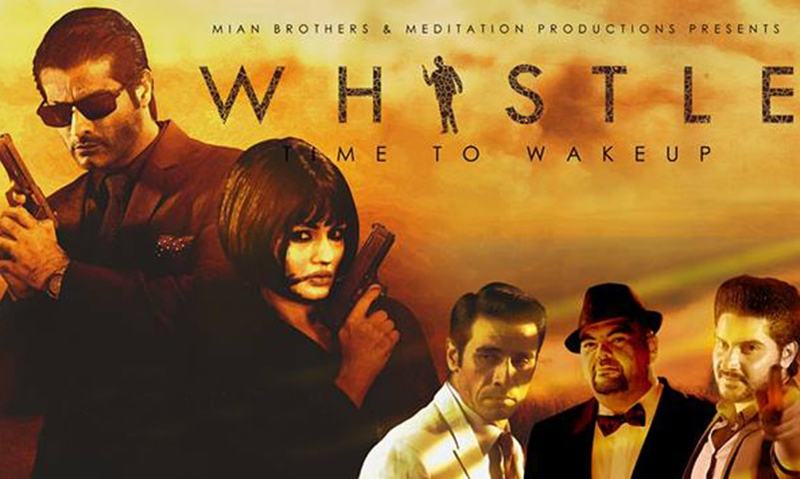 Ammad Azhar's directorial debut stars Tatmain Al Qulb and Farhan Ali Agha in the lead role.

As we wait for mainstream films like Mah-e-Meer, Bachaana, and Maula Jatt to see the light of day, a few talented directors are working silently in the bakground to make issue-based movies.
Drug trafficking is a common occurrence in plots for many Pakistani dramas; the only film, however, which tried to delve in those waters (Swaarangi) didn't make it past the censor board. Director, Ammad Azhar, has decided to make his big budget debut on the silver screen with Whistle - a film which looks into the drug industry, reported The Express Tribune.
According to Tatmain Al Qulb - the female lead, "Whistle is an alarm. It's a wake up call. It's about time you realize what you're doing in your life."
While the topic is catchy, the production quality of the project seems lacking.
The film has Tatmain Al Qulb and Farhan Ali Agha in the lead roles and has Sohail Sameer and Amir Kazmi in addition. It is set in both on Afghanistan and Pakistan. Whistle is a co production between, Mian Brothers and Meditation Productions, and it is written by Naeem Baig (author of spy thriller Kogon Plan).
"We have already launched a promo of the film that is doing well on social media. My actors have done brilliantly, especially Tatmain. Her performance in Kandahar Break was very impressive and I am very happy with her role in Whistle," the director said.
Azhar has studied screenwriting in New Zealand and promises to present a strong story line in the film.