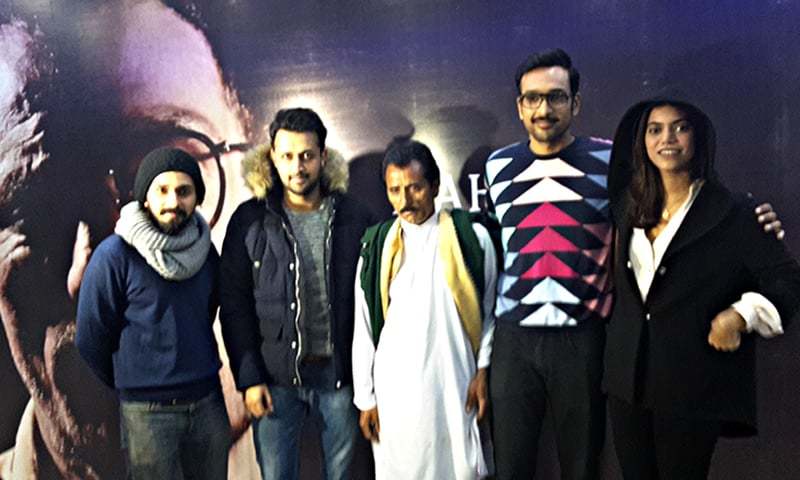 "I responded immediately to the 'lehek' and 'soz' in Jamaldin's voice," says Ali Sethi.

Soothing vocals of Ali Sethi resonates through his latest single Mahi Mera, which is made in collaboration with folk artist Jamaldin. The video is directed by acclaimed international filmmaker Umar Riaz. The launch of his single took place at an event held at Ali Institute which was brimming with eager fans to celebrated artists such as Atif Aslam, Farhad Humayun, Jimmy Khan, and Sara Haider.
It was also attended by educationalists and media personalities alike including Jamal Rehman, Mehreen Syed and Omair Rana.
Following the success of his appearance in Coke Studio's Season 8, his music for the award-winning biopic Manto, and his breathtaking single Kithay Nain Na Jorin last year; the multifaceted musician Ali Sethi has come a long way. He has clearly established his name with and his music instantly touches ones heart and soul.
The host invited Ali Sethi, video director Umar Riaz, folk artist Jamaldin, and music producer Saad Sultan for a panel discussion, where they spoke about their experience of making Mera Mahi - the song and the video. How they turned a raw idea into reality?
Read: Ali Sethi's 'Mahi Mera': a face of reality
Jamaldin also enthralled the attendees with a live performance. The panel discussion was concluded by a question and answer session. While talking exclusively to HIP, Sara Haider said,
"I'm very excited to hear Ali's voice in fusion with the folk artist. I am a huge fan of his work and now Jamaldin as well. I wish both Ali and Jamaldin the best of luck and hope they will perform live together."
The lyrics of Mahi Mera are meaningful without being cheesy which is a norm these days. The song illustrates the heartfelt emotions of "hijr-o-malal"(yearning for one's beloved); add to it the beat of dhol which makes it into a soul stirring melody.
Producer and arranger, Saad Sultan, (who has given us songs like Laiyan Laiyan, Kithay Nain Na Jorin) has enhanced it with subtle use of synth and guitar; encapsulating a distinctive new genre of progressive folk music.
Read: Ali Sethi's 'Mahi Mera' to launch tomorrow
The video was conceptualized by both, Umar Riaz and Ali Sethi, and was shot in artist Jamaldin's village of Hussaingarh. The shots of the village are true to reality that connects one to the roots without adding any glamour quotient; the result is in a rich blend of fusion of Seraiki and Urdu.
"After listening to the song, there's an instant bonding with our rural culture and norms. The song spreads the beauty of our folk music and language. It's not just soulful, Mahi Mera also sheds light upon the fact that how the region has been deprived of its basic rights of health, education, and development," said another avid listener Syed Ali Hameed.
Speaking about Mahi Mera and his collaboration with Jamaldin and Umar Riaz, Ali Sethi said,
"I first heard Jamal at a wedding three years ago in Shergarh, my maternal grandfather's ancestral village, and I responded immediately to the lehek and soz in his voice – he is a very charismatic singer and I knew I had to record Jamal in a studio and bring his music to a wider audience. I thought of Umar for the video because I wanted his eye – a curious but sympathetic eye. I wanted the video to enact the mood and temperament of the song without becoming sentimental or resorting to formulas of 'rural landscaping'."
The song goes with a flow with an intense purity and passion and with a touch of spiritualism it gets a notch higher, the kind that takes one on a flight to zenith.