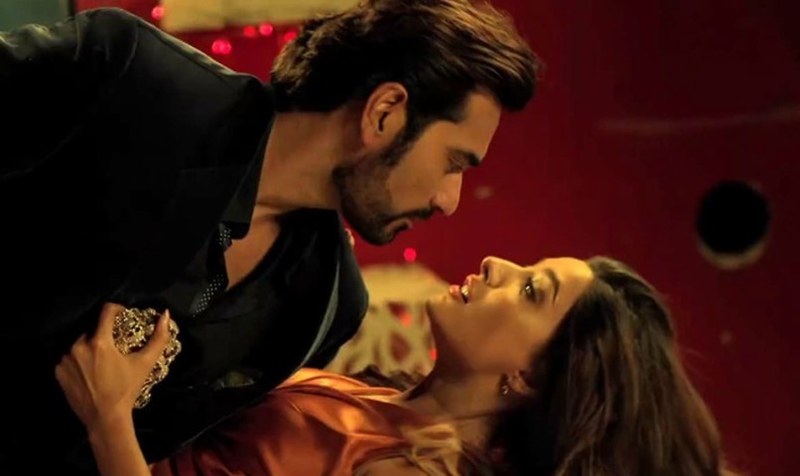 The super-hit 'JPNA' trio speaks to HIP about their comeback to TV with 'Dillagi'

Who says cinema is the new black for actors (as well as directors)? It might be the most esteemed medium among all, but our actors have certainly not forgotten their roots. With Pakistan's highest grossing film, Jawani Phir Nahi Ani under their belt, Nadeem Baig, Humayun Saeed, and Mehwish Hayat are back on television with Dillagi.
Both teasers of the drama are fantastic and I had to speak to the team of the highly awaited serial. A project with a deep soul, and a larger then life canvas (which is not common with Pakistani television); Dillagi is a ride full of emotions, overcoming and some love as well as action going side by side. Speaking to Baig, Saeed and Hayat, let's see what the HIP artists have to say:
So first of all, tell me a bit about your experiences with the project.
Nadeem Baig: I'm working with 'Six Sigma Productions' so I only pick up a project if I enjoy the story. My drive are the characters and the script. Basically me and Faiza Iftikhar (the writer) developed this story while Jawani Phir Nahi Ani was being shot,so it was all pre-planned. Faiza wrote it beautifully and then Humayun and I have a good working relationship, so it was working on something incredibly exciting. Everybody on set became a family and everyone is even more excited than me. The actors were actually looking forward to the shoot and the same happened with Pyaare Afzal. We all thoroughly enjoyed our time together.
Humayun Saeed: It was an amazing experience. I returned to television after more than four years. It was very fun, but difficult at the same time. After two films back to back, I felt I was shooting for a serial for the first time. Mujhe film ki aadat ho chuki thi, so the switch was a bit challenging, but incredibly interesting at the same time.
Mehwish Hayat: Dillagi is very close to my heart. It's my comeback serial after two and a half years, so it's definitely special! I was busy doing films and wanted to take some time off, but when Nadeem offered me the character of Anmol, I had to say yes!
What expectations shall be kept from the project?
NB: We have a good story. People already have a lot of expectations after my previous projects and so do I. I'm sure the audience will like it. It's not a typical run of the mill story, and even when it comes to romance, it has a lot of shades.
HS: The feedback that we have had with just two very short teasers, has been very overwhelming. Expectations are definitely high, as people don't usually do a drama serial after a super hit film, so it was a shocking news for everybody when they got to know we're working on Dillagi.
MH: Nadeem, Humayun, and the whole team has really, really worked hard on it. The characters are very well defined and I think people will surely love this one!
Also Read: A day on the set of Humayun Saeed and Mehwish Hayat's 'Dillagi'
How would you describe the characters that you play?
HS: My character is of a very mellow person. Very cool-minded in his life, but when it comes to his work, you'll see him in a totally opposite avatar. So, he can get incredibly aggressive, but at the same time has a balance in life. There are lots of layers in the character, so I had fun playing him!
MH: My character, Anmol is a dream role for me. She is a headstrong girl, who doesn't give a damn. She is very much inspired by her father, who stood up for the rights of people. Anmol has a soft corner at the same time, but is egoistic, a bit ziddi. She basically has a lot of dimensions to her, but I can't reveal anything else as the design and the story would evolve with every episode.
Also Read: Teaser of Humayun Saeed and Mehwish Hayat starrer 'Dillagi' out
Tell me a bit about your current lineup of projects.
NB: After Dillagi, there are two films; one of them is being written by Khalil-ur-Rehman Qamar and we'll start shooting that in May. It's a very romantic and a very dramatic film. It will star Humayun and a big star for the female lead, but I won't be able to reveal just as yet. We'll be releasing this towards the end of this year.
Then we are working on JPNA 2. It will surely feature the four male leads; Humayun, Vasay, Hamza, and Ahmad, but there's a possibility of a new female lead this time. So, there are lots of surprises to look forward to when it comes to this sequel. We'll start shooting it after the release of our first film and it's slated for an Eid release next year.
HS: Apart from these two Nadeem just told you about, two more films are in the process. I can't disclose anything about it as yet, but we'll surely have a conversation on it soon.
MH: Besides Dillagi is my film, Actor In Law which will be releasing this year as well. I am shooting that these days. And being a selective actor, I am being very choosy about what projects I take up and I'm very happy with what's on my plate right now Allhumdullilah.
Also Read: Teaser of Humayun Saeed and Mehwish Hayat starrer 'Dillagi' out
On the ending note, what are your final thoughts?
NB: I'd just say that we try to entertain you guys with honesty. We like to present lots of values and mistakes of life with our body of work. This is what Dillagi is all about and this what all our projects have been based upon. We just try to entertain everybody with some edudcation in it as well.
HS: If you like Dillagi, than do watch it. If you don't, there's a lot more coming ahead (laughs).
MH: My message to the readers would be to not miss out on Dillagi. It's not a typical story that you would see everyday on your screens. The script, the direction, the performances - everything is really unique and impactful. Also, it's been knitted exceptionally well. I'm sure you'll be hooked to it after the very first episode!
---
Slated to air sometime in March on ARY Digital, Dillagi is written by Faiza Iftekhar. I honestly am dying to watch what majestic appearances and electrifying work the skilful team has to offer this time. I would've wished them luck, but honestly - they don't need any! Break a leg.