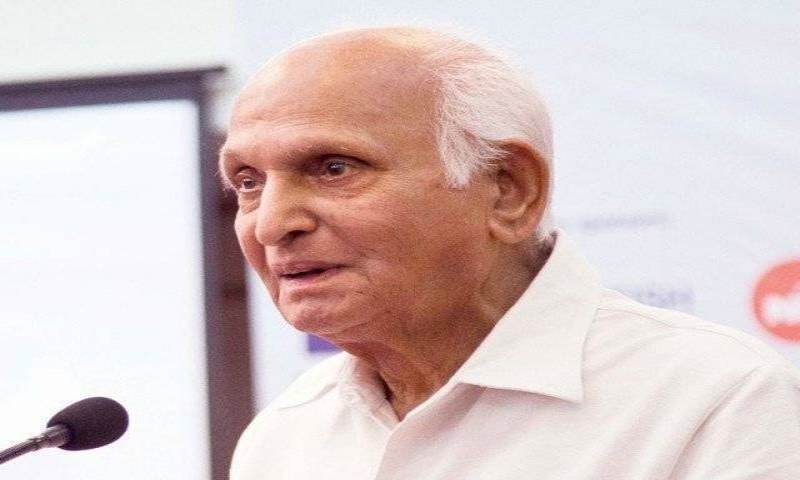 Government announced Intizar Hussain Literary Award to pay tribute to the man of fiction, Intizar Hussain

Arts and literature have no boundaries and this is the reason why we can put all the artists under one umbrella regardless of their nationality and ethnicity. We consider, if John Keats and Wilfred Owen (great English poets who died in early ages) would have survived a little more, they would have produced more stirring works in their lives and we would have cherished ourselves with their wisdom and poetic supremacy for a long time. But this is not true in the case of one of our national artists, Intizar Hussain who died this month at the age of 92 and enlightened his readers and contemporary fiction writers to a great extent. His lifelong services to literature have given us a whole lot of literary profit that all the writers will treasure for many decades. We can say that we are lucky in this regard!
We wish to have writers and intellectuals like Intizar Hussain in the current age as we are, as a nation, in a dire need of sound literature to preserve our cultural identity and to give Urdu language its deserved position. In the same way we also need recognition and promotion of the literary works that are being created right now or that were published by the renowned Urdu writers of the past. Interestingly this thought is being inculcated as the government on Tuesday, 9th February announced 'Intizar Hussain Literary Award' for serving the purpose of giving a tribute to the veteran fiction writer Intizar Hussain, and to give recognition to the literary personalities on their extra ordinary contributions in the field of Urdu Literature every year.
Read:
Winners of the '5th UBL Literary Excellence Awards' announced at KLF
The manifold genius, Intizar Hussain passed away in Lahore who was under treatment at a local hospital of Lahore city. Intizar Hussain is known for his diversified works of Urdu Literature, among which his great novels, Naya Ghar and Basti are the most read and translated.
Many people also found traces of philosophy in Intizar sahib's novels but he never agreed upon it and called himself as a 'man of fiction'. In an interview by Daily Dawn he once said:
"I'm a man of fiction only, and have nothing to do with Sufism or philosophy. If somebody has discovered philosophy in my writings, I'm not to blame for it."
Intizar Hussain was an independent writer and his best quality was that he knew what he wanted to convey through his writings. In an article of Dawn, they quote Intizar Hussain and write:
"I do not care if I'm not contributing to national development in the popular sense. Those writers who think they are reforming society; I wish them good luck in their efforts. I write stories and do not care what impact they will have on the readers."
Intizar Sahib believed in having a faith on natural instincts while writing. Whatever is written first, it shouldn't be changed later even if it has flaws, because when anyone writes for the first time, it is the time he is developing it by the use of natural instinct and innate capabilities. In Dawn he explained this thoughtful approach in his own beautiful words by giving unique examples which he was greatly capable of:
"one shouldn't rewrite one's own works published long, long ago even if they have some flaws. Our writings are like our children. When they become mature, we have no right to modify them. I'm not in favor of translating one's own works."
Read: Fatima Surayya Bajia passes away at 85 in Karachi
Among the other astounding works by Intizar Hussain include: Gali koochay, Kankari, Din aur dastan, Shehr-i-afsos, Kachhuay, Khaimay say door, Khali pinjra, Morenama, and Sheharzad kay Naam. Mr. Hussain was awarded by the Sitara-i-Imtiaz, Pride of Performance, Adamjee literary award, Kamal-i-Fun award, and Anjuman Farogh-i-Adab Doha's Award for his tremendous services to Urdu literature.