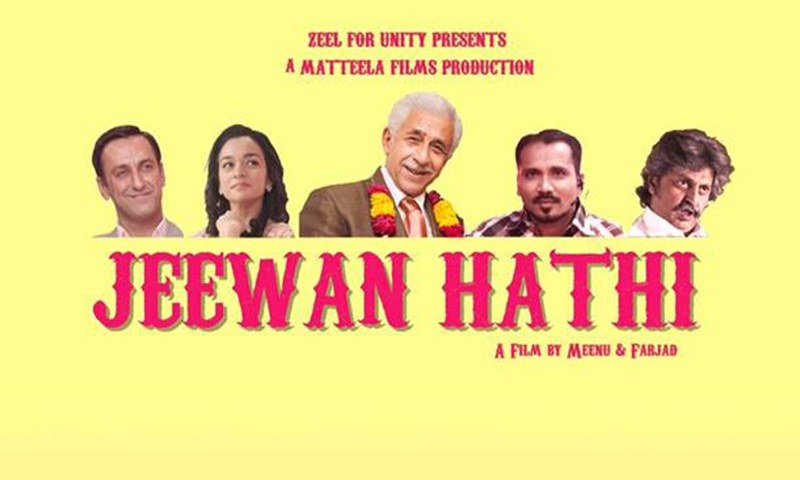 The budget had us scratching our heads so I guess the only criteria required was being slightly unhinged: Farajad Nabi

Zee's unity project involving directors from both India and Pakistan is quite the hot topic these days. Earlier we spoke to Mehreen Jabbar about her short film for the project, Lala Begum, then we got hold of Hina Dilpazeer, who's the lead of Jeevan Haathi - Meenu Gaur and Farjad Nabi's short film for the unity project.
Read: Mehreen Jabbar's 'Lala Begum' is part of Zee TV's 'unity project'
The one-hour film is written by Faseeh Bari Khan (who earlier gave us Qudoosi Sahab Ki Bewa) and has a solid cast including Hina Dilpazeer, Samiya Mumtaz, Adnan Jaffar, Saife Hasan, Fawad Khan, Kiran Tabeir, Hammad, Nazar, Ali, Ovais, and Nimra Bucha.
Read: Hina Dilpazeer on Meenu and Farjad's 'Jeevan Haathi'
And now it's time to hear what Gaur and Nabi have to say about Jeevan Haathi.
---
How did the Zee get in contact with you for Zeel For Unity? Was there a certain criteria involved in being selected for the project?
Farjad: Zinda Bhaag went to several festivals in India including Goa, Kerala, Kolkata, Dharamshala and there was a lovely buzz around the film there. So when our producer Mazhar Zaidi received the offer from Zee we thought the concept was great and the directors that they had put together from both countries is quite a feat......Though the budget had us scratching our heads so I guess the only criteria required was being slightly unhinged!
Meenu: We though it was a great idea because the two countries share language, film form, cultural context and much more. Quite obviously nothing will be lost in translation when the package of films from one country is shown in the other. We hoped this initiative would open up the possibilities of more film content from Pakistan being accessed by audiences in India.
Tell us a little about the story line of Jeevan Haathi? And when was it made?
Meenu: Jeewan Hathi is a black comedy set in the world of media. It satirizes the media's relentless pursuit of ratings at any cost. At the centre of the story is an aging morning show hostess who is desperate to make a comeback.
Farjad: We wrapped Jeewan Hathi in January 2014 when a cold wave had hit Karachi and all of us were taking turns to drop like flies. Hina Dilpazeer despite being such a big star gave it everything during the very intense days of shoot, she is an amazing artist.
Meenu Gaur and Farjad Nabi on Hina Dilpazeer.
Meenu: She has an ability to lend authenticity to characters that a less astute actor would turn into a caricature...that is a very important aspect for our scripts which are comedies but seek to open up the injustices and indignities of everyday living. Her character is like that of a sad clown in the film.
Farjad: She instantly got our frequency and what's more the script was by Faseeh Bari Khan who is a long time collaborator with Hina so the synergy was absolutely fantastic... and she is a blast to work with!
What do you think about the recent issues between India and Pakistan which to some extent has started effecting artists as well? Will this initiative help the two countries come close again?
Farjad: Issues will come and go but neighbours will remain neighbours that's the truth of it. Its true that artists are one of the first to suffer but it also true that it is always the artists who bring the people closer. Look at Bollywood music at the moment... without Atif, Shafqat, rahat Fateh Ali Khan... its impossible to conceive of the music scene without them. So this exchange will never stop.
Meenu: Because of how huge Bollywood as an industry is ... film, TV and other content from India circulates widely in South Asia. But how many people in India would have seen Pakistani films, Bangladeshi films or Sri Lankan films... except in festivals. I find it odd that if somebody wants to watch a Pakistani film in India their chances of seeing it in London or New York at a festival are higher than seeing it in next door in their own city of Delhi or Mumbai (except through a torrent!)!
This blockage on a free flow of artistic content need not be official in the form of a ban but it is there... just by making access impossible. So I see this initiative and Zee's Zindagi channel in this context of distributing Pakistani content and making it accessible to Indian audiences which is a fantastic endeavour and if it is becomes commercially successful then it will be here to stay.
The success of Pakistani dramas just shows that once there is access for the audiences the rest will follow.
---
We hope that this initiative is successful in diminishing the artistic borders between India and Pakistan.