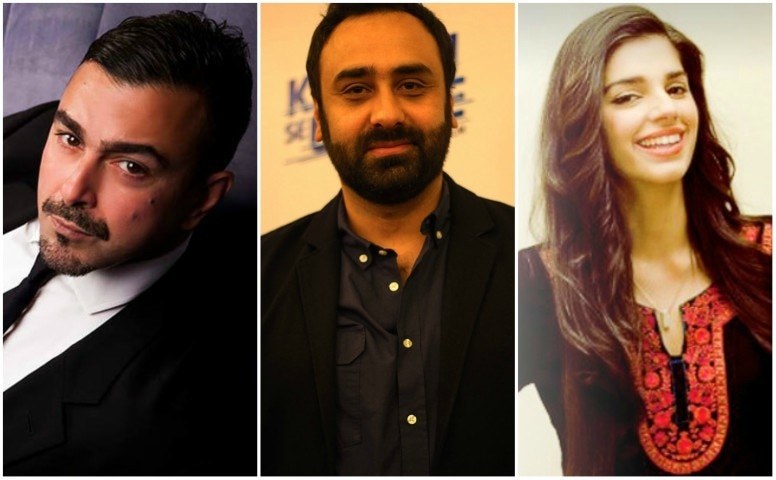 "Making new films doesn't mean you change history" says Shaan Shahid!

Just a few days ago, ace television and cinema director, Wajahat Rauf updated his Facebook status clearing the misconceptions of everybody who may call the Pakistani Film Industry "Lollywood". And as that one status created quite a buzz amongst fans and artists associated to the showbiz, we further investigate and spoke to twenty such celebrities, who share their point of views with us.
It's the Pakistani Film Industry and 'only' that!
Bilal Ashraf: Pakistani Film Industry any day. I think it's not important to follow any trend, we rather need to mark our own niche. And for that, we can't name our industry from a spin-off!
Ayaz Samoo: I guess Pakistani Cinema is a better name because Lollywood was named after the film industry that was based out of Lahore. And as you know, its the same place where our downfall started. And now the damaged industry is actually being revived and that too mainly in Karachi!
Yasir Hussain: I think it should simply be called the Pakistani Film Industry. Lollywood refers to the time when movies were made in Lahore, but things have changed after the revival has happened. Besides it also gives you an image of only gandaasa films, whereas all sorts of genres are now being experimented with.
Iram Parveen Bilal (Filmmaker): I do have a problem with the derivative nature of the term for sure. If it was original, I wouldn't have minded the original lolly line. This is the new age of Pakistani Cinema, not even a revival!
Jerjees Seja (CEO ARY): I think Pakistani Cinema that was once referred as Lollywood is no more. There has been a birth of new age Pakistani Cinema and can be easily referred to as Pakistani Cinema. Our cinema is unique and has started creating its own individual identity!
Ainy Jaffri: Lollywood doesn't make sense, since mostly films originate outside of Lahore now, and more in Karachi!
Haseeb Hasan: Pakistani Cinema is a trade of highly educated directors, writers, actors, and technicians. We should associate it with our country's name instead of calling it Lollywood - which seriously sounds non-serious!
Mommar Rana: I don't like lollies (laughs). But honestly speaking, why copy others, when we have our own identity. I've been trying to tell this to people since ages now!
Ali Zafar: The name Lollywood should be changed to Pakistan Film Industry and that's just my personal humble opinion. Our industry is seeing the twilight formulation of a new era in which it should ideally emerge as unique in its own way. However for me, the name is not that big of an issue. There are bigger issues at hand.
Javed Sheikh: Lollywood is known because the industry was in Lahore. Actually now our new cinema has emerged from Karachi, either we call it Kollywood or simply Pakistani Cinema. Otherwise even new Dubai film industry is known as Dollywood.
Besides these, super-stars, Ayesha Omar, Adnan Jaffer, Danish Taimoor, Humaima Malick, Maria Wasti among others agreed to Rauf's idea.
Also Read: Hina Dilpazeer on Meenu and Farjad's 'Jeevan Haathi'
It's called Lollywood - the land of Pakistani Film Industry!
Mikaal Zulfiqar: I think there's no need to change it. It has been with us since the beginning. And sticking with the international feel makes sense. Of course it will also be reffered to as Pakistani Cinema as well. Products should improve with time, but they don't need to change their names and there's nothing to be ashamed of either.
Ali Murtaza (Filmmaker): Well, I think we should totally own our industry's past. Infact we should take some inspiration from our legendary writers and filmmakers, and give full credit to them for at least doing something with limited resources. We should not criticise, rather explore possibilities. We should have forums for producers and proper industry platforms, which are either redundant or not there. Every person who is attempting to make a film today should be appreciated as it takes a lot of effort and commitment. Our films and products of past should be our pride and we should own them. Bad films are even made in Hollywood, but they stand by with it. Having said that, I think it should be known as the Pakistani Cinema instead of Lollywood.
Umair Jaswal: I don't mind it being called Lollywood. I know it's a little cheesy, but still it does signify an era in our industry. A lot of great names have been a part of that period of time. I just wish to end these debates and make more meaningful content! Cheers.
Shaan Shahid: It has always been Lollywood. Making new films doesn't mean you change history. Just like you can't change your elders! They don't belong to Lollywood or the past. They are celebrities which don't have any teachers.
Also Read: Mehreen Jabbar's 'Lala Begum' is part of Zee TV's 'unity project'
Stay neutral and simply work hard!
Tooba Siddiqui: I really don't think too much of it Lollywood is just a name given to the industry. Just like Hollywood, Bollywood, or even Tollywood (Tamil Film Industry). The only thing that does matter is good cinema and that's what everyone is trying to do now I believe.
Faisal Kapadia: How does Hollywood or Bollywood sound any better? What matters is the content and when that is resounding it won't matter where it came from. Because you will be known as the guy who made that movie, not where you made it - in my humble opinion.
Jia Ali: I think we had a very small industry back in the day, without any infrastructure. But now there's so much professional attitude towards films. And Karachi was involved even than; my first film was there. I think both the cities need to be together, so that we could match up to our goals. We can't have a rivalry, we just need to present our films as Pakistanis. It has a very negative impact internationally, and there's so much talent in Pakistan - we need to utilise it!
Ahmad Ali Butt: To be honest I have no issues to be a part of Lollywood, Kollywood, or Dollywood. We as an industry need to focus on quality of films - with good scripts and directions, rather than being worried about what to call ourselves. Lollywood has been there for years, and the only people who have a problem with this are the ones who are too focused on the image, more than the work.
Momina Duraid (Hum Network): I believe there's nothing wrong with whatever people may call it, I think it's not important at all. What really matters is how the people are working to achieve their goals. At this point in time, I think we shouldn't even be having such debates, and focus more onto the creative aspect!
Shahzad Nasib (filmmaker): Well it should be the Pakistani Cinema, or in near future if we notice huge differences between Lahore and Karachi, then we don't need to pick sides but rather see the both of them on their own. Just like films in Mumbai and South India!
Sanam Saeed: I honestly have no opinion on that. People can call it what they want. If they feel it's necessary to identify it with an industry that matched Hollywood and Bollywood style names, then they can call it Lollywood!
Jami Mehmood (Filmmaker): We shouldn't be ashamed of this stigma. All woods are crappy ratio wise. But in almost every film, there's a low end item number. So why should we expect a respectful name? At least we need to own Lollywood until we learn.
Nimra Bucha: Like Juliet, I would say - what's in a name? That which we call a rose. By any other name, would smell as sweet!
Mohsin Abbas Haider: I don't have any issue with calling this new age cinema as Lollywood. Until and unless we are producing good films and quality entertainment for our audience. That's the main thing I believe.
Those were your favourite celebrities conveying their perspectives through HIP. Share yours by commenting below!
Also Read: Boxofficedetail and HIP bring to you 'Pakistan Film Awards 2016'