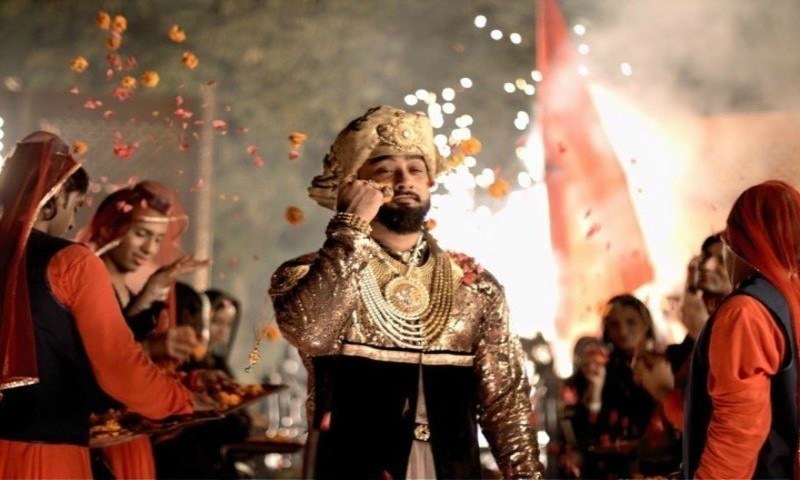 "Mor Mahal is an attempt to diversify themes and the kind of productions that we do," says Sarmad Khoosat

Mor Mahal started making headlines right after the release of the mastermind director, Sarmad Khoosat's debut film, Manto. Known for having the most unique, powerful, and impactful of projects under his belt - Khoosat from the days of Humsafar, till now has proved his mettle.
HIP spoke to the upcoming fantasy play's lead team and the anticipation has only multiplied. Here is the crazy tete-a-tete I had with Umair Jaswal, Meesha Shafi, Sania Saeed, Fizza Ali, and the man of the moment, Sarmad Khoosat, as they discus their journey with Mor Mahal!
Also Read: 'Mor Mahal' looks like yet another Sarmad Khoosat masterpiece
Umair Jaswal: I play the role of a Nawab, which is the main lead. Mor Mahal is basically a fantasy period play based in the 18th century. And honestly, my experience was phenomenal. It was an honour having my debut play written by a wordsmiths like Sarmad Sehbai and directed by Sarmad Khoosat. The confidence they had in me was unbelievable; even I couldn't believe that I could pull it off (laughs). Overall it was like a schooling for me as an actor, an amazing opportunity for me to polish my skills and I feel that I just graduated! At the end of the day, we all really worked hard. I had workshops and went through an audition as well. So, I hope the people like the serial as much as they have been loving the teasers.
Meesha Shafi: I'm returning back to television after 8 years! Basically I did this serial only because of the script and the intriguing theme - which is a period genre based 200 years back. It's been a very interesting play to be working on, the project is like anything we've seen before, very intellectual and different! Honestly, I'm glad to have bee part of it! (Originally published in e-mag, Fizzzzz)
Sania Saeed: Mor Mahal is a very unusual serial. We did have historical sagas, but this will prove to be a big leap forward for Pakistani television. This is something that will not disappoint you. You'll see so many new actors and veterans as well, and of course Sarmad as the captain of the ship, you know nothing can go wrong. It's a fantasy plot, not true to history but you'll get to see very unique characters in the play. It's very different as we have reality based plays mostly, but Mor Mahal has given the opportunity to everybody to go beyond that. The costumes, the sets - everything was a big challenge for everybody. Considering the fact that we had limited resources, it's going to be a shocker that way!
Fizza Ali: I'm playing Umair Jaswal's second wife. I don't know if I could reveal anything else, Sarmad might kill me (laughs). But I'm the only one who plays a woman with a heart of gold; she has no obsession with money, and only loves her family. And I can assure you that if the audience cries watching the play, my performance would have a lot to do with it. My experience was undoubtedly one of the best I've had so far. It's a dream project and I still keep telling people "nobody pinch me". It's a serial par excellence and can easily compete with any international series. Mor Mahal is a remarkable sign of an industry with a brighter future ahead. We had workshops and by the time we were on the sets shooting, we knew our body language, dialogue delivery, dance steps, the way we walk, laugh, dance - everything literally polished us as fine artists. Even though I've been working for a while now, I got to learn a lot from it!
Sarmad Khoosat: All I want to say is that, Mor Mahal is an attempt to diversify themes and the kind of productions that we do. Being part of the same industry, I do believe that we have made it very claustrophobic by repeating the content that we mostly indulge in. It's a story based in a certain distant time, with all the glitz and glamour, the power-play and the whole culture of a certain way. Despite all of that, looking at the current scenario - it's just a very honest and brave attempt. The effort is basically all about exploring another variety and genre. Fingers crossed, hoping that the audience with connect with it and like it for what it is!
Also Read: Nothing wrong in having favorites in the industry: Sarmad Khoosat
The 45 episode serial will start in mid-March and will surely be something to look forward to. Mark your calendars HIP followers, Sarmad Khoosat and team are back with something bigger and better!