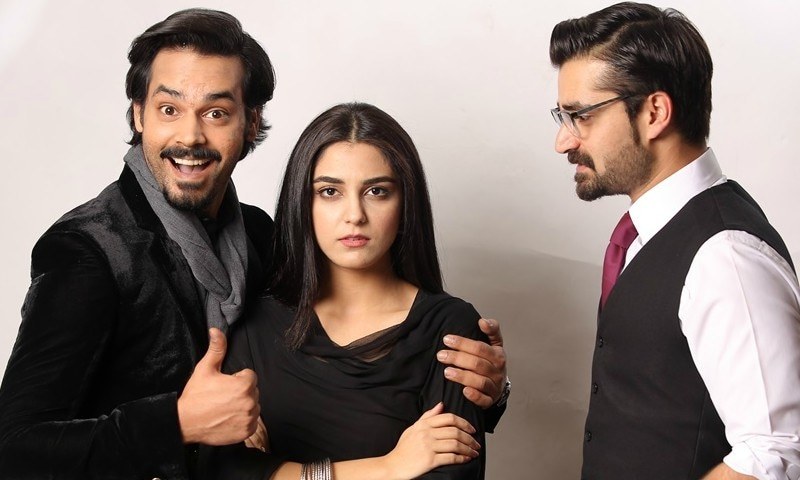 Meekail meets Salahuddin and Biya scolds her brother like there is no tomorrow!

So episode 3 ended with Mannu banging on Salahuddin's door and him not opening. Her father had already stated that the door wouldn't open so you know, it now couldn't be opened. Mannu runs back home and it was actually nice to her father being sensitive to her feelings and not throwing her out of the house. Parental unconditional love was very evident here and a lesson many writers can take from Samira Fazal. You don't need to throw them out of the house for their mistakes; sometimes just trying to understand them and showing them support does more good than harm.
Read also: Episode 3 of 'Mann Mayal' was completely owned by Maya Ali!
Of course now, the same Meekail who wasn't good enough for Mannu before is the perfect match. Can someone please tell me why Chachi seems to run the house? Also is she Sara's step mother because she says 'aapke haan to larkiyon ko sar pe charha ke rakha jata hai." And what is Sara's issue? If her husband thinks she doesn't want to come, why can't she tell him she does want to and just go home? She is married to him for God's sake.
Mannu agrees to marry Meekail if Chachi sends Sara Baji back home. Idea bura nahi hai since Chachi so bent on marrying Mannu off to Meekail. Meekail and parents come to 'pakkafy' the rishta and Mannu and Meekail meet on the roof top. She wants Meekail to meet her teacher (waise did Mannu have to be shown that stupid)? If her teacher doesn't approve, Mannu says that is the end of their relationship. On top of that, she wants to still be tutored by Salahuddin after marrying Meekail. Meekail run, run far away...just jump off the roof, get in your car, and take off; this family is crazy!!
On top of all of this, When they finally go meet Salahuddin, Mannu wants him to look in her eyes and tell him that Meekail is good for her. I found myself talking to my laptop asking "are you serious?" Of course Meekail sees there is something severely wrong here. For a scene that was supposed to (I think) be serious, it ended up being really funny waise! On the way back, she tells him to please say no to the rishta himself. Oh and her father sees her getting out of the car. When her mother finds out, she almost slaps her daughter (justifiably) and then falls victim to Mannu's crying and hugs her.
Let's come to Meekail for a bit. Gohar Rasheed out shined everyone here. This guy is a director's actor and needs to only work with A-level directors. He was phenomenal in Goya, fantastic in a few episodes that I saw of Digest Writer, and completely own Meekail in *Mann Mayal. Hamza Ali Abbasi is a fantastic actor and as Salahuddin, he really is nailing it, but still is a step behind Gohar Rasheed when they are in the same frame. (Sorry oh cult of HAA)!
Read also: Episode 2 of 'Mann Mayal' sees the entrance of Meekael
Speaking of Salahuddin, he is off to Karachi and Biya lays into him like anything. Again, Aiman Khan had very few scenes, but her complete raw and natural acting makes her shine too. She is to Salahuddin what Zarminey was to Wali. She is angry at her brother for what he did to Mannu, angry that he is running away and tells him like it is. I love her spunk and the relationship she has with her brother. Also, is it just me or do they both actually look alike too?
Let's talk about Salahuddin and Hamza Ali Abbasi for a minute. I really think in the last two episodes, he is nailing that character. Salahuddin is doing what he thinks is best for Mannu and her family without thinking of himself. He could have easily opened the door for her. Not just that, but her own father spoke to him saying he will give enough to Mannu so they will never be uncomfortable and he said 'no,' thank God! You sell your principles for money, and one has nothing. Love doesn't conquer all and people need to realize that. Hamza Ali Abbasi is doing complete justice to his role as a restrained and responsible person.
What I don't understand is why Mannu's father is putting the responsibility of finding out how Meekail is and if he is good enough for Mannu, on him? Isn't that his job? He himself says that he didn't talk to Meekail much and doesn't know him; just wants to get Mannu married off as soon as possible. But why? And why is it Salahuddin's responsibility to figure out all of this? If the father trusts him [Salahuddin] so much, then why doesn't he happily just get Mannu married to him without offering them money? Tameez se rishta ker dein apni beti ka phir us-se. He even goes as far as to say that if Salahuddin doesn't think Meekail is good enough, then it won't happen. What is wrong with these people? Does no one think in that family?
Episode 4 ended there. Again, not gripping episode like last week, but at least it is not dragging and moving at a nice pace. No complaints on acting as everyone is phenomenal from Maya Ali to Laila Zuberi, but Gohar Rasheed deserves a shout out and after him it is Aiman Khan. Haseeb Hasan has complete command of the script and his actors. Oh and I think this is the first HUM TV drama where I have no complaints about the editing. Whoever is behind that, deserves applause as usually HUM TV completely fails in the editing department!