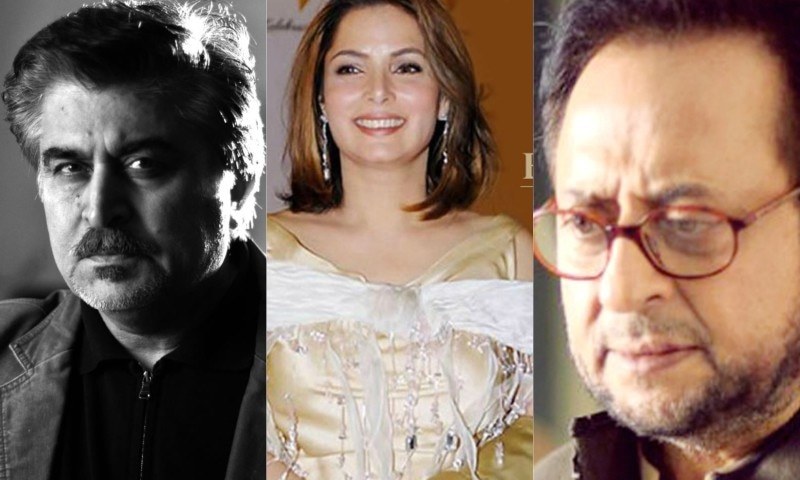 The calendar doesn't seem to change after 365 days in Pakistan showbiz industry

Did you know that Michael J. Fox as 34 years old when he played teenager Marty McFly in Back To The Future? That Aamir Khan was 44 years old when he was cast as a college student Rancho in 3 Idiots? Waheed Murad was 43 when he played a college student in Kala Dhanda Goray Log and even our very own Adeel Husain has defied age and logic; he looks a student in his debut flick Ho Mann Jahaan despite being in his late 30s.
However, these are a few cases of 'Actors defy Age' in any part of the world; the calendar doesn't seem to change after 365 days in Pakistan showbiz industry. In this part of the world, 'once a hero, always a hero' seems to be the case. Let's jot down a few of those in the industry who defy everything to do what they believe is right – and even get away with it.
Jamal Shah – The 'Always' Hero
Veteran theatre and TV actor Jamal Shah is undoubtedly one of the most talented artists in Pakistan. He has been around for over 40 years and besides being a painter, he was once nominated as Best Singer from PTV Quetta Center. He began his acting career in the 80s and by the time he was 33. He was cast as a student leader in Sahira Kazmi's Tapish; one who rebels against the system and loses the love of his life to a politician. The play was written by Noor ul Huda Shah and boasted of a star cast including Shafi Mohammad, Rubina Ashraf, and Khaled Anam (who himself was 30 at the time). Since that successful experiment, Jamal Shah has been playing the lead and made his way to international level with BBC's mini-series Traffic being his most popular work outside Pakistan. On one hand, he plays the father of Mahira Khan in Ho Mann Jahan, whereas on the other, he is the 'man of action' in his first flick as a director Badlaa – Revenge of the Worthless. The actor has aged gracefully and is shown to take arms for his rights; one has to see the film to know whether he has done justice to his character or not!
Abid Ali – Mr. Invincible
Everybody loves Abid Ali and he usually outlives his kids in his TV plays – the 63-year old actor did just that in NTM's first ever productions Dooriyan (1991), played a Baba in Dasht a few years later, and most recently in Dayar-e-Dil where his children passed away, but he survived everything and lived up to watch his grandchildren get married. Even in Bunty I Love You, he died after marrying a young woman, but returned to talk to her whenever he wished. That's what I would call Mr. Invincible!
Babra Sharif – The Barbie of Pakistan
She made her acting debut in the early 70s as one of the friends of Kiran (Roohi Bano) in Kiran Kahani, but made her presence felt in Mohsin Shirazi's play Ms. 4' o clock as the nurse who every patient desires. After a handful of supporting roles in films, she finally got her big break through Mera Naam Hai Mohabbat (1975) where she played the role of a cancer patient opposite Ghulam Mohiuddin. And so began the rise of Babra Sharif; one of the most loved actresses in Pakistan. However, 20 years after her debut, her films started to flop and she was left with nothing else to do. In came Anwar Maqsood who wrote and directed (Mohsin Ali is said to have ghost directed the play) Nadaan Nadia, where Babra Sharif gets to play a foreign returned Pakistani girl (?) who is as quite ditzy, hence nadaan. She was nearing her 40s at that time, but when you have a face like her's, nothing matters. Some critics did say that she looked too old for the role, but if you look at the diva now, she hasn't changed much. She will be playing the mother of one of the leads in Shahid Shafaat's Two + Two, set to be released this year.
Nadeem – TV Debut Disaster!
What if I told you that Aminah Haque and Nosheen Masud had played Nadeem sahab's heroines when he made his debut on TV 15 years back? Bisaat was written by veteran playwright Imran Aslam and directed by Ghazanfar Ali, and would have done well had it featured a younger man as the successful designer, but the next best thing Rehan Sheikh was reduced to the role of Nadeem's younger brother with Maya Khan being the younger sister. Nadeem sahab was nearing 60 at that time and his heroines were less than 30; they were born after he had made his film debut! In fact, his parents were played by Arshad Mehmood and Jehan Ara Hai, who are junior to the film veteran in both age and experience. Thankfully, after one more attempt at playing lead (this time opposite Natasha Hussain in Chalte Chalte), Nadeem sahib went for character acting; something that had elongated his film career in Bulandi (1990).
Shakeel – The Middle-Aged hero
Yusuf Kamal made his film debut in the late 60s, but after a few flops, shifted to TV and became a superstar; he also changed his name to Shakeel. From the 70s till the 90s, he played the leading man and even donned a wig to look younger than his 50ish self in Haseena Moin's Kohar that was aired in the early 90s. He played an elderly man – in his 40s – who falls for a beautiful doctor played by Frieha Altaf. Thank director M. Zaheer Khan that model-turned-actor Junaid Butt was there to woo Marina Khan otherwise who knows, Shakeel sahib might have played that role as well. Nowadays, he continues to play elderly roles that suit his stature and his age, but he doesn't look that old either!
Sultan Rahi & Anjuman – The Pair Who Never Grew Old!
In reality, Sultan Rahi was bald, spoke calmly, never raised his voice, and was loved by all because of the way he conducted himself. That was him off-screen; on screen he was ready to kill anyone who disrespected anybody's mother or sister. He always took to a gandasa to solve his problems and wore a wig to hide his baldness and woo the belles. Add a mustache and you have a Punjabi film hero who the heroines loved, the villains hated, and the audience adored from the 70s till the 90s (until his untimely murder).
For most of his career, Sultan Rahi's persona romanced with Anjuman, who eventually gained weight to look the part of a village belle. When she made her film debut in the late 70s opposite Waheed Murad (Waade Ki Zanjeer), she looked like a modern-day heroine who would have made big in films due to her beautiful eyes, good looks, and figure; however, all that changed when Punjabi cinema took over and transformed Anjuman into an action heroine who could kill with her deadly thumkas. She continued to play leading roles way past her 40th birthday, but her career never survived after Sultan Rahi's death and she retired soon after.